Texas passed its 2013 omnibus abortion bill in the name of protecting women's health — a rationale roundly rejected by the Supreme Court last month. Now, newly released data shows the law may have actually had the opposite effect, putting women at greater risk by increasing the number of later abortions.
A preliminary review of statistics released by the Department of State Health Services in Texas shows that even as the total number of abortions dropped in 2014, the first full year the law was in effect, there was a 27 percent increase in abortions after 12 weeks, from 4,814 procedures in 2013 to 6,117 in 2014.
"Although second-trimester abortion is very safe, it is associated with a higher risk of complications compared to early abortion, and it's more expensive for women," said University of California San Francisco professor Daniel Grossman, who shared his analysis exclusively with NBC News. Grossman's research, part of the Texas Policy Evaluation Project (TxPEP), was repeatedly cited by the court's majority in proclaiming two parts of Texas' abortion law an unconstitutional "undue burden" on women.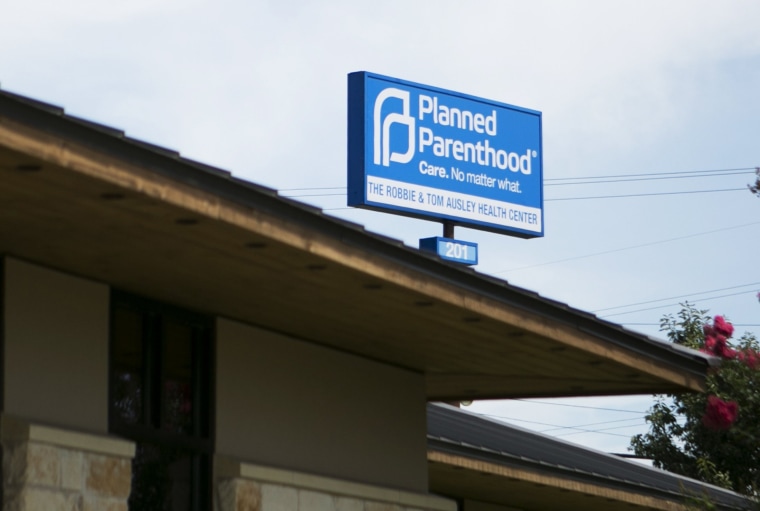 The court found in June that the new requirements on abortion providers mandated by the state law led to the closures of about half of Texas' abortion clinics, while concluding the regulations were medically unnecessary.
But because 2014 abortion statistics were not yet available — and indeed, a state employee working on the numbers charged to NBC News that they had been been intentionally suppressed — the court could not have known the extent of the consequences of the new law. Among them: A sharp decline in abortions overall that was disproportionately experienced by Latinas, and the growing share and absolute number of second-trimester procedures.
When the law's requirement that abortion providers have admitting privileges at local hospitals went into effect in late 2013, many clinics said they had been refused by hospitals and shut down entirely. Had the second provision, that abortions take place in expensive ambulatory surgical centers, gone into effect, the number of abortion providers in Texas would have halved again, to only nine or 10.
Related: Abortion Laws Tumble Across the Country
Grossman said the increase in later abortions jibed with prior TxPEP studies that showed that closing clinics forced women to wait longer to have an abortion. "In our research, we documented cases of women who were delayed into the second trimester because it took them time to find an open clinic or to arrange transportation to a more distant clinic, while others were delayed because of the long wait times to even get an appointment," he said.
While the state had previously reported that 2014 saw an overall 14 percent decrease of all abortions, until last week, it had not yet released its detailed information on demographics, procedures, and gestational age.
In the end, the court did not need the detailed 2014 numbers to throw out the requirements.
Related: Federal Judge Blocks Restrictive Indiana Abortion Law
"In the face of no threat to women's health, Texas seeks to force women to travel long distances to get abortions in crammed-to-capacity superfacilities," Justice Stephen Breyer wrote for the five-justice majority in Whole Woman's Health v. Hellerstedt.
In briefs filed before the court, advocates for abortion rights said the law would have a disproportionate impact on low-income women and women of color.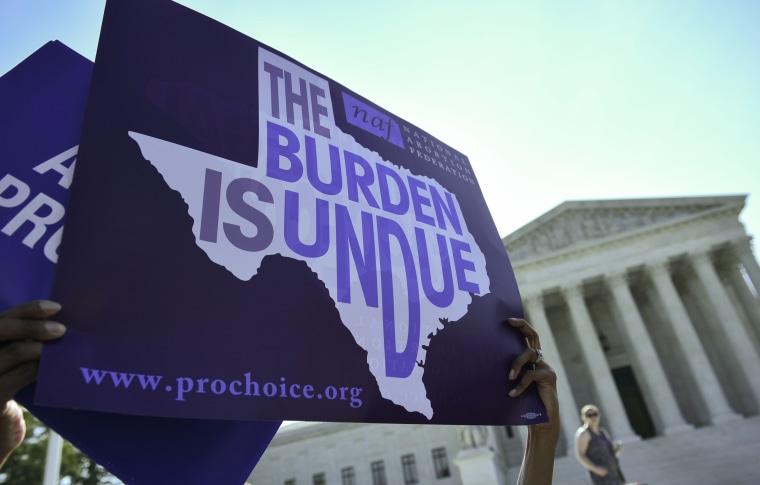 Indeed, according to an analysis by the Texas Observer, abortions among Latinas dropped 18 percent, compared to a 7.7 percent drop among black women and a 6.7 percent drop among white women. There was also a stark drop in medication abortions, which are increasingly preferred by women nationwide and involve taking pills at clinics to induce miscarriages.
"For many Texas women, communities of color — particularly Latinas — and those who already face systemic barriers in accessing quality health care, the damage is done," Yvonne Gutierrez, executive director of Planned Parenthood Texas Votes, said in a statement. The numbers, she added, "underscores what we have been saying all along. Texas' restrictions have placed insurmountable walls between women and access to safe and legal abortion."
Related: Planned Parenthood Plans to Challenge Abortion Laws
Jessica Gonzalés-Rojas, executive director at the National Latina Institute for Reproductive Health, said, "These numbers confirm what we've been hearing anecdotally since the law was put into effect. We're thrilled the Supreme Court struck down this sham law, but it's a sad reminder of all the work we have ahead of us to undue the negative impacts. "
The numbers, which came just as the state slashed family planning funding and shuttered birth control clinics, don't necessarily mean the abortions did not happen — just that they didn't happen in a legal clinic. Pills that induce abortion are sold as ulcer medication in Mexican pharmacies, minutes from border areas of Texas, which also happen to be where several clinics closed under the now-overturned state law. The pills are similar to the regimen offered in legal clinics, but can lead to serious side effects when taken too late in pregnancy.
A study by TxPEP found that "Latinas near the US-Mexico border and women who report barriers to accessing reproductive health care were significantly more likely to have attempted abortion self-induction themselves or know someone who had attempted to end a pregnancy as compared to non-Latinas in Texas or those who did not report barriers to reproductive health care."
"As clinic-based care becomes harder to access in Texas, we can expect more women to feel that they have no other option and take matters into their own hands," Grossman said then.
Some women may also have gone out of state. According to an analysis by Rewire of nearby states' health figures and interviews with local activists, several other states saw an uptick in Texans traveling there for abortions. For example, 59 Texans had abortions in Oklahoma in 2013, but, in 2014, the first full year the law was in effect, the number more than doubled to 136.
The release of Texas numbers followed weeks of controversy.
A state employee with knowledge of the process told NBC News in June that internal researchers were urged to speed up the preparation of the detailed abortion figures. According to this employee, who also contacted the ACLU of Texas, the numbers were actually ready in mid-February, two weeks before the court heard oral argument in Whole Woman's Health. But once senior officials reviewed the numbers, this employee said, they were suddenly blocked from release, and employees were instructed to respond to inquiries by saying they were not available.
Related: Federal Judge Blocks Florida Abortion Law That Adds Restrictions
As recently as June, researchers and advocates who asked for the numbers were told they were not yet ready.
"The 2014 tables are under review, and we hope to have them finalized and released soon. For the last several years, Texas abortion data was typically finalized and published between March and June," a spokeswoman for the Texas Department of State Health Services told NBC News.
In a June 15 letter, the ACLU of Texas accused the department of suppressing the data. "Rather than responding honestly and claiming a legal basis for withholding the 2014 statistical tables, it appears that your agency has chosen to hide the truth," the organization wrote, and added, referring to Texas law, "Lying in response to Public Information Act requests would subvert the purpose of the Act, whether or not there is an arguable legal basis for withholding information."
On June 30, three days after the Supreme Court ruled in Whole Woman's Health, the department responded to the ACLU of Texas, writing, "DSHS does not intend to withhold the information you have requested and will make it available to the public on the DSHS website[.]"
After the numbers' release, ACLU Staff Attorney Trisha Trigilio said, "Given the overall drop in abortions — especially in vulnerable communities along the border, as well as the precipitous 70 percent drop in medication abortions, these numbers show that this law never had anything do with women's health. It's clear why lawmakers might have wanted to keep this information out of the public eye before the Supreme Court made its decision."