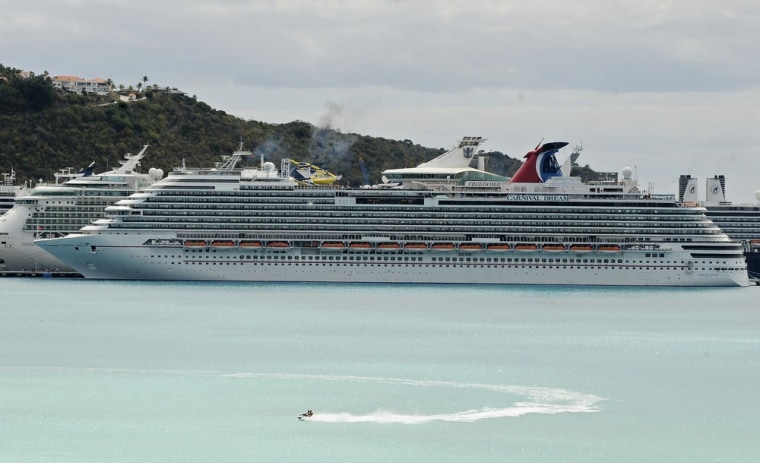 Just a month after malfunctions brought misery to passengers on the Carnival Triumph, the Miami-based cruise line had more problems on its hands Friday, with mechanical problems leaving one of its ships stuck at port in the Caribbean island of St. Maarten and a second slowly limping toward home in Tampa.
The Carnival Legend developed a propulsion system problem while on the last leg of a seven-day Caribbean cruise, the company said in a statement.
Passengers looking forward to a final stop in Grand Cayman were instead spending the last days of their cruise on a slow ride home and were expected to reach Tampa on Sunday.
Carnival did not specify the exact nature of the problem, saying only that the ship had "a technical issue with one of its Azipod units." Azipod is a trademark name for a high-tech propulsion system developed by ABB Group of Switzerland, according to the ABB's website.
The cruise line has not said how many passengers are aboard, but the 88,500-ton ship can carry more than 2,100 people.
"The ship's safety systems and hotel services are all functioning normally," Carnival said in its statement.
A day before the Legend ran into trouble, the Carnival Dream became stuck at port in St. Maarten after its emergency diesel generator failed during a scheduled test.
The crew had to close one public bathroom because of an overflowing toilet, and another toilet malfunctioned in a passenger cabin, Carnival spokesman Vance Gullikson said. There were periodic problems with other restrooms, as well as elevators, the company said.
The ship's capacity is listed at more than 3,600 passengers.
Gullikson said the cruise line would fly the Dream's passengers either to Orlando or their home airports as the ship remained stuck in St. Maarten.
It also plans to give refunds for three days' worth of travel and offer 50 percent off a future cruise.
Passengers aboard the Legend will be given $100-per-person credits in addition to a refund on Grand Cayman shore excursions. Carnival said it would also offer passengers a 50 percent discount on a future cruise.
The incidents with the Legend and Dream follow a February engine fire on the Carnival Triumph that left thousands of passengers adrift for five days with overflowing toilets, food shortages and makeshift sleeping accommodations on deck. At least four lawsuits, including a class-action case, have been filed against Carnival in that incident.
Related:
Coast Guard: Fuel leak caused Triumph fire