More than two years after a mass shooting at a Las Vegas country music festival that killed more than 50 people, a California woman who was shot that night has died.
Kimberly Gervais, who suffered a spinal injury in the Oct. 1, 2017, attack, died Friday in California, a coroner said.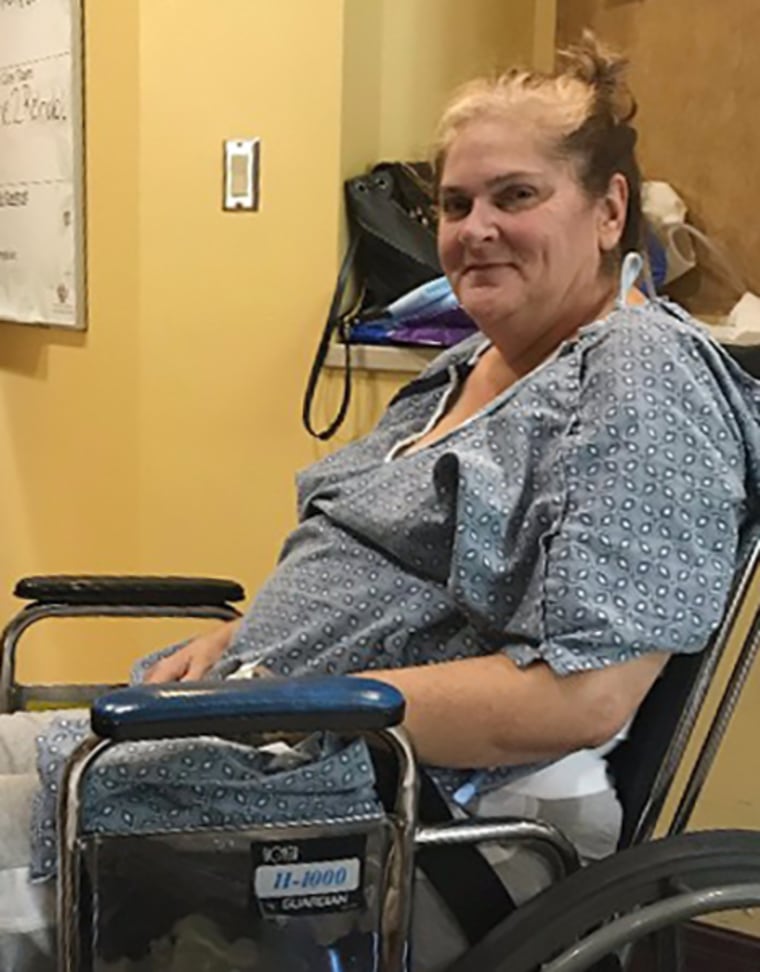 The 57-year-old of Mira Loma, California, was convalescing at a nursing facility in Redlands, the San Bernardino Sheriff's Department said in a coroner statement.
On Friday, she was taken to Redlands Community Hospital and was declared dead shortly before 5 p.m., the statement said. An autopsy is planned.
Attempts to find phone numbers for relatives of Gervais were not immediately successful Monday night. A woman identified as her sister, Dena Sarvela of Vancouver, Washington, told a Portland, Oregon Fox affiliate, KPTV, that Gervais will "never leave my heart, ever."
Authorities had said that the death toll from the attack was 58. An email to the Las Vegas Metropolitan Police Department on Monday night about whether Gervais is being counted as the 59th person killed was not immediately returned.
The government of Clark County, Nevada, which includes Las Vegas, tweeted Monday that "Our thoughts go out to the family and friends of Kim Gervais," and that she was wounded and paralyzed in the Oct. 1 shooting.
"For the past two years, she had battled the physical and psychological toll of the Las #Vegas Shooting," Clark County's tweet read.
The New York Times reported in October 2017 that Gervais had been told she was a quadriplegic after she was shot in the back. She attended the music festival with two friends, only one of whom was not shot; the other friend, Pati Mestas, died, the newspaper reported.
The shooting took place when a gunman opened fire on crowds from a window of his room at the Mandalay Bay. Stephen Paddock, 64, killed himself as police closed in, authorities have said. A motive in the mass shooting, the deadliest in modern U.S. history, has not been determined.
The FBI has said Paddock sought notoriety but that investigators found no "single or clear motivating factor" for the shooting. His father was a bank robber who was once on the FBI's most wanted list.
MGM Resorts International, which owns Mandalay Bay Resort & Casino, agreed to settle with victims of the Las Vegas shooting for $735 million to $800 million, MGM and attorneys said last month.
The Trump administration banned "bump stocks" the device used by the shooter, and which allow semi-automatic weapons to fire rapidly, in response to the attack. A federal judge in February rejected a challenge to the move and upheld the ban.
The U.S. Supreme Court in March declined to take up an appeal challenging the federal ban.