The majority of the Houston Texans football team took a knee before their game against the Seattle Seahawks on Sunday in response to a controversial remark the team's owner made earlier this month.
Texans owner Bob McNair attended an owners' meeting this month in New York on Friday and, according to ESPN The Magazine, said during a discussion about players' negotiating over their right to protests: "We can't have the inmates running the prison."
McNair said he regretted the comment but was "not referring to our players," The Associated Press reported.
McNair did not meet with the players on Friday after the comment but instead waited until Saturday morning to apologize personally — which reportedly bothered some of the team's players.
Players also remained unconvinced by the apology, according to the AP, and they told numerous media outlets that they had met to discuss how to react moving forward.
"I think it angered a lot of players, including myself," Texans offensive lineman Duane Brown told reporters on Friday. "We put our bodies and minds on the line every time we step onto that field, and to use an analogy of inmates in a prison, I'd say that's disrespectful."
Brown told ESPN on Sunday morning that he believed "up to 65 to 70 percent" of the team would kneel during the national anthem. They did not follow reported plans to remove the Texans' logo from their helmets.
Related: Opinion Shifts in Favor of Athletes' Anthem Protests in New Poll
The controversy is part of a larger polemic that extends to last season, when Colin Kaepernick knelt during the national anthem to raise awareness about racial inequality. President Donald Trump resurfaced the issue during a campaign rally in Alabama.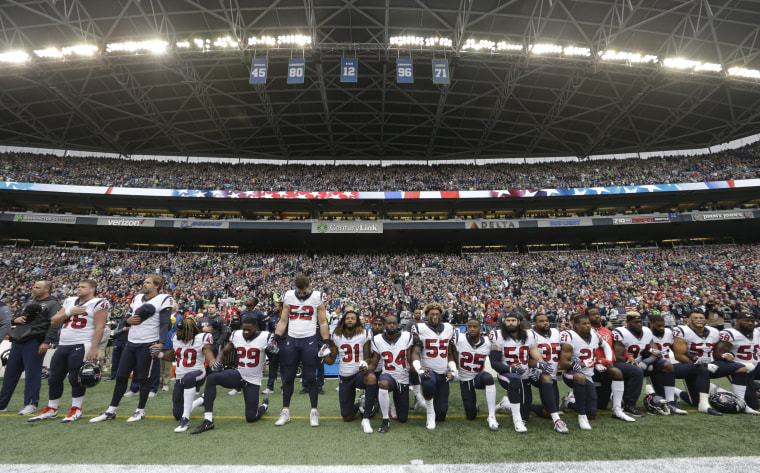 "Wouldn't you love to see one of these NFL owners, when somebody disrespects our flag, to say, 'Get that son of a bitch off the field right now. Out. He's fired!" Trump said at the time.
NFL players reacted by kneeling during the anthem and linking arms, and some refused to take the field while "The Star Spangled Banner" played.
Trump later revisited the issue in a series of controversial tweets, which endorsed a boycott of the NFL.
Americans remain divided on the issue of professional sports teams' requiring athletes to stand for the national anthem. An Oct. 15-17 HBO Real Sports/Marist poll found that 51 percent of respondents opposed rules that would force players to stand, while 47 supported the decision.