Gordon Martinez was a high school band teacher who just needed a quick $500 loan between jobs.
"I had a family I had a wife, three step-daughters and to make ends meet, I took out my most prized possession which was $8,000 tuba and I went to a pawn shop and got a $500 secured loan," he said.
"And for me [that] was the first introduction to predatory loan products, you know," said Martinez. "The illusion is, it's easy money."
But that was far from the case.
He found he could barely repay the sky-high interest and fees and soon took out even more loans to keep his family afloat.
His $500 debt mushroomed to $4,000.
It was "one of the lowest points in my life," he said. "Here I am, trying to be responsible, trying to do the right thing. But I could never get over the hill."
Ultimately he lost everything — including his home and marriage.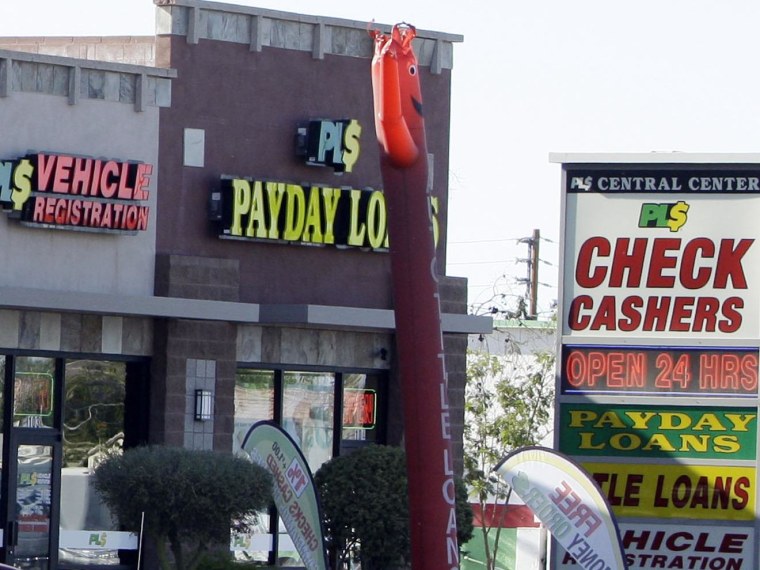 Financial experts and consumer rights groups worry that, if left unchecked, an increasing number of financially-strapped Americans will find themselves trapped in a cycle of high interest rates and debt as they look to so-called short-term "payday" loans as a quick fix.
Such loans are aimed at customers who don't qualify for a typical loan. However, most consumers can't afford to pay the loan back by their next paycheck. Within a month, 70 percent of those borrowers take out another loan with interest rates averaging well over 300 percent and higher.
That's why consumer rights advocates are applauding a government move to crackdown on so-called "predatory lenders" that charge triple digit interest rates for "payday" loans.
The Consumer Financial Protection Bureau is proposing protections that would cover products including payday and other short-term loans, auto-title loans and some high-cost installment loans. Lenders would have to conduct an upfront "full-payment" test to see is a potential borrower is capable of paying the money back without incurring more debt.
The provisions would also limit the number of times a borrower can take out a new loan.
"Approximately one in four new loans result in a sequence of ten loans — made in a desperate struggle to keep up with loans that are due," said Richard Cordray, director of the Consumer Financial Protection Bureau. "It is much like getting into a taxi for a ride across town and finding yourself in a ruinous journey across the country."
Related: Try This Before You Turn to a 390 Percent Payday Loan
But the loan industry argues such measure will only hurt consumers and small businesses.
"These products meet the needs of millions of American consumers who get caught between paychecks with some type of unbudgeted or unplanned expense," said Jamie Fulmer, senior vice president of public affairs at Advance America, a consumer lending company.
But advocates and some city leaders point out that at a 455 percent interest rate, a $500 loan can grow to $2300 in a year.
"455 percent! That's not just incomprehensible," Mayor Sly James of Kansas City told a gathering at a recent Consumer Financial Protection Bureau session on payday loans. "It's obscene, It's immoral. It should be illegal."
As for Martinez, he said he feels he learned a costly lesson on the problems with short term loans. It's a lesson he isn't soon to repeat.
"I can't attest to why others use the product," he said. "But for me if I had known then what I know now, I never would have started down that road."