While a majority of Americans remain under stay-at-home orders, a handful of states are beginning to reopen this week.
Some less-than-enthusiastic workers are returning to work at the direction of governors, and local officials are wondering whether it's the right decision to ease restrictions with infection numbers till climbing.
These are some of the first states to allow businesses to start reopening after what was a near-nationwide lockdown to stop the spread of the coronavirus.
Georgia
In Georgia, restaurants and movie theaters can open up on Monday, following a Friday order allowing barbershops, gyms, salons and more to reopen.
Republican Gov. Brian Kemp wrote on Twitter that his decision is "informed by data and public health recommendations," but Georgia has not had new cases of COVID-19 fall over two weeks, which White House guidelines said should be the case before state economies are restarted.
"I think that it is putting all of us at risk," Atlanta Mayor Keisha Lance Bottoms said of the decision to reopen certain businesses. Savannah Mayor Van Johnson said it is "absolutely premature" to reopen and is asking businesses in his city to remain closed.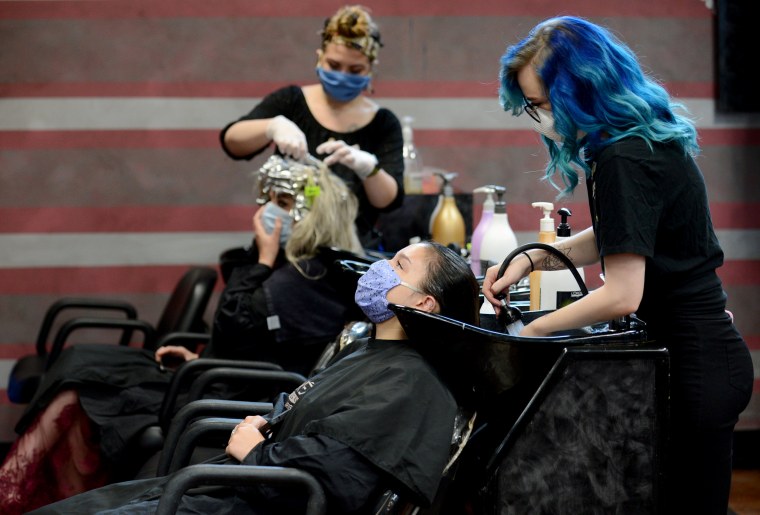 Colorado
Businesses will also begin reopening in Colorado, under the order of Gov. Jared Polis, a Democrat who proposed a "safer-at-home" plan that allows some retail stores to offer curbside pickup and restarts one-on-one real estate showings among other services. The JBS meatpacking plant in Colorado that closed after some workers died from the coronavirus also reopened.
But Boulder, home to Colorado University's flagship campus, announced on Thursday that most city buildings would remain closed until at least June 1.
"In the weeks to come, we hope to see 14 consecutive days of decline in COVID-19 cases that will allow us to implement a phased approach to restoring city operations," Boulder City Manager Jane Brautigam said in a statement. "The governor announced that the state will begin to reopen the economy with tight guidelines to prevent a new spike in hospital cases, and we are still working to understand the details of the Safer at Home transition."
Minnesota
Some nonessential business in Minnesota will open, too, as a new executive order from the governor will allow workers in "noncustomer facing" industries who can't work from home to return to work. Democratic Governor Tim Walz says he believe the order will put up to 100,000 Minnesotans back to work.
Mississippi
In Mississippi, some retail stores can reopen with social distancing measures in place, but barbers, gyms, salons, spas and movie theaters must remain closed, unlike in Georgia.
Tennessee
In Tennessee, the "vast majority" of businesses are allowed to reopen Monday, where Republican Gov. Bill Lee said he decided not to extend the state's stay-at-home order past April.
"These businesses will open according to specific guidance that we will provide in accordance with state and national experts in both medicine and business," Lee said in a statement.
Montana
Montana ended some of its stay-at-home order on Sunday, allowing worship services to restart under social distancing guidelines and retail business to operate on Monday. Restaurants and bars will follow suit on May 4 under strict guidelines and with reduced capacity, and schools have the option to reopen on May 7. The state is keeping movie theaters and gyms closed.
Montana has recorded a low number of cases throughout the pandemic, with less than 500 reported residents sick and 14 deaths, according to an NBC News tally. Citing the state's lowest number of hospitalizations per capita, Gov. Steve Bullock, a Democrat, said the state is ready to cautiously open up.
"We have slowed the spread of this virus and saved lives," Bullock wrote in his reopening plan. "These collective actions have allowed us to get to where we are — to begin a phased reopening of the state."