A South Carolina woman whose five young children were brutally murdered by their father asked a jury not to sentence her ex-husband to death. The stunning request comes as the latest unexpected twist to one of the most horrific murder cases in the state's history.
Amber Kyzer, who lost all her children at the hands of her ex-husband Timothy Jones Jr., 37, asked the jury to spare the man's life Tuesday during testimony in the sentencing phase of his murder trial.
"He did not show my children any mercy by any means. But my kids loved him and if I'm speaking on behalf of my kids and not myself, that's what I have to say," she said. She admitted that there were many points in the trial though that made her feel that she wanted to "fry him."
She added that Jones was a good father during their marriage and she only gave up custody of her children to her ex-husband because he was a successful computer engineer and earned much more money than she did.
While Kyzer said she does not personally support the death penalty, even in the case of her ex-husband, she would respect the jury's decision. "That's why we have the jury," she said.
Kyzer's statement took the courtroom by surprise and comes as another intense turn in the murder trial. Jones, who was found guilty of murder by a jury last week, killed his five children in his home during the summer of 2014.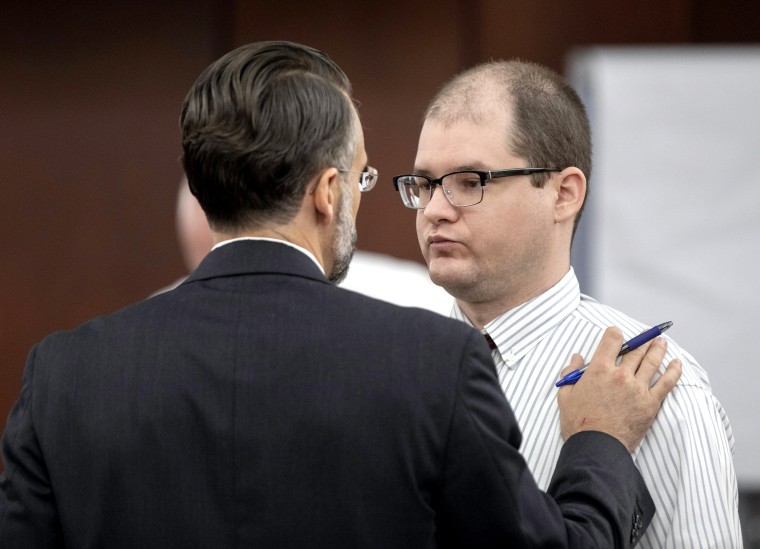 The father allegedly forced his 6-year-old son, whom he believed to be conspiring with his ex-wife, to exercise until the child died. Jones then decided to kill his remaining children. He strangled 8-year-old Merah and 7-year-old Elias with his hands and used a belt to choke 2-year-old Gabriel and 1-year-old Abigail because his hands were too big, according to prosecutors.
Jones put the bodies in garbage bags and dumped them on a hillside near Camden, Alabama. He was arrested a short time later at a traffic checkpoint in Smith County, Mississippi, after an officer said he smelled the horrible odor of decomposition from the SUV.
Prosecutors are seeking the death penalty and portrayed Jones as an evil, selfish father who killed his 6-year-old in a rage and then fatally strangled the rest of his children because he did not want his ex-wife to have them.
But the defense claimed Jones was suffering from emotional trauma and an undiagnosed mental illness stemming from a multitude of pain and abuse surrounding him as a child. They said that he cracked when his marriage failed and his wife left him for a teenager next door, leaving him to be a single father. His ex-wife claimed she could no longer live with Jones who was using religion to control her.
The defense called a social worker who detailed several levels of trauma within Jones' family, including three generations of rapes, molestation by family members, gunshots, stabbings, drug deals, voodoo rituals, prostitution, frequent screaming fights and cursing at children, and how Jones' mother dipped him in ice water baths and gave him laxatives to try to make him behave.
The social worker said Jones' grandmother was raped by her stepfather and gave birth at age 12 to Jones' father.
The grandmother, Roberta Thornsberry, testified for the defense Monday, according to the South Carolina newspaper, The State.
"I love him," she said pleading against the death penalty. "Our family's been through enough. I don't think we can take any more. This has broke us so bad."
Jones' father also testified during the hearing, even removing his shirt to show the jury tattoos of his five slain grandchildren, according to The State.
"I don't want to hurt no more," Jones Sr. testified, asking the jury not to opt for the death penalty.
The social worker also revealed that Jones' mother had schizophrenia and went into a mental institution for decades starting when Jones was 3. Her psychiatric records showed she told doctors her father molested her and locked her in a closet with a dead chicken dripping blood on her as part of a voodoo ritual, the social worker said.
Permission for the social worker's testimony during the sentencing phase of Jones' trial was fiercely disputed. Prosecutors earlier persuaded the judge not to let her testify before a jury convicted Jones.
The same jury must soon decide if Jones gets the death penalty or life without parole.