A Florida man has been arrested on suspicion of manufacturing an explosive chemical called the "Mother of Satan" powerful enough to blow up a neighborhood block, Volusia County Sheriff's Office and local reports said.
Jared Coburn, 37, was arrested in Lake Helen, Florida, on Tuesday after police received a tip about explosive materials at his home.
Police discovered jars of the highly explosive substance triacetone triperoxide, which is a white crystal powder called the "Mother of Satan" by terrorist groups like Al Qaeda.
The substance was used in the 2017 Manchester bombing, the 2015 Paris attacks and by "Shoe Bomber" Richard Reid in 2001, according to Sheriff Mike Chitwood.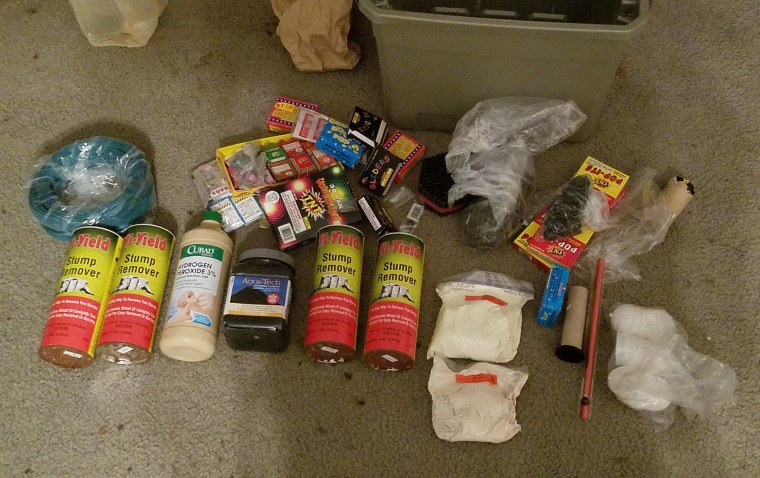 Chitwood said that Coburn, who told police that he was trying to make homemade fireworks, was savvy enough to create the chemical and not blow himself up.
"We're not going to be able to move this to our range to detonate, we're probably going to detonate it in a field over here," Chitwood said of the highly volatile substance on Tuesday night.
Coburn told police that he began making explosives when he discovered a passion for model rockets and began to experiment with other types of explosives when those model rockets weren't exciting enough, according to a police report. Coburn said he used YouTube videos to "progress his knowledge," the report says.
Chitwood said the Federal Bureau of Investigation and the Bureau of Alcohol, Tobacco, Firearms and Explosives were at the house to help them move the substance, adding that police would use a robot to move and detonate the chemicals.
Later in the night, police tweeted: "If you heard a boom in Lake Helen, that was us detonating one of the items. All good. There will be more booms, so don't be alarmed!"
Coburn has been charged with making or possessing explosives and two counts of making or possessing a destructive device, according to police records.
Police said they were grateful for the tip that led to Coburn's arrest.
"If we wouldn't have gotten that tip, who would know if we would've ever found out. Or it may have been after the fact, a very volatile situation would have taken place and somebody could've gotten hurt or, God forbid, killed. So we're very grateful for that anonymous tip," Volusia County Sheriff's Office Bomb Squad Lt. Lou Marino said.
The "Mother of Satan" is a chemical that is supposed to be ignited in order to detonate but is so unstable it can detonate on its own, officials said. Coburn made the substance out of household materials like nail polish remover and hair dye, police said on Tuesday.