A California woman was sentenced to life in prison in the murder of Anthony Avalos, a 10-year-old boy who was tortured to death after having suffered years of physical, sexual and emotional abuse by his mother and her boyfriend.
Heather Maxine Barron and her boyfriend, Kareem Ernesto Leiva, were convicted of first-degree murder in March. They had faced the death penalty, but Los Angeles County District Attorney George Gascón had said his office would no longer seek capital punishment after he won his 2020 election.
Leiva was also sentenced to life in prison. Both were denied probation and ordered to pay $7,500 in victim's compensation funds. Their attorneys have filed notices of appeal.
It was an emotional sentencing hearing as family members offered tearful victim impact statements. Anthony's half-sister, now 13, began reading a statement to the judge Tuesday, calling Barron a "monster" who failed to protect her children.
An adult took over reading the statement after she broke down in tears. Barron was also seen wiping tears from her face during the statement.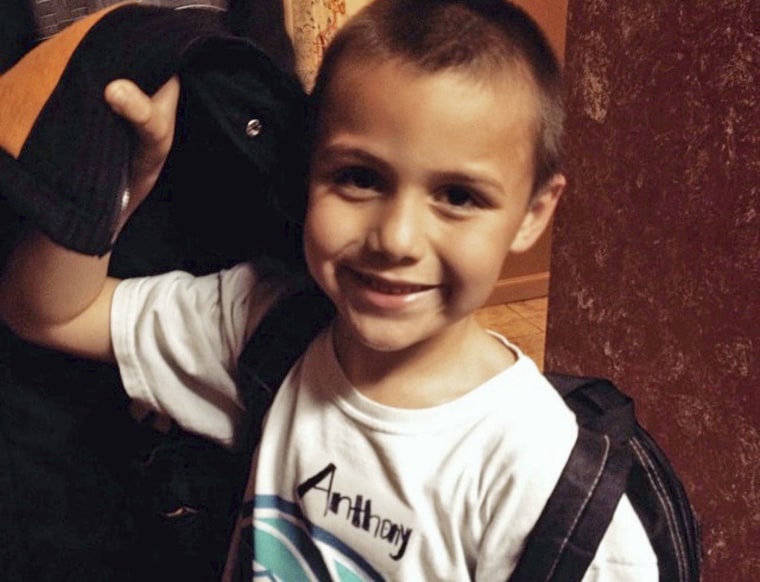 "I'm finally free of all the torture and abuse. ... If I'd known that this would end with me losing a brother, I'd do it all over again with just one difference," the statement said. "That it would be me, not Anthony."
NBC News is not identifying the girl because she is a minor and a victim of abuse.
Victor Avalos, Anthony's father, told the court that although he lived in Mexico, he had made it clear to Barron that he was willing to take over. He said he missed his son and wished Barron had made the right decision.
"My kids ask me if I'm OK. Of course I tell them yes, but it's not like that. ... I feel some type of guilt by not being able to help him when he most needed me," he told the court. "I think about that every day."
Anthony's aunts, uncles and cousins also spoke.
One of the paramedics who took Anthony to the hospital said his case is at the forefront of her mind during pediatric calls even years later.
Anthony was taken to the hospital unresponsive on June 20, 2018, in cardiac arrest and with a traumatic brain injury. He died the next day.
The court found Leiva was the perpetrator of the lethal abuse, while Barron aided and abetted him, Superior Court Judge Sam Ohta said.
His half-siblings watched as he was abused over six years, court records said. They testified that they were also punished and forced to watch one another being punished, sometimes as Leiva repeatedly dropped Anthony on the bedroom floor, NBC Los Angeles reported.
Barron and Leiva waived their rights to a jury trial, NBC Los Angeles reported. Ohta rejected the couple's defense that Anthony's injuries were self-inflicted and said they showed intent to kill in their delay in calling 911 for the boy.
Barron's attorney also alleged that she "didn't have the power to prevent this" because of her own experience with abuse, according to NBC Los Angeles.
Victor Avalos and Anthony's aunts and uncles sued the county's Department of Children and Family Services in 2019, alleging that it failed to intervene despite multiple reports of abuse before Anthony died.
The case was settled last year in a $32 million agreement, according to the family's attorney, Brian Claypool.