A Florida mother said she thought she and her young son might die when they were carried several miles from shore on an inflatable swan boat during a beach outing last month.
Tara Myers took her 7-year-old son, Brennan, to Anna Maria Island in Manatee County on Oct. 21 to enjoy the nice weather and thought it would be fun to take a gigantic raft they brought with them out on the water.
Myers said the sea appeared calm and there was little wind so she thought their ride would go smoothly, NBC-affiliate WFLA reports.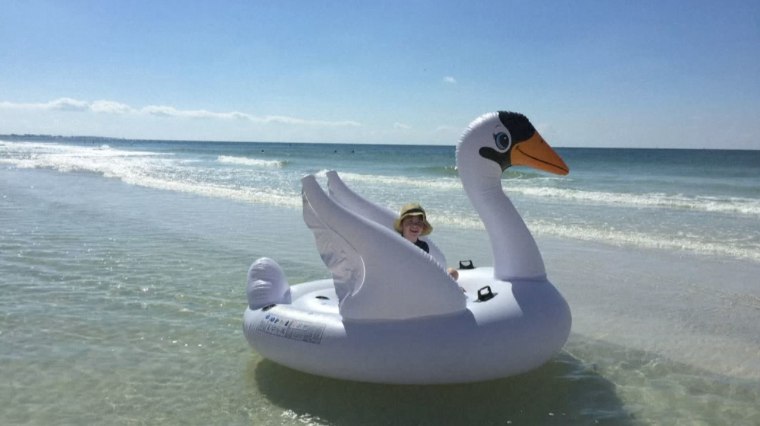 Within minutes of getting on the swan boat, however, things took a dangerous turn when the current carried Myers and her son several miles offshore.
"I was not sure if we were going to keep drifting because land just kept getting farther and farther and farther away," she said.
Myers, who often goes to the beach with her family, said she leaned over the side of the inflatable raft and began trying to paddle back to shore but it wasn't working and she quickly tired out.
"We were not going anywhere. Like I was doing that for an inch," she said.
Thankfully, beachgoers noticed the raft drifting far from shore and called 911. Myers said she broke down in tears when she finally saw the flashing lights from a West Manatee Fire Rescue boat because she knew they were safe.
"I literally just laid down on that swan float and cried. So hard because this could have ended so much worse, and I didn't want him to know that I was that scared," Myers said.
She's now warning others of the dangers of taking one of the inflatable boats out into the ocean.
"It's not worth it. To put yourselves in that type of position. I'm never going to get on a float like that again."