In a closely watched case that went to the Supreme Court and galvanized calls for legal reforms to better protect domestic violence victims, a federal judge is set to rule on whether a 6-year-old boy must be sent back to Italy to live with his father, who admitted in court to abusing the boy's now deceased mother.
The decision about whether the son of the late Narkis Golan can continue living with his mother's family in Brooklyn, New York, or must return to his birthplace of Milan to live with his father, Isacco Jacky Saada, will follow a contentious court battle in which Golan's family has alleged the boy has returned from recent visits with his father distressed and with bruises, among other claims included in recent court filings. Saada denies causing bruising or distress to the boy. 
The case made it to the Supreme Court in March 2022 — prior to Golan's death in October — where the justices unanimously sided with her by making it easier for judges to reject the request for a child's return to a country where they could face a "grave risk of harm." The justices then sent the case back to a lower court in the Eastern District of New York, where it now awaits a ruling by Judge Ann Donnelly. Since the case was first brought in 2018, Donnelly has ordered the boy's return to Italy three times, all of which Golan's lawyers successfully appealed. 
Donnelly has ordered a childhood autism specialist to evaluate the boy's current condition before she issues her ruling, according to the public docket. It is unclear when she will rule. 
Domestic violence experts and advocates who have followed the case say it is a window into a reality experienced by mothers around the world who flee abusive partners with their children for another country and then get accused of kidnapping under the child abduction clauses of the Hague Convention, an international treaty adopted by more than 100 countries, including the U.S., since its proposal in 1980. Mothers made up 73% of parents who took their children to another country in Hague cases filed in 2015, the most recent year for which data is available. While there are no definitive statistics, experts estimate that in the majority of such cases, mothers are fleeing domestic violence. 
"The whole thing, as is written, really does not understand the idea of mothers fleeing to protect children from physical and sexual and psychological abuse in the country of residence," Lynn Hecht Schafran, senior vice president at the women's legal defense organization Legal Momentum, said of the treaty's child abduction clauses.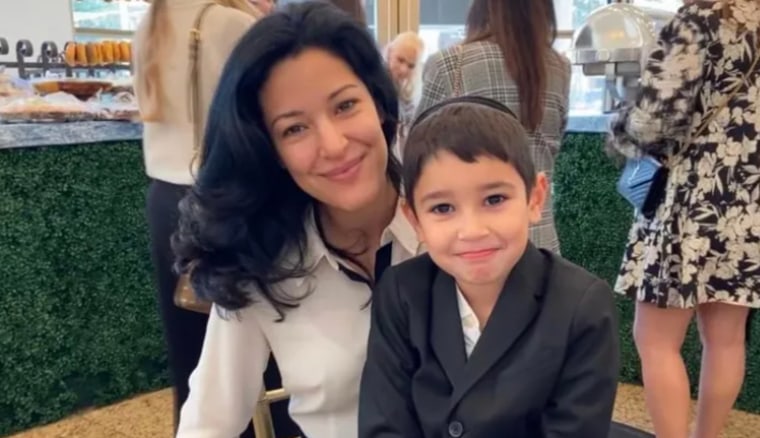 Golan fled Italy with her son for the U.S., where she was born, in 2018, after Saada physically and verbally abused her and threatened to kill her, with much of the abuse unfolding in front of her son, according court documents and the Supreme Court's opinion in Golan v. Saada. Saada subsequently asked a court to return the couple's son to Italy under the Hague's child abduction clauses, setting in motion a yearslong legal battle. (Golan also alleged in court that Saada sexually assaulted her, which he denied.) 
Golan was found dead in her Brooklyn apartment on Oct. 18 of last year, in what the New York City Medical Examiner's Office ruled was a natural death caused by a brain bleed. Although Golan's family raised questions about the circumstances of her death, the NYPD and the Brooklyn District Attorney's Office investigated and didn't find any evidence of foul play or criminality, according to spokespeople for the police and the DA's office.
Lawyers representing Golan's family, the boy and Saada did not respond to emails and phone calls seeking comment.
Allegations of bruising, swearing and emotional turmoil
Morin Golan, Narkis' sister, now has primary custody of the boy. According to recent court filings by lawyers for Golan's family, after two recent visits with his father the boy returned to his aunt with bruises.
After a supervised visit in February, the boy returned home with "two black-and-blue eyes," which the supervisor said he got while jumping on the bed and accidentally hitting his knee into his face, the filing states. Then, after the first unsupervised visit with his father in April, the boy returned home with bruises on his leg and arm, where the bruises appeared "in the shape of three fingers," the filing states. 
Saada lives in Italy but returns to New York on weekends for unsupervised overnight visits with his son. 
Morin Golan said that when she asked her nephew about the source of the bruises, he said "he did not remember or does not know how the bruises got there," the filing says, adding that his autism and trauma disorders mean that "he is often not communicative and cannot advocate on his own behalf." 
"It is not clear to Ms. Golan if the bruises are due to an innocuous incident, a failure to properly supervise [the boy], or something more concerning," the filing states. 
In a response filing, Saada's lawyers say the father is "unaware of any recent bruising and denies having caused any bruising to [the boy]." The lawyers also reiterate the supervisor's claim that the first bruise was caused when the boy was jumping on the bed.
The filing from Morin Golan's lawyers also alleges that the boy says "he is not permitted to speak about his mother" when visiting his father and that "he is afraid to bring a stuffed animal that plays a recording of his mother's voice" to their visits because he is afraid he will get in trouble. They also claim Saada falsely told his son his mother hit him and dropped him on the floor as a baby; made disparaging remarks to the boy about Morin Golan and her family, including that they are a "garbage family"; and told the boy he "will soon go back to Italy with him and will never see Ms. Golan or his maternal family again."
Saada's lawyers deny that the boy is forbidden to speak about his mother, adding that "they frequently will have conversations about how [the boy] misses her," and deny that he is forbidden to bring the stuffed animal, according to their filing. They claim that the boy recently told his dad that his mother was abusive toward him and that Saada "was surprised" by those statements. The lawyers said Saada denied making disparaging remarks about the Golan family and said that "he has told [his son] that he can keep in touch with whomever he wants if he goes back to Italy." 
Morin Golan's lawyers also allege that Saada uses "inappropriate and vulgar terms" during video calls, which they say the boy repeats after never using them previously. They also say the boy "becomes defiant, aggressive, angry and disrespectful" following visits with Saada, which they allege "reflects a pattern of deterioration" following extended visits with his father. The lawyers also allege the father told the boy's trauma therapist that the boy "does not have any mental health concerns and disputed any need for therapy," according to a court filing by Golan's lawyers. 
In response, Saada's lawyers concede Saada "may have, at times, used inappropriate language" around his son, but say that he has instructed the boy "to refrain from using foul language, which, as a young child, [the boy] finds amusing." The lawyers also said that English is not Saada's first language and that he "understood (perhaps mistakenly) from the trauma therapist that [his son] no longer needed her services," adding that Morin Golan's "suggestion that [Saada] is dismissive of his son's needs is made in bad faith and untrue." 
Experts say the fact that Judge Donnelly — who previously led the Family Violence and Child Abuse Bureau at the Manhattan District Attorney's Office — could still order the boy sent back to Italy reflects a broader problem of how many judges fail to take a history or threat of domestic violence into account when ruling on such cases.
"It is quite unbelievable that the judge might return the child despite all that has happened, including the loss of his mother and the reports about visitation," said Merle Weiner, a professor at the University of Oregon's School of Law who is widely recognized as an expert on the Hague Convention's child abduction clauses. 
Donnelly did not respond to questions from NBC News. 
An uncertain potential future in Italy
If the boy is sent back to Italy, his final destination will be decided by the Chief Public Prosecutor at the Milan Juvenile Court, according to a letter from Italian judge Daniela Bacchetta filed last month. 
In an opinion filed on behalf of Morin Golan, Laura Serra, a Rome-based attorney who specializes in family law, wrote that if Donnelly sends the boy to Italy, there is a "very high likelihood" he would be placed in a group home, where she claims he could stay for years while Italian authorities investigate the various family members who could potentially take custody of him, including his father. Serra wrote that the child's potential placement in such a setting would be "especially risky" given his autism, trauma history and his inability to speak Italian. It would also likely take at least six months for him to obtain an Italian autism certification, which he would need in order to access educational support, according to Serra's opinion.
In an opinion filed on Saada's behalf, Zanetti Vitali and Romualdo Richichi, lawyers based in Milan with specialties in family law, said Serra's opinion that the boy would very likely to end up in a group home is "completely groundless" because foster care is "the last resource" in Italy. They also say the father poses no risk to the boy "because there was never any allegation of direct violence against him."
Donnelly has made a similar argument in the past, writing: "As I have explained before at length, the grave risk of harm to [the boy] comes from a single source — the violence between his parents," according to the memorandum decision she wrote the third time she ruled to send him back to Italy, last August.
But Schafran and Weiner, the Hague experts, say those arguments reflect a misunderstanding of the links between intimate partner violence and child abuse. While data is limited, experts say many children who grow up in homes where intimate partner violence takes place also experience abuse themselves. And while Donnelly has written that "there is no significant evidence that Mr. Saada was intentionally violent" to his son, research has established that witnessing domestic violence negatively impacts a child's development and alters the structure of their brain, the Supreme Court opinion notes.
"It's shocking that a judge as knowledgeable as this judge is, because of her own experience in the courts, would make this claim that once these parents live apart there will be no more violence," Schafran said. 
Growing calls for reform
Prior to her death, Golan was part of a growing movement of advocates and experts calling for change in how the Hague Convention's child abduction clauses are implemented in order to better protect women and children fleeing domestic violence.
In an April report, Reem Alsalem, the United Nations Special Rapporteur on violence against women and girls, recommended the treaty "be revised to better protect abused women and their children by allowing a stronger defense against return if there is family and domestic violence," and said that judges ruling on those cases should "be required to consider family and domestic violence" in their decisions. 
In the U.S., the treaty is implemented through the International Child Abduction Remedies Act, according to the State Department. A bill drafted in 2014 by former Rep. Ileana Ros-Lehtinen, R-Fla., and others sought to amend the legislation to require judges to recognize the domestic abuse risk a child could face if ordered to return to their home country, and to require judges to complete training on the impacts of domestic violence on families and children. However, the bill failed to even be introduced in Congress due to a lack of interest among legislators, according to Weiner, who provided NBC News with the draft of the bill. Ros-Lehtinen declined to comment.
There have since been some efforts to spur change on the state level. Last month, for example, Florida Gov. Ron DeSantis signed into law a bill that will require family courts to consider threats against ex-partners or spouses as a factor in decisions about child visitation and custody, NBC Miami reported. The law is named for Greyson Kessler, a 4-year-old Florida boy who was killed by his father in a 2021 murder-suicide in Fort Lauderdale, the local station reported. 
But experts say such efforts don't go far enough.
"When you have legislation and an international treaty that do not match the way things are playing out on the ground, in reality, you run into trouble," Schafran said.
If you or someone you know is experiencing domestic violence or the threat of domestic violence, call the National Domestic Violence Hotline for help at 1-800-799-SAFE (7233), or go to www.thehotline.org for anonymous, confidential online chats, available in English and Spanish. Individual states often have their own domestic violence hotlines as well.
Advocates at the National Domestic Violence Hotline field calls from both survivors of domestic violence as well as individuals who are concerned that they may be abusive toward their partners.