The mother of the teen accused of killing a beloved high school math teacher in Danvers, Mass., has had her heart "broken" by the tragedy, an attorney for her son said in a statement on Saturday.
Philip Chism, 14, has been charged with first-degree murder in the killing of Colleen Ritzer, whose body was found in the woods on Wednesday. A law enforcement source told NBC News on Friday that the 24-year-old's throat had been slit from the back with a box-cutter in a high school bathroom.
Chism pleaded not guilty at his arraignment.
"On October 22, 2013, two families were unexpectedly and inconceivably changed forever," said attorney Denise Regan on behalf of the suspect's mother, Diana Chism."Ms. Chism's heart is broken for the Ritzer family and the loss of their daughter and sister Colleen Ritzer."
"Ms. Chism would like you to know that her son was born in love and is dear to her, very dear. She is struggling to understand this and respectfully asks for some time to process this," the attorney said.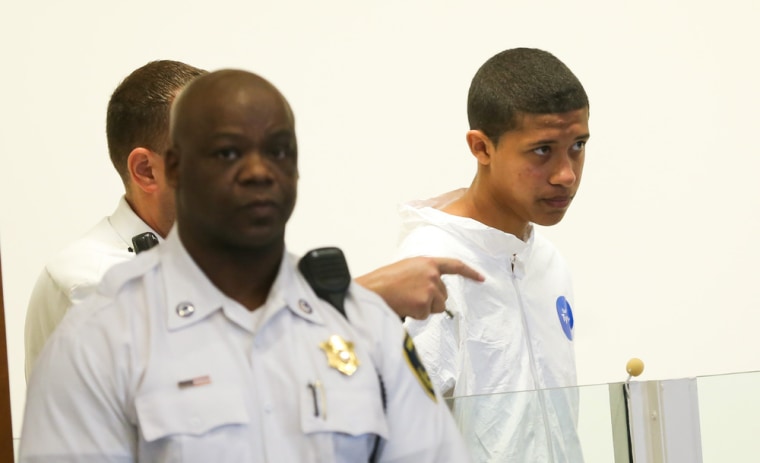 A freshman at the school in Danvers, north of Boston, Philip Chism was charged as an adult and is being held without bail. According to a law enforcement source, a surveillance camera at the school caught the suspect following Ritzer into the bathroom, then again as he left covered in blood.
The law enforcement source told NBC News that Ritzer's body was wheeled out of the school in a recycling bin, where it was then dumped and covered with leaves. The suspect allegedly changed his clothes after the killing and went to the movies, according to the source.
The attorney for the boy's mother asked for her privacy as the case continues.
"She asks that you know that she cares for the world's hurt over this and greatly hopes for your prayers for the Ritzer family, the Danvers community, for her son, and all those affected by this tragedy," Regan said in the statement.
Students returned to the high school on Friday, but the second-floor bathroom where blood was found remained closed.
"I think it's troubling to a lot of kids knowing they were so close to a murder," Danvers parent Lisa Smith told NBC affiliate WHDH.
NBC News' Tom Winter, Alastair Jamieson and Erin McClam contributed to this report.
Related: