When you think of the Motor City, bicycles may not be the first thing that comes to mind. In recent years, however, Detroit has seen a surge in cycling interest and bike-related small businesses opening. Now, "The D" is home to one of the largest weekly community bike rides in the world.
Slow Roll Detroit, which was founded in 2010 by Detroit residents Jason Hall and Mike MacKool, meets weekly to explore different neighborhoods on their roughly 10-mile route in an effort to highlight new businesses and community projects happening around the city.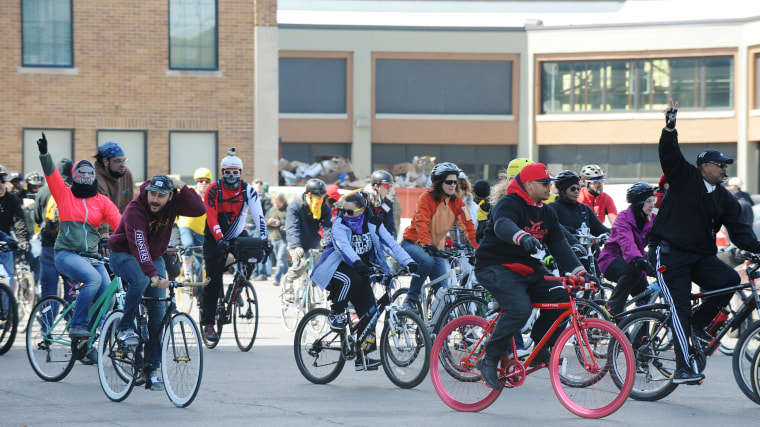 What started as a few friends meeting informally now draws as many as 5,000 on a given week from all over the city and suburbs.
Hall says he regularly gets letters from participants who have noticed improvements in their mental and physical health as they have incorporated cycling into their daily routine outside of the weekly ride.
"And it's not even just about the bike. People forget that the bike is merely the vehicle to get you to whatever change you need in your life," Hall said.
According to the League of American Bicyclists, Detroit has had the biggest increase in bike commuting of any major American city since 1990. Census data show that those commuting by car has fallen by 20% since 2007, while bike commuting has increased by 43%.
And while rides like Slow Roll and other smaller rides have helped bolster interest in cycling, groups like Detroit Greenways Coalition have been working to make Detroit's roads safer.
A hundred and fifty miles of new bike lanes have been added since 2006 and the city's first protected bike lane — planned to be 10 miles long, it is expected to be one of the largest in the United States — is currently under construction.
Additionally, the Inner Circle Greenway, a 26-mile loop around the city connecting the close suburbs to downtown, is halfway complete.
The city is currently in talks to purchase the remaining land, an 8.3-mile abandoned railroad property that was once used to carry materials to and from a factory.
As Todd Scott with Detroit Greenway notes, the drop in population in the city has opened up roads to be reimagined for a new generation with cycling in mind.
For the folks at Slow Roll, this drop has allowed them to build a stronger community for those who have remained. There's a beauty in Detroit having fewer people, Hall said.
"We get to slow it down, there's space and you get to know each other and stretch out," he said.
Hall's not stopping at the city limits. He has already helped to launch Slow Roll rides in eight others cities and has plans for more.
Slow Roll Detroit just finished up their fifth season last month and will be back out on the roads in spring.
"When we began, there was only like 13 miles of trails in Detroit for biking and walking — now we're up to about 200 miles," Scott said. "We now have the nations second largest weekly bike ride. We never would have imagined that when we began."