SAN JUAN OSTUNCALCO, Guatemala — Hundreds of mourners congregated in a town in Guatemala on Saturday to bid farewell to a young indigenous woman who was shot dead by a border patrol agent in Texas last month.
The body of 20 year-old Claudia Gomez was repatriated on Thursday to her home town of San Juan Ostuncalco in western Guatemala.
Donning traditional clothing and carrying floral wreaths, her bereaved family and a throng of mourners marched under heavy rain for an hour from her parents' home to the cemetery.
"It is really sad what happened with this girl," said 40-year old housewife Maria Ventura. "We knew her and she was a good person, that is why we understand the pain and we're here to support."
Gomez was shot on May 23 in south Texas by an officer who opened fire after several people "rushed him," the Border Patrol said. In an earlier statement, it had said migrants had attacked the agent with blunt objects, and that Gomez was among the assailants.
"I'd like to know who killed her and have that person right here in front on me," said Gilberto Gomez, after his daughter's burial.
Many of the funeral attendees asked for justice and improved treatment of immigrants in the United States. President Donald Trump has said he plans to build a wall along the southern border with Mexico and often rails against immigrants who enter the country illegally.
"We feel a great pain and sadness and want justice," said 38-year old farm worker Mateo Carreto.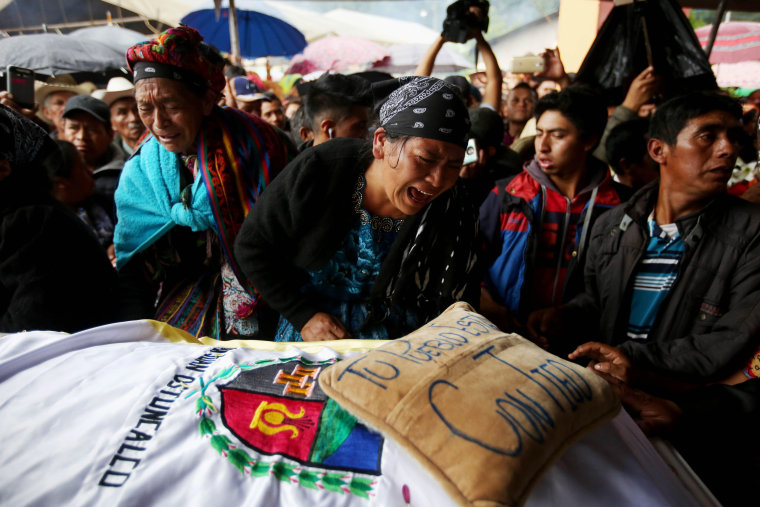 In the months after Trump took office, the number of migrants caught along the U.S.-Mexico border and Mexico's southern border with Guatemala fell dramatically. But arrests have crept back up since.
Data from Mexico's migration institute shows deportations of Guatemalans fell in the first three months of 2017 compared to the prior year, but they have been rebounding close to 2016 levels to nearly 13,200 in the first quarter of 2018.
Poverty, as well as deepening violence from criminal gangs and drug traffickers, has driven hundreds of thousands of Central Americans to try and cross the U.S. border illegally or seek asylum.
"We regret that a country that fosters peace commits these heartless acts against a defenseless girl that was just looking for a better future," said the mayor of Ostuncalco, Juan Alberto Aguilar.