Grieving fire crews in Arizona headed back into a tempestuous and uncontained wildfire on Tuesday that already has claimed the lives of 19 of their elite colleagues, even as gusty winds and extreme heat fanned the flames.
The Yarnell Hills fire had burned its way across 8,400 acres of dry brush outside Phoenix by Monday evening, when fire officials said that the blaze remained zero percent contained. The towns of Yarnell and Peeple's Valley remained under evacuation orders as flames advanced. More than 200 structures, including many homes, have been turned to cinders by the fire.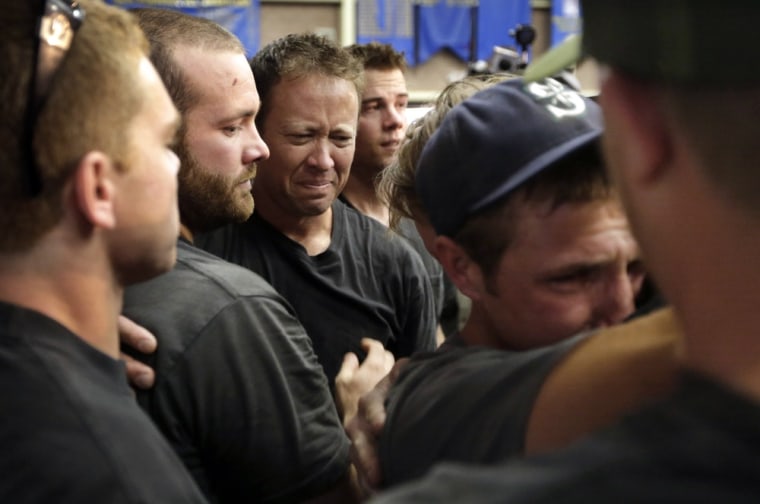 "The fire was nipping at our heels and we had to get out of there," Yarnell resident Russ Reason told The Arizona Republic as the fire encroached on houses in his neighborhood. "I'm sure my house is gone by now."
"It looked like hell coming over that ridge," Yarnell homeowner Annie Gaines told the newspaper. "There was a towering inferno."
A dip in the blistering temperatures the area has seen for the last few days could aid firefighters on Tuesday, Weather Channel meteorologist Frank Giannasca said. An early evening thunderstorm might bring some precipitation, he said, but that might be a mixed blessing.
"I would say that at this time if it were to occur, it would be more a hindrance than a help," Giannasca said. "If it rains where they need it to rain, then great, but it could produce strong, erratic gusts gusty winds for a short time, which would not help them at all. Often at this time of year you get dry thunderstorms, which only produce lightning and no rain, which are no help at all."
Firefighters already accustomed to exercising caution in adverse conditions carried the memory of the 19 members of the Granite Mountain Hotshots – many of them in their 20s, many fathers with young children – who lost their lives on Sunday.
Karen Takai, a spokeswoman for fire officials, said the firefighters "probably get up in the morning and go through some emotional thinking and readjusting of their mind." Then they get to work, she said.
"To honor the firefighters, they're going to put that fire out," she said.
Those firefighters were remembered for their dedication in the face of blistering fires, Juliann Ashcraft, whose husband Andrew died in the blaze, said on TODAY.
"It was everything to him. Outside of the love he shared for his family members, hotshot firefighting was his life," Ashcraft said. "He had his priorities in line, but when he was there, he would tell me, 'They say jump and I'd say, how high.'"
"These men worked together," Ashcraft said. "They lived together, they fought fires together, and they died together doing what they loved."
As the community began to mourn the loss of the men described as "heroes" by President Barack Obama, and as investigators began looking into what exactly happened, medical examiners were due to begin carrying out autopsies in the wake of the area's "largest mass-casualty event in memory."
A short candlelight vigil was held when the Granite Mountain Hotshots' bodies arrived in Phoenix on Monday, and a bell rang after each name was read aloud.
More than 1,000 people also gathered at a Prescott University gym to honor the firefighters' bravery, according to NBC station KVOA.
The crowd rocked children in their arms, wiped tears away and applauded robustly as a number of people paid tribute to their bravery, the station reported.
The Arizona Forestry Commission will also launch an investigation in what went wrong during the deadly incident, spokesman Mike Reichling confirmed last night.
"They were caught in a very bad situation," he told The Arizona Republic. "We have to get to the bottom of what went wrong with that particular team."
He added that after the wind changed, each of the firefighters had deployed their emergency shelters -- a flame retardent device designed to deflect the heat and flames.
Not all of the bodies were found inside them.
Peter Andersen, a former Yarnell fire chief who was helping the firefighting effort, told Reuters that a ranger helicopter crew flying over the area had spotted the Granite Mountain Hotshots.
"There was nothing they [the helicopter crew] could do to get to them," he said. 
Authorities confirmed the victims of Sunday's tragedy were: Anthony Rose, 23; Eric Marsh, 43; Robert Caldwell, 23; Clayton Whitted , 28; Scott Norris, 28; Dustin Deford, 24; Sean Misner, 26; Garret Zuppiger, 27; Travis Carter, 31; Grant McKee, 21; Travis Turbyfill, 27; Jesse Steed, 36; Wade Parker, 22; Joe Thurston, 32; William Warneke, 25; and John Percin, 24; Kevin Woyjeck, 21; Chris MacKenzie, 30; and Andrew Ashcraft, 29.
Reuters contributed to this report.
Related