MSNBC host Chris Matthews was accused of inappropriate jokes and comments about a female employee in 1999 and the woman was paid separation compensation, a spokesperson for the cable network confirmed Saturday.
The Daily Caller, citing two sources familiar with the situation, first reported the news of the payment which it said was made by Matthews to settle with what it said was an assistant producer on his show "Hardball with Chris Matthews" in 1999.
"In 1999 this matter was thoroughly reviewed and dealt with. At that time Matthews received a formal reprimand," the MSNBC spokesperson said in an email Saturday.
The spokesperson said the woman complained to CNBC executives that Matthews made inappropriate jokes and comments about her in front of others, that the matter was reviewed and it was determined that the comments were inappropriate and made in poor taste but were never meant as propositions. The show was on CNBC before it was on MSNBC.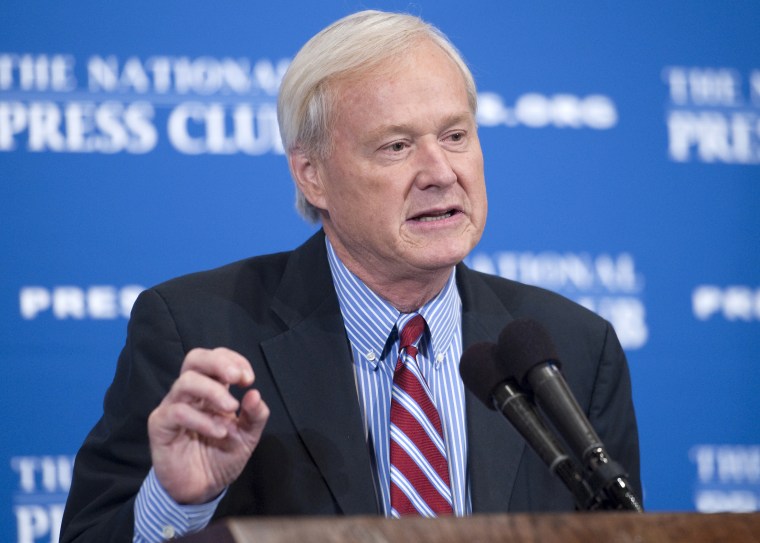 The Daily Caller reported that the payment was in the amount of $40,000. The MSNBC spokesperson said in the email to NBC News that the employee received separation-related compensation but wouldn't elaborate, citing confidentiality. The Caller reported that a spokesperson for the network said the payment was significantly less than $40,000.
Matthews did not immediately respond to an emailed request for comment early Sunday.
Matthews launched "Hardball" in 1997 and has hosted the show since. The title comes from a book that Matthews wrote in 1988, according to MSNBC.
The news of the reported settlement comes amid a wave of accusations of sexual misconduct in the entertainment and media industries and others, in what has become a national reckoning of abusive behavior against women by men in positions of power.
In late November, NBC News fired "Today" host Matt Lauer following a complaint accusing Lauer of inappropriate sexual behavior during the 2014 Sochi Olympics and in the workplace after the games. Lauer has said he is "truly sorry" but said some of what was being said about him was untrue or mischaracterized.
NBC News on Dec. 8 announced it would require harassment-prevention training for all its employees and would conduct a "culture assessment" of the news division.