More than 120 women who say they were sexually abused by former Michigan State University doctor Larry Nassar are demanding the ouster of the school's interim president — who has been taking flak since the revelation of an email in which he insulted the survivors.
Their call comes just a few days before the MSU Board of Trustees is scheduled to gather for what is certain to be a tense and dramatic meeting. Two of eight members have already said John Engler needs to vacate the president's office, and the rest are refusing to discuss the matter.
"President Engler has failed miserably," the women's open letter to the trustees says. "President Engler and leaders at MSU have refused to listen. They persist in attacking our character, our integrity and our intelligence."
Engler, who served as the Republican governor of Michigan from 1991 to 2003, was tapped in January to temporarily lead MSU after the previous president, Lou Anna Simon, was driven out amid allegations she ignored warnings about Nassar's predation.
From the start, Engler didn't have the support of many victims and their advocates, who thought the savvy politician was too much of an old-school insider to enact the reforms and house-cleaning they wanted.
His opposition to sweeping legislative changes that would have made it easier to sue MSU didn't win him any fans. And a student's accusation that he tried to get her to agree to a settlement without her lawyer present triggered more bad press.
"On paper, John Engler is supremely qualified but the problem is — and everyone on the board knew this — was the way he was so effective as governor was he's a bully," said Michigan political consultant Adrian Hemond, a Democrat.
"That can be an effective thing in electoral politics but that's the wrong sort of look for someone who is supposed to be coming in on an interim basis to help a university heal."
Engler's most controversial misstep may have been an email he wrote to another college official on April 15, which was obtained by the Chronicle of Higher Education through a freedom of information request and disclosed last week. It portrayed outspoken accusers as pawns of money-hungry attorneys.
"The survivors now are being manipulated by trial lawyers who in the end will each get millions of dollars more than any of [sic] individual survivors with the exception of Denhollander who is likely to get [sic] kickback from Manley [sic] for her role in the trial lawyer manipulation."
That was a reference to Rachael Denhollander, the first woman to go public with accusations against Nassar — a sports-medicine doctor who treated Olympic gymnasts — triggering the biggest sex-abuse scandal in the history of athletics.
"It's vile. It's disgusting. It's untrue and it's defamatory," Denhollander, who has a law degree, told NBC News. "This has never been about the money."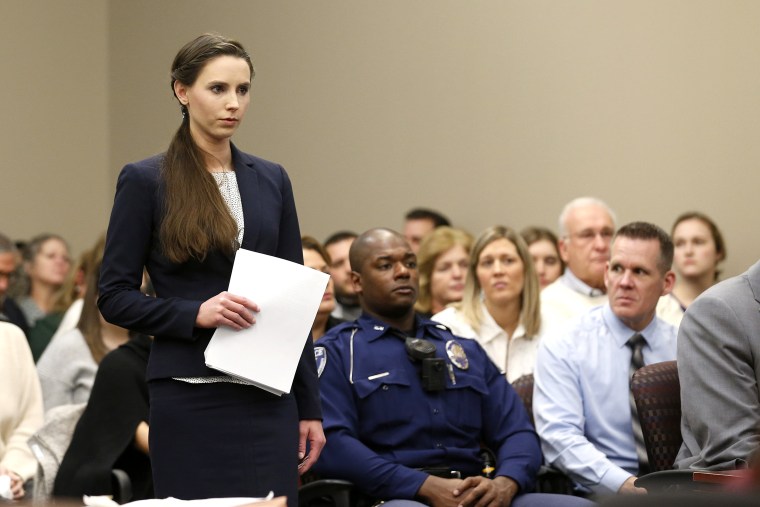 After the email became public, any relief or gratitude that Engler had helped negotiate a $500 million settlement for Nassar victims began to evaporate.
Five members of Congress from Michigan called for him to resign, along with at least three Republican state lawmakers and a Republican candidate for governor. More crucially, MSU trustees Brian Mosallam and Dianne Byrum asked Engler to step down.
"This university needs leadership that sets a tone of empathy and compassion towards our courageous survivors, and re-embraces them as important members of our Spartan community. John Engler cannot do that," Mosallam said.
T.J. Bucholz, a public relations consultant who once worked in Engler's administration, said the mistake the ex-governor and other university officials made was that after Simon was booted, they focused on short-term financial issues instead of listening to students and beginning the long-term process of healing the campus and rebuilding reputations.
He said it's a mystery why Engler — knowing that news outlets have been seeking and obtaining emails through freedom of information requests — would make such an inflammatory comment in print. But, he said, don't expect an apology.
"If you expect contrition from John Engler, you are not going to get it," he said.
As of Friday, that appeared to be true. In a statement, Engler made a reference to "whatever the tensions were before," but offered no mea culpa and made it clear he intends to keep his job until a permanent president is appointed.
That's classic Engler, said Hemond.
"President Engler is not going to resign unless the board forces him to do so, or the governor," he said. "The man is incredibly tenacious. He will not give up unless he is forced to."
Denhollander said when the board meets on Friday, she hopes they "do the right thing."
But it didn't sound like she was banking on it.
"I had someone say to me, 'If there was a cow-pie in the middle of the football field, they would find it,' and that's very true."