President Barack Obama said Sunday as he visited with U.S. Embassy staff in rainy Havana that he hoped the sight of a U.S. president in Cuba would quickly become something Cubans are used to seeing.
"¡Muchas gracias!" the president said at a staff gathering on his arrival in Havana, where he embarked on what he called a mission to "forge new agreements and commercial deals and build new ties, and for me to lay out vision for a future brighter than our past."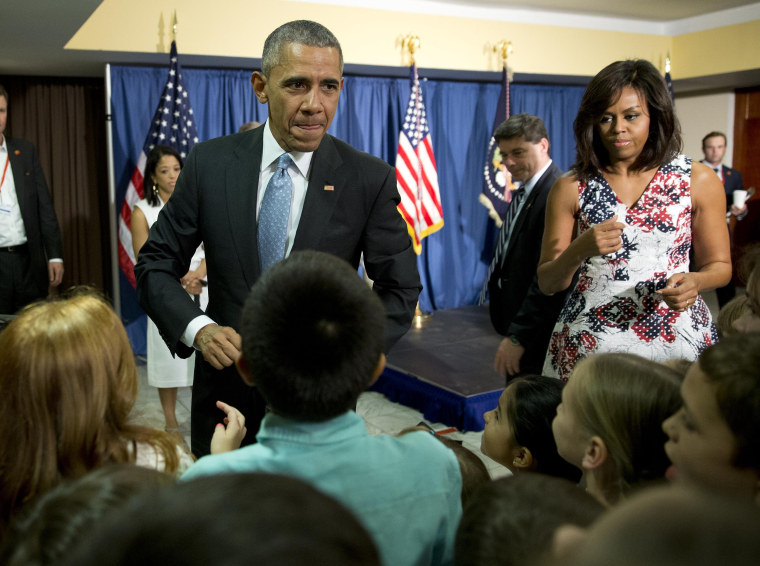 U.S. Ambassador Jeffrey DeLaurentis introduced the president by reminding staffers that Obama had promised "Yes, we can," and he said that with the opening of Cuba, "Yes, we did."
Obama interrupted to declare, "Yes, we did!" to applause.
"For the first time, the American flag flies over an embassy, and having the embassy here means we can more effectively advance our interests and values and understand the Cuban people and their concerns," Obama said.
"We hope they think it's natural that a U.S. president would visit Cuba and the two peoples are working together," he added.
Photos: President Obama Arrives in Cuba For Historic Visit
Obama, his wife, Michelle, and their daughters, Sasha and Malia, touched down at the Havana airport Sunday afternoon in heavy rain and emerged from Air Force One under umbrellas. Sunday evening, they toured Old Havana and the nearly 500-year-old Plaza de Armas Square to cheers of "U.S.A.! U.S.A.! U.S.A.!" from the gathered crowds.
The Obamas' next stop was Museo de la Ciudad, the official museum of the city of Havana, where their hosts had placed an 1863 James R. Lambdin portrait of Abraham Lincoln at the entrance. They were guided through the museum by the city's famous longtime historian, Eusebio Leal Spengler.
Related: In Cuba and U.S., Expectations Are Mixed on Obama's Historic Trip
The Obamas were greeted with cheers at every stop. But their arrival got a decidedly cooler reception from at least two of the leading Republican presidential candidates back home.
Donald Trump, the Republican front-runner, shot out a tweet scoffing that Cuban President Raul Castro wasn't at the airport to welcome him.
And Sen. Ted Cruz of Texas, the son of a Cuban immigrant, called it "a sad day in American history."
"For decades, leftists and Hollywood liberals have made the pilgrimage to Cuba to pay homage to Fidel Castro and Raul Castro," Cruz said in response to a question in Peoria, Arizona, where he was campaigning at Fresh Start Church.
"It's very chic, it's very chichi for leftists to celebrate vicious communist dictators," Cruz said. "I cannot wait as president to visit Cuba, but when I visit Cuba, it will be a free Cuba."