Investigators for Special Counsel Robert Mueller and the office of New York's Attorney General are coordinating their probes of former Trump campaign chair Paul Manafort's finances.
A senior law enforcement official with direct knowledge of the matter confirms the cooperation, which was first reported by Politico. The official said coordination is not surprising given the common subject of the investigation and the desire for the two teams to coordinate their efforts.
Related: Ex-Trump Aide Bought New York City Homes With Cash
In addition, the teams include two veterans of white collar crime and corruption prosecutions who have worked together before. Andrew Goldstein, who recently left the U.S. Attorney's Office in Manhattan to work with Mueller's team, and Howard Master, who recently joined the AG's team from the same U.S. Attorney's office, shared an award for their joint prosecution of a municipal fraud and kickback case involving more than 150 foreign and domestic bank accounts.
As NBC News has previously reported, New York Attorney General Eric Schneiderman is examining all of Manafort's real estate transactions in New York state.
Manafort's properties have come under scrutiny from investigators because experts say they fit a pattern that raises questions about how he was moving his money.
Manafort, a political consultant and lobbyist, bought four properties in New York City between 2006 and 2013 using LLCs, real estate records show.
The records indicate no initial mortgage, suggesting that the full cash price was paid.
In three of four cases, Manafort then transferred the properties into his own name and borrowed about $12 million against them between 2012 and 2017.
In another real estate deal Manafort took out a $3.5 million dollar loan for a beach house in the Hamptons in 2016 just after he left the Trump campaign.
Related: Feds Eye $3.5 Million Mortgage on Manafort Beach Home
The mortgage document that explains how Manafort would pay back the loan was never filed with Suffolk County, New York — and Manafort's company never paid up to $36,000 in taxes that would be due on the loan.
Several months later, Manafort took out a separate $6.5 million loan on the same property from a bank run by an economic adviser to the Trump campaign.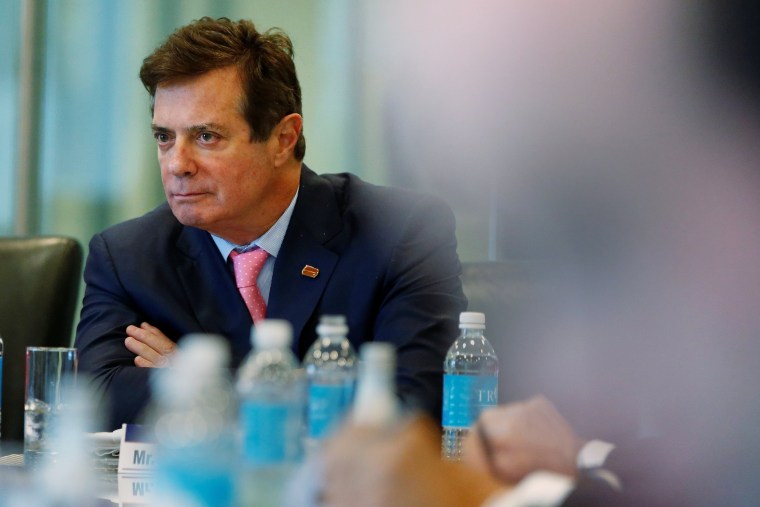 Manafort's spokesperson, Jason Maloni, did not respond to multiple calls for comment. In May, he told NBC News that the first Hamptons loan was only meant to serve as a bridge loan.
Related: What Did Ex-Trump Aide Manafort Really Do in Ukraine?
Federal investigators have subpoenaed records linked to the $3.5 million loan.
In a statement to NBC News about the New York City properties earlier this year, Manafort said he was "sorry to disappoint the conspiracy theorists," but the mortgages were ordinary business transactions and using LLCs to buy real estate is "common practice in New York City and elsewhere."
Manafort said his transactions were "executed in a transparent fashion and my identity was disclosed — in fact my name is right there on the documents in one of today's news reports."
Using LLCs is not unusual or illegal, but hefty loans on properties bought with cash can be a flag, experts say.
The U.S. Treasury Department said last year that "all-cash luxury purchases of residential property by a legal entity are highly vulnerable to abuse for money laundering."