The driver of a semitruck that slammed into stalled Denver traffic, causing a fiery multi-vehicle crash that killed at least four people, was arrested and charged Friday, police said.
Rogel Lazaro Aguilera-Mederos, 23, faces four counts of vehicular homicide after the Thursday evening crash that involved three other semis and 24 other vehicles, said Lakewood Police Department Agent Ty Countryman.
"Stemming from interviews and evidence that was gathered overnight ... the proximate cause of the crash is on the driver of the semi," Countryman said.
Aguilera-Mederos was heading eastbound when his flatbed carrying lumber crashed into vehicles that had stopped because of an earlier accident farther ahead on the interstate involving another semi and a school bus, Countryman said Thursday.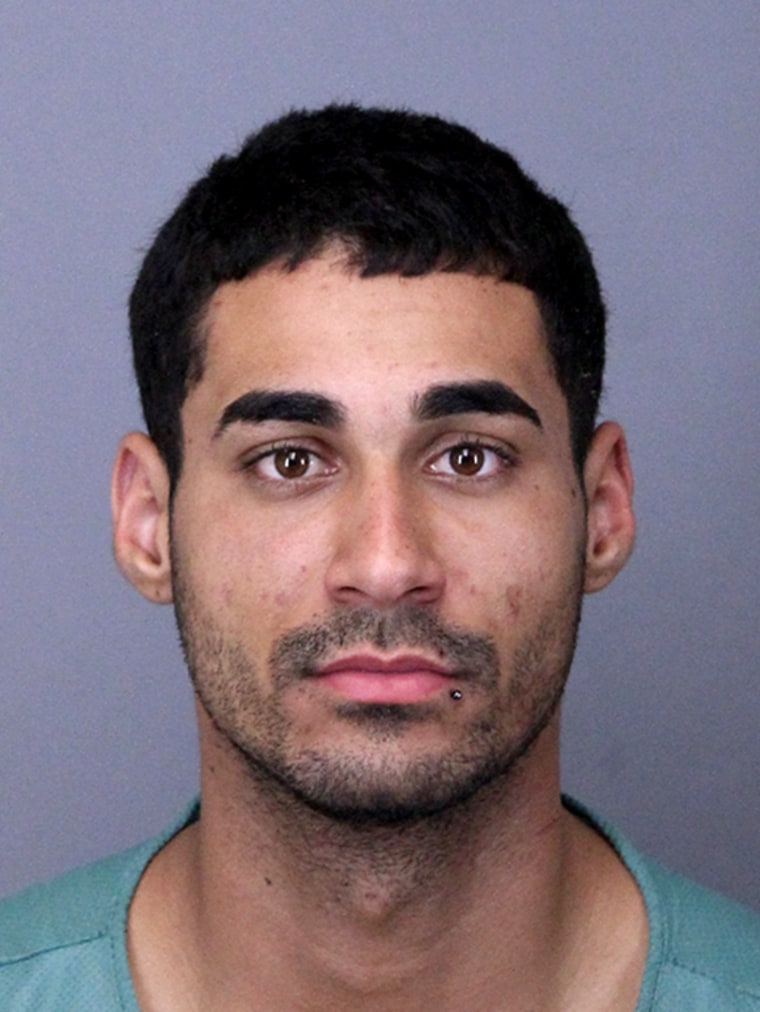 The school bus was carrying 43 kids from Jeffco Public School District's Stober Elementary School, district spokeswoman Sara Merkel said. Five of the children were hospitalized but quickly released, she said.
The crash caused a massive fire and damaged a bridge, and the interstate was not expected to open until Saturday, according to the Colorado Department of Transportation.
"The carnage was significant — just unbelievable," said Countryman on Friday.
The death toll is not expected to rise, but could, Countryman said. He said six people were hospitalized, but he did not know their conditions. A West Metro firefighter also suffered minor injuries after being hit by debris from a possible tire explosion, the department said. None of the victims have been identified.
Aguilera-Mederos, who is from Texas and had a Commercial Driver's License, was booked at the Jefferson County jail and was cooperating with investigators, Countryman said. He had been injured in the crash, but not seriously.
It appears Aguilera-Mederos was born in Cuba and living in the United States legally with a green card, Lakewood police said in a statement Friday afternoon.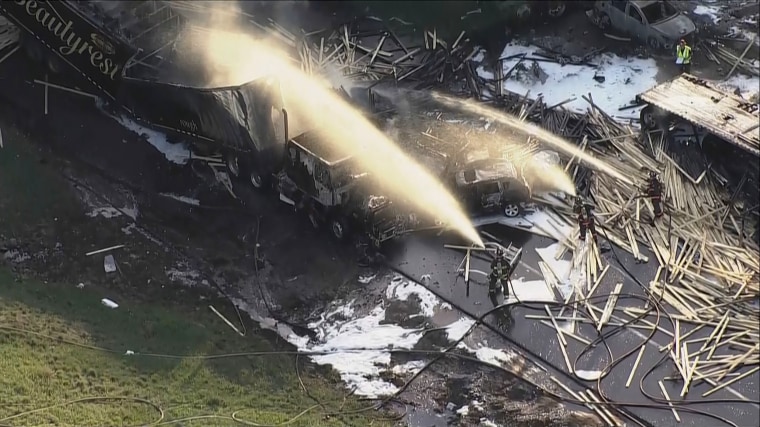 He is the only person expected to be charged in the crash and could face additional charges, Countryman said. There's nothing to indicate the collision was intentional, and there's no evidence to suggest drugs or alcohol were involved, he added.
The bridge was inspected and determined to be safe, but 2 to 4 inches of the asphalt will have to be replaced, said Josh Laipply, chief engineer for the state transportation department. By Friday night, I-70 had been reopened in both directions, the department said.
Aerial video of the crash from NBC affiliate KUSA showed pieces of wood littering the highway and vehicles on fire.
Video blogger and comedian Josh McCutchen had a camera facing him as he was stopped on eastbound I-70 before the crash, and his video showed a semi barreling past his vehicle.
"All the sudden that semi truck just about blew the doors off the side" of the van, said McCutchen, who was returning home to Indiana from Los Angeles.
"I was just looking back like 'what the heck was that? Where did that come from?'" he said. "And then I looked forward and just see plumes of black smoke."
He followed others off a ramp and said he saw "the fire was shooting off the sides of the overpass."
"It was crazy," he said. "I've never been in a situation like that. I've just seen movies and things."
Investigators weren't able to fully access the crash site until about 10 p.m., more than five hours after the crash, because the blaze and hot spots prevented them from getting to the vehicles sooner, Countryman said.
"At first, when I saw the fire, I thought a building was on fire," said Tucson Treciado, who saw the aftermath of the crash when he was driving back to work. "The fire kept getting bigger and bigger."
Treciado said he gets a "bad feeling" when driving the stretch of I-70 where the crash occurred.
"The trucks on that highway travel up the mountain and when they come back down, they are coming down very fast," he said. "So I try to avoid that part of the highway."