The night manager who killed six other workers at a Walmart in Virginia and wounded at least a half-dozen others was identified by the company Wednesday as 31-year-old Andre Bing.
Bing, who took his own life after opening fire on his co-workers Tuesday, worked the overnight shift at the Walmart Supercenter in the city of Chesapeake and was a longtime employee, the company said in a statement.
"We can confirm that he was a Walmart associate," the statement read. "Andre's position with the company was overnight team lead and he's been employed with us since 2010."
Chesapeake city officials also confirmed the name of the shooter on their official Twitter account and said that he was armed with one handgun and multiple magazines.
City officials on Wednesday identified five of the victims: Lorenzo Gamble, 43; Brian Pendleton, 38; Kellie Pyle, 52; Randall Blevins, 70; and Tyneka Johnson, 22. A 16-year-old male was also killed, but his name is being "withheld at this time due to him being a minor," the city said.
Walmart said all of the victims were Walmart employees.
Police on Wednesday searched the suspect's home as they try to establish a motive for the mass killing. There were believed to be about 50 people in the store when the shooting started, police said.
"He was just weird," 27-year-old Shaundrayia Reese of Chesapeake said of Bing in an interview with NBC News.
Reese said Bing was her boss at the Walmart from 2014 through 2018 and he would put tape over the camera on his phone because he was convinced the government was watching him.
"He never talked about anything dealing with violence ever," Reese said. "Always stuff about the government, his weight, his family. Stuff like that."
Bing was found dead in a break room with two other fatalities, the city of Chesapeake tweeted Wednesday afternoon.
Another victim was found dead near the front of the store and the three other shooting victims were rushed to local hospitals but died later from their injuries, city officials said.
At least six other people were rushed to local hospitals for treatment, officials said. Sentara Healthcare said it had two patients in critical condition Wednesday night.
It was the deadliest store shooting since May when a racist white gunman shot 10 Black people dead at a grocery store in Buffalo, New York, according to an NBC News tally.
Follow along for live coverage of the shooting.
"We're a couple days before the Thanksgiving holiday," said Leo Kosinski, the public information officer for the Chesapeake Police Department. "It's just a bad time all around, just for everybody involved — especially the victims. This is horrible."
At the White House, President Joe Biden decried the latest mass shooting in America.
"Because of yet another horrific and senseless act of violence, there are now even more tables across the country that will have empty seats this Thanksgiving," Biden said in a statement. "There are now more families who know the worst kind of loss and pain imaginable."
The first reports of gunfire at the Walmart Supercenter were logged at 10:12 p.m. Tuesday and, when police arrived minutes later, the shooter was already dead, Chesapeake Police Chief Mark Solesky said.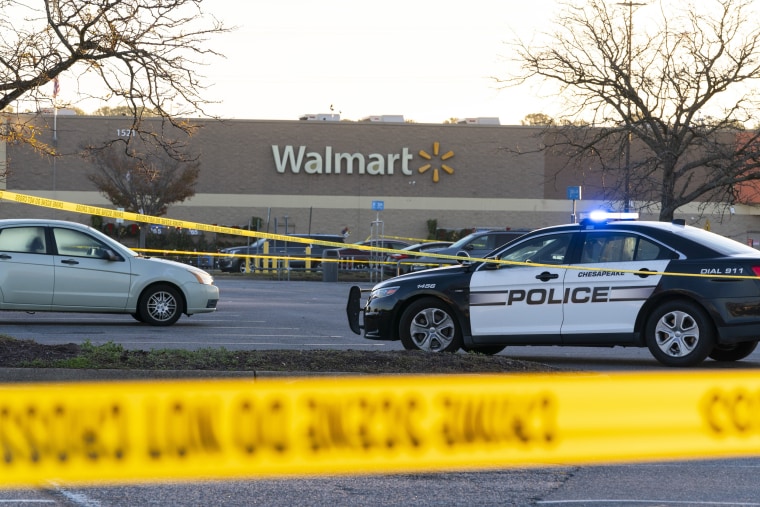 He confirmed the employee died from a self-inflicted gunshot wound.
Both the FBI and the federal Bureau of Alcohol, Tobacco, Firearms and Explosives were assisting in the investigations, the agencies confirmed.
"I am devastated by the senseless act of violence that took place late last night in our City," Chesapeake Mayor Rick West, who recently tested positive for Covid, said in a statement released Wednesday. "Chesapeake is a tight-knit community and we are all shaken by this news. Together, we will support each other throughout this time. Please keep us in your prayers."
Virginia Gov. Glenn Youngkin ordered flags flown at half-staff in memory of the victims.
"Our hearts break with the community of Chesapeake this morning," he said in a tweet Wednesday. "I remain in contact with law enforcement officials throughout this morning and have made available any resources as this investigation moves forward. Heinous acts of violence have no place in our communities."
Sen. Mark Warner, D-Va., tweeted: "Sickened by reports of yet another mass shooting, this time at a Walmart in Chesapeake. I'll be monitoring developments closely."
Meanwhile, a person who claimed to have been in the bakery section when the "fireworks" erupted shared footage of the aftermath in a Facebook live video.
"People gone bro," the person said in the video. "In the aisle. Just walked out that aisle, bro."
NBC News has contacted the poster of the video for more details and has not yet been able to verify the account.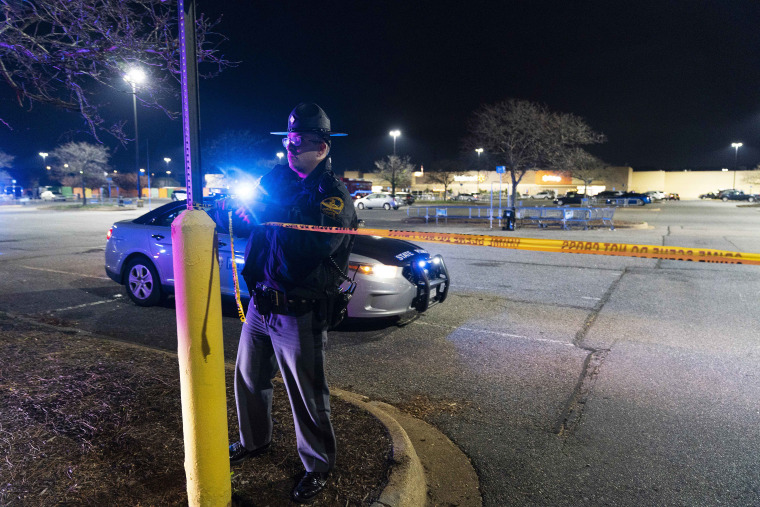 The deadly mass shooting in Chesapeake came just days after a gunman barged into a LGBTQ nightclub in Colorado and opened fire, killing five and wounding 19 more before he was subdued by patrons.
Earlier this month, three members of the University of Virginia football team were fatally shot and two others were wounded by a former teammate, police said.
"We are shocked at this tragic event at our Chesapeake, Virginia store," a Walmart spokesperson said in a statement. "We're praying for those impacted, the community and our associates."
What happened in Chesapeake sent shockwaves through other nearby Walmart stores.
Jasmine Copeland, who works at the store in Virginia Beach, said their manager had tears in his eyes when he held a morning meeting to talk about the massacre.
"He kept reiterating that we're a family," Copeland, 22, said. "He was like, 'If you're going to take anyone out, take me out. But please, talk to someone. None of us want to come in here and work. It's Walmart. No one's aspirations are Walmart. But nothing is ever so serious to take lives'."