A wrong-day driver plowed into dozens of law enforcement recruits early Wednesday near Los Angeles, critically injuring five and costing some their limbs, authorities said.
The 75 recruits were running in formation on a training exercise a little before 6:30 a.m. PT near the Los Angeles County sheriff's academy just outside Whittier, officials said.
The recruits were moving north on Mills Avenue, just north of Telegraph Road, when a car in southbound lanes veered into them, authorities said.
Twenty-five recruits were injured — 16 with minor wounds, four listed in moderate and stable condition and five in critical condition, one of them breathing with a ventilator, officials said.
The academy includes recruits from other Southern California police agencies. Two each of the 25 injured were from the Bell and Glendale police departments, one came from Pasadena forces, and the remaining 20 were Los Angeles sheriff's recruits, officials said.
A 22-year-old man from nearby Diamond Bar was detained at the scene as the California Highway Patrol investigates, authorities said. He passed a field sobriety test and blew a 0.0 in his blood alcohol check, Sheriff Alex Villanueva said.
"So the cause of the accident, motive, anything, is unknown at this time," Villanueva told reporters. "And now we're just facing some life-altering injuries."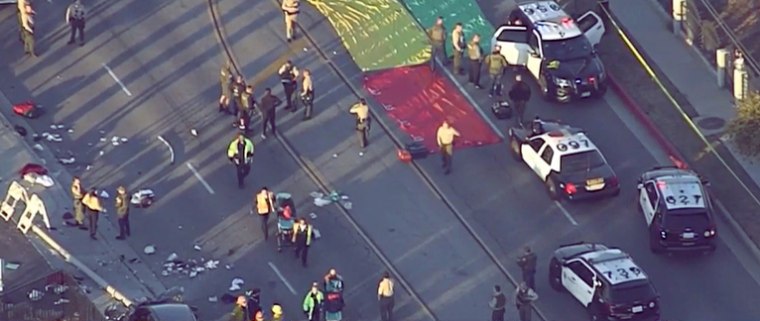 "The range of injuries we have, obviously, are head trauma, we have broken bones, we've had some loss of limb, for example," he added. "Those are the severe range of injuries. These are life-threatening injuries."
A former training officer himself, Villanueva said injuries are not uncommon in the academy, such as broken bones and shrapnel wounds. But Wednesday's crash was uncharted territory, he said.
"This is very, very odd to say the least. I don't think I've ever heard of this," said Villanueva, who recently lost his re-election bid. "So far, it looks like an accident, a horrific accident."
The crash happened just 500 feet from the Los Angeles County Fire Station 96, and deputies on the run knocked on the firehouse door asking for help, Fire Chief Anthony Marrone said.
The sheriff's department took the four most critically wounded victims to hospitals before paramedics arrived, said Marrone, who said that split-second choice probably saved "the lives of those sheriff recruits."
"All 5,000 fire department members are keeping our sheriff's sisters and brothers in their thoughts and prayers," Marrone said.
The recruits were out on a "typical run that we do throughout the 22-week program," sheriff's training bureau Capt. Pat MacDonald said.
Two black-and-white patrol cars accompanied the runners as "safety vehicles," and eight recruits were wearing reflective vests to warn oncoming drivers, MacDonald added.
The carnage might have been worse had the car not struck a light pole, stopping it.
"Thank God for that light pole, because the vehicle ultimately hit it and stopped, as opposed to possibly hitting more recruits," MacDonald said.