Three people were killed after two planes collided over an airport on California's central coast Thursday, authorities said.
The planes crashed at Watsonville Municipal Airport just before 3 p.m. as they were trying to land, said Michelle Pulido, a spokeswoman for the city of Watsonville.
The Federal Aviation Administration described the planes in a statement as a twin-engine Cessna 340 with two people on board and a single-engine Cessna 152 with one person aboard. They were on their final approaches when they collided, the agency said.
All three people aboard the two planes died and none of them had been identified as of late Friday afternoon, authorities said. A dog on board the 340 also perished and all three victims were adults, officials said.
"The person, the machine and environment" will be the focus of a probe into the crash, National Transportation Safety Board air safety investigator Fabian Salazar told reporters on Friday. It could take up to two years for a final report to be issued.
No one on the ground was hurt, according to the FAA.
An image posted by the city showed what appeared to be the wreckage of one of the planes.
It wasn't immediately clear what caused the crash. The city said an investigation was underway.
"It's a small community and there certainly are people who are grieving," Watsonville Municipal Airport Director Rayvon Williams said Friday. "We are very much saddened by this event."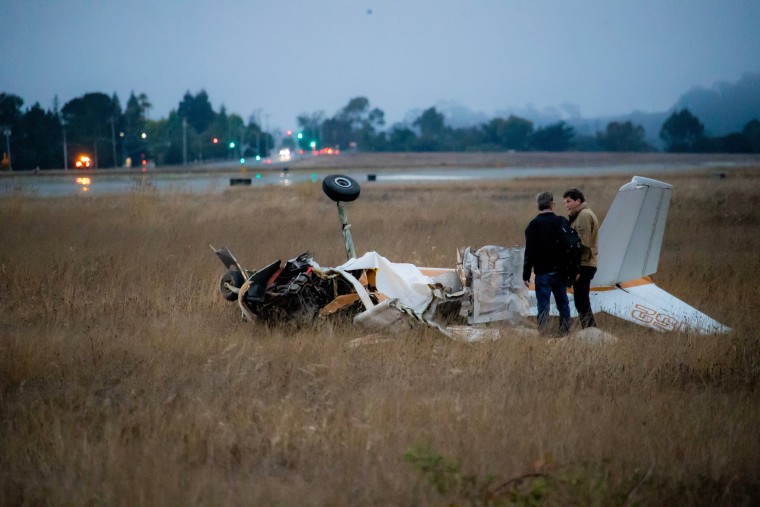 Watsonville said in a statement Thursday night that "We are absolutely saddened to hear about the tragic incident that took the lives of several people," and it was extending its condolences to the families and friends of the dead.
Watsonville is almost 90 miles south of downtown San Francisco on Monterey Bay.