Multiple people were struck by gunfire Tuesday night in a deputy-involved shooting near a Michigan high school football field, police said.
Two men and two women were shot at the Muskegon Heights school during the incident, which stemmed from a fight that happened last week in Grand Rapids, about 40 miles away, Muskegon Heights police told NBC affiliate WOOD-TV.
None of those hit suffered life-threatening injuries, authorities said, with the violence erupting on the same night a basketball game was played at the school.
A number of law enforcement agencies were present at the school after being alerted that individuals from the Grand Rapids dispute would be at the match, Police Chief Joseph E. Thomas, Jr. said in a press briefing.
"We did everything we could to prevent this from happening," Thomas said, noting that state and local police along with county sheriff's deputies had identified the suspects and were positioned to stop the individuals from entering the school or staying in the parking lot.
"We had support from three agencies. We tried to talk to the individuals and they decided to start some unwanted activity," Thomas told reporters.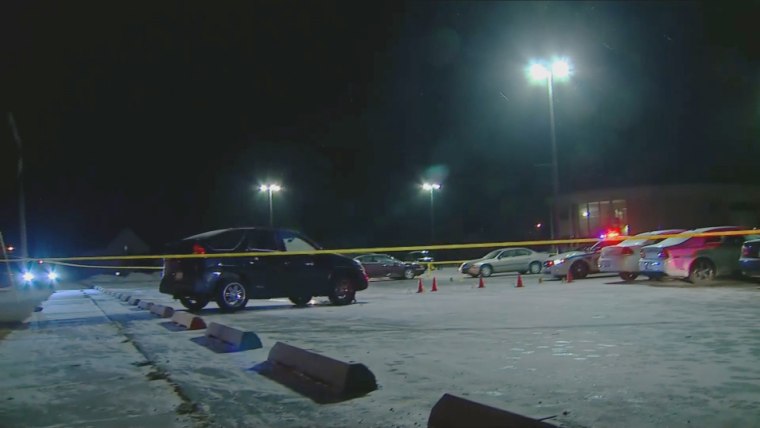 The group traveled to the football field where the shots were fired after the basketball game ended, WOOD-TV reported.
A nearby sheriff's deputy responded and asked a man with a gun to drop his weapon, police said. The suspect then turned the firearm on the deputy, at which point the deputy opened fire, wounding the gunman.
"The deputy did what he was trained to do," Thomas said. "The deputy defended himself and the rest of the public."
The suspect has not been identified. All of the wounded were transferred to a local hospital, and an investigation is ongoing.
The Muskegon Heights police chief warned the public that law enforcement would not tolerate this type of violence.
"You're not going to take over this area. You're not going to take over this county. We're going to stop you by any means necessary," Thomas said.