A two-year-old boy died Saturday evening from injuries suffered when a driver suspected to be under the influence plowed into a crowd at an Oklahoma State University homecoming parade, according to police. Three other people were killed at the scene of horrific crash and more than 40 were injured, police said.
The 25-year-old driver of the car, Adacia Chambers, was charged with driving under the influence and taken into custody, Stillwater police Capt. Kyle Gibbs said at an afternoon news conference.
Chambers allegedly drove the 2014 Hyundai Elantra into an unmanned police motorcycle before striking the crowd at around 10:30 a.m. (11:30 a.m. ET), according to a statement from the Stillwater Police Department.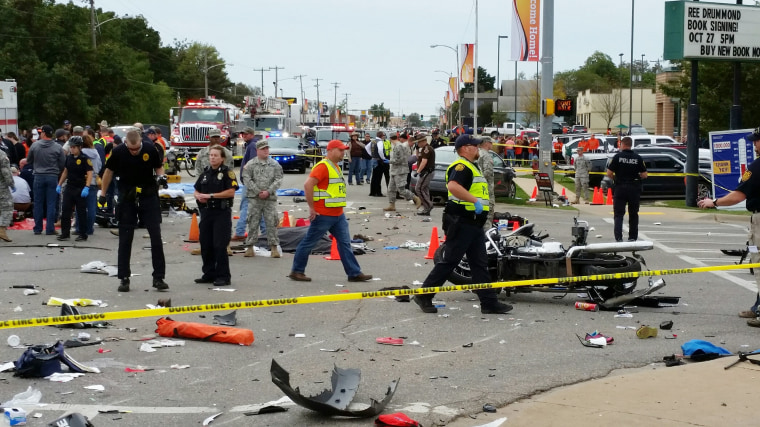 Witnesses described the horror after what was supposed to be a carefree day turned tragic. Tracy Epperson, from Tulsa, told NBC affiliate KJRH that she first heard "people screaming."
"I turn around, and you just see bodies flying in the air," she said. "That's what's going to be in my mind for forever."
Police have not released identities or information about the victims, but one of those killed was a student at the University of Central Oklahoma in Edmond, according to a statement from the school's president, Dr. Don Betz.
"Nikita Nakal of Mumbai, India, an MBA student at UCO, was among those who died," the statement said. "Our students come to Central with their unique goals, hopes and dreams, and Nikita was undoubtedly no different."
Gibbs said it was too early to know what caused Chambers to allegedly drive into the crowd, but the investigation is being treated as a homicide and the Stillwater Police Department was reconstructing the scene. Police don't believe Chambers, who is from Stillwater, is a student.
Forty-four people were injured in the crash, including at least seven who were critically wounded and nine who were seriously injured, according to police.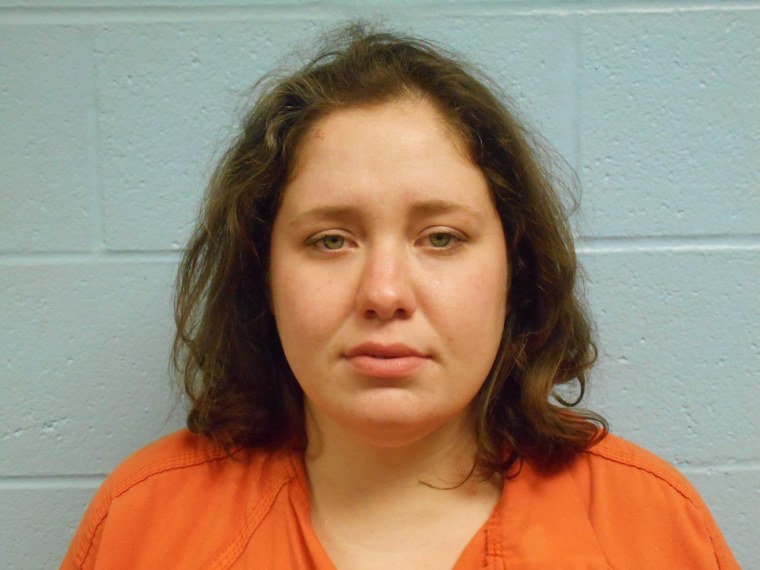 Stillwater Hospital said in a statement that 43 patients, from ages 1 to 86, were initially brought there with wounds ranging from cuts and scrapes to life threatening injuries.
At about 7 p.m. local time, four patients had been airlifted to St. John Hospital in Tulsa and OU Medical Center, three patients were still being treated at Stillwater and the rest had been discharged or were readying to be discharged, according to the statement.
An OU Medical Center spokesman said four children and three adults were being treated there as of Saturday evening. The 2-year-old patient being treated at OU Medical center died "as a result of the injuries sustained during this morning's tragedy," the hospital said in a statement.
Some who were injured were treated by fire and emergency personnel along the street before they were taken to hospitals.
"It felt like dozens of people, may not have been dozens of people on the ground but it felt like dozens of people," said Paul Sims, who was at the parade with his daughter. "The first person we came across was a young woman probably in her late teens, early 20s who was on the ground who was bleeding profusely from the head."
Gibbs, who said he had been with the Stillwater Police Department for nearly three decades, said he couldn't "recall an incident of this magnitude," but he added that victims were fortunate that so many emergency responders were nearby.
"Many of those entities were in the parade and on scene, so they were able to respond very quickly," Gibbs said.
More than 80,000 people attend homecoming activities at Oklahoma State University, according to the OSU Alumni Association, but it's unclear how many people were at the parade.
"Oklahoma State University is devastated by today's tragedy and extends its thoughts and prayers to the families of those who perished or were injured," OSU president Burns Hargis said in a statement. "The Oklahoma State University Homecoming parade is the most wholesome of events and to have it marred in such a way is incomprehensible."
The OSU Alumni Association, which organizes the "Homecoming Sea of Orange Parade," also offered condolences to victims in a statement, as did Stillwater's mayor, Gina Noble.
Officials considered postponing the 2:30 p.m. homecoming game against the University of Kansas, but decided not to. "We're going to play and we're going to remember the victims at the game," Hargis said. The flag at OSU's Boone Pickens Stadium was lowered to half-staff, and a moment of silence was held. Most of OSU's players knelt in prayer after running onto the field before kickoff, The Associated Press reported.
The OSU Cowboys beat the Kansas University Jayhawks 58 to 10. "This victory is dedicated to those lost this morning and to the recovery of those injured," the OSU Alumni Association wrote on Twitter.
OSU officials said counselors would be available to students and staff on Monday.
Oklahoma Gov. Mary Fallin, an OSU alumna, traveled to Stillwater Saturday afternoon. She said she had planned to visit Stillwater for the game.
"It's a very sad day for Oklahoma, it's a very sad day for our OSU family to experience such a horrible tragedy, especially on homecoming day when people are here to celebrate the OSU Cowboys and OSU traditions," Fallin told reporters at the stadium.
Fallin said later that acts of heroism at the scene highlighted Oklahoma's character.
"There are stories of people who lifted up the car to help the people who were trapped under the car," she said. "We have been through a lot as a state but it shows our resilience."