Three students were killed and eight others were injured in a shooting Tuesday at Oxford High School in suburban Detroit, authorities said.
The suspect, a 15-year-old sophomore, is in custody, Oakland County Undersheriff Michael McCabe said at a news conference. A handgun was also found, he said.
Hana St. Juliana, 14, and Madisyn Baldwin, 17, were killed in the shooting. Tate Myre, 16, died in a patrol car as deputies were taking him to the hospital, the Oakland County Sheriff's Office said late Tuesday.
Eight others were seriously wounded, including a teacher, and taken to hospitals with various injuries, Sheriff Michael Bouchard said.
Three of the wounded students were in critical condition late Tuesday night, including a 15-year-old boy with a gunshot wound to the head and a 14-year-old girl wounded in the neck and chest and who is on a ventilator, Bouchard said.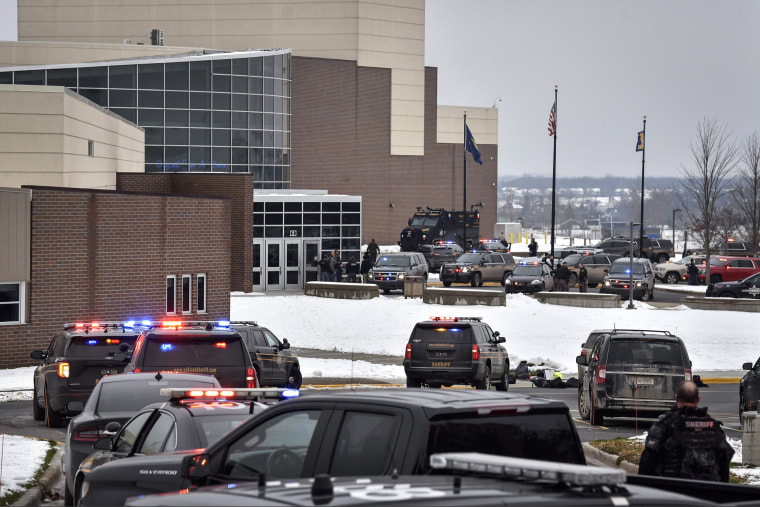 Authorities received a 911 call about an active shooter at the school just before 1 p.m., McCabe said. More than a hundred 911 calls came in to dispatch, he told reporters.
The shooter fired at least a dozen shots before he was taken into custody.
"Deputies responded and within five minutes had the suspect in custody," McCabe said. "He did not cause any problems. He gave the weapon up. He didn't have the weapon on him at the time."
Authorities did not say what led to the shooting, and McCabe told reporters that the suspect "invoked his right to not speak." Police briefly spoke to the suspect's parents, who McCabe said advised their son not to speak to police.
"He's not telling us anything at this point in time," he said.
The suspect is being held at a juvenile facility, but he could be moved if he is charged as an adult.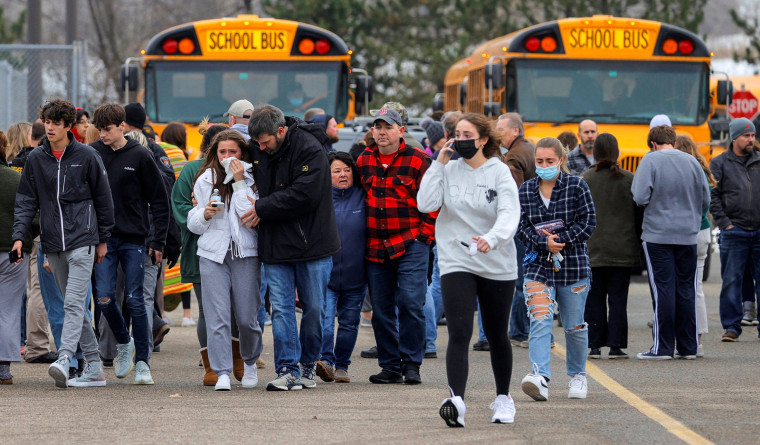 Multiple law enforcement agencies, ambulances and SWAT team members responded to the school. Students were evacuated and taken to a nearby store to be reunited with their families.
Oxford High School is about 45 miles north of Detroit.
Michigan Gov. Gretchen Whitmer said that the deaths and the injuries were "horrific" and that it is time for the community to come together to "help our children feel safe at school."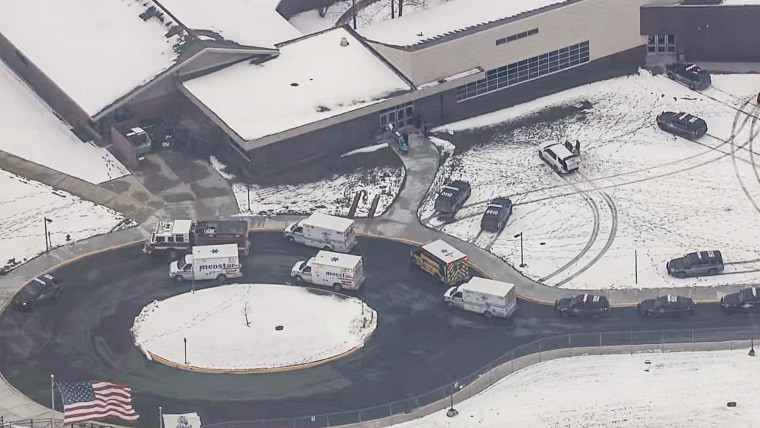 She choked up at a news conference Tuesday evening, calling the shooting "every parent's nightmare."
"This is a uniquely American problem that we need to address," Whitmer said. "But at this juncture, I think we need to focus on the community, the families, supporting all the first responders, including incredible people at our hospitals that are working so hard to save the lives of those who are fighting for their lives."
Speaking Tuesday a technical school in Minnesota, President Joe Biden said: "My heart goes out to the families enduring the unimaginable grief of losing a loved one. That whole community has to be just in a state of shock right now."