Officials on Friday charged a man who they say opened fire with a shotgun inside an Annapolis, Maryland, newsroom, killing five people in what police called a "targeted attack."
The suspect, Jarrod Ramos, had sued the Capital Gazette newspaper six years ago and lost. The 38-year-old was charged with five counts of first-degree murder, according to Maryland court documents. His bail hearing will be held at 10:30 a.m. ET at Annapolis District Courthouse.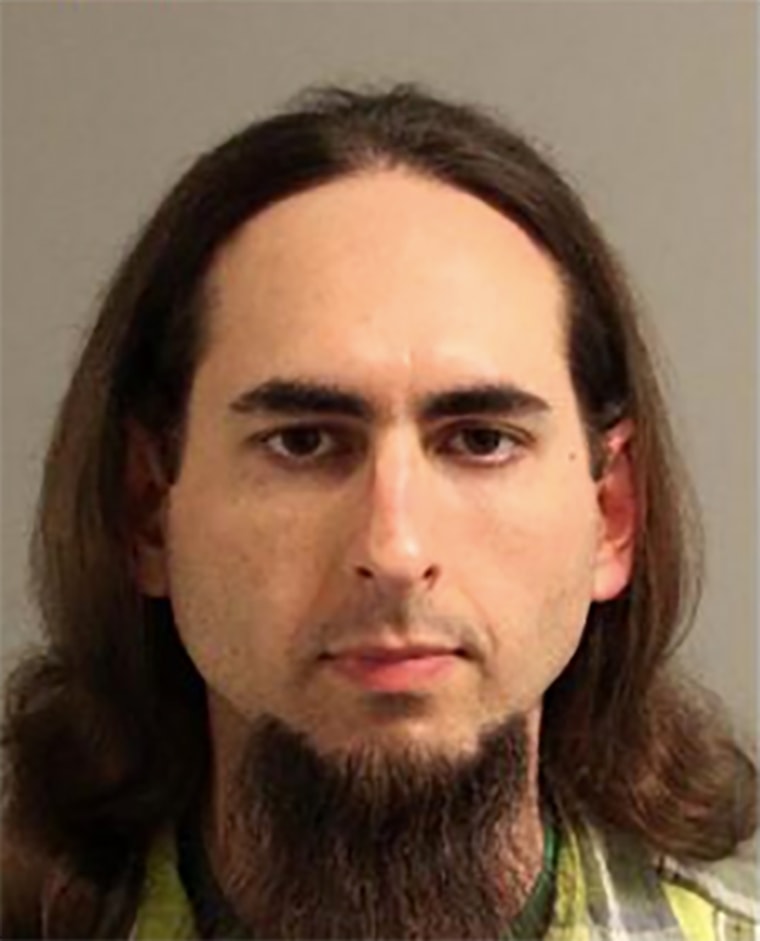 Anthony Messenger, a Capital Gazette intern, said in an interview on "Today" that he first heard pops he thought were fireworks, but soon realized someone was firing inside the newsroom. He and another co-worker tried to exit through a backdoor but found it jammed.
"I quickly realized this was a malicious situation," Messenger said.
He and his colleague slipped under a desk in the back of the newsroom. They called 911, but were not able to speak because they didn't want to alert the gunman to their location. The colleague ended up using Messenger's phone to tweet that there was an active shooter and "please help us."
Messenger said he never got a look at the gunman before he left the building.
"Unfortunately we had to pass two bodies of our colleagues, which was something that nobody should ever have to stomach," Messenger said. "It's just unfortunate that somebody would come into a place that only reports truthful stories that are fact-based and unleash hell on the office."
The five killed were identified as Wendi Winters, Rebecca Smith, Robert Hiaasen, Gerald Fischman and John McNamara.
"This person was prepared to shoot people. His intent was to cause harm," Bill Krampf, deputy police chief of Anne Arundel County, said at a news conference Thursday night. Two people suffered superficial wounds, possibly from broken glass, he added.
Ramos, who is from Maryland, sued the Capital Gazette for defamation in 2012 after a columnist wrote about his guilty plea to criminal harassment in 2011. His case was dismissed, and an appeals court affirmed the decision.
Police were notified about an active shooter at the newspaper around 2:40 p.m. and arrived to the scene within 30 seconds, authorities said. The gunman also had smoke grenades that he used when he entered the building, Krampf said. Earlier, he had identified the grenades as a "possible explosive device."
Anne Arundel County Police Lt. Ryan Frashure said there was no exchange of gunfire between the gunman and police.
The Baltimore Sun said police had also been sent to its headquarters as a precaution. The Capital Gazette is one of the oldest publishers in the country, starting in 1727 with the Maryland Gazette.
Aerial video showed people leaving the building with their hands up and a heavy police presence.
The victims were shot on the first floor of the building, Krampf said.
"He entered the building with a shotgun and he looked for his victims" inside, he said, adding that he did not know whether they were specifically targeted.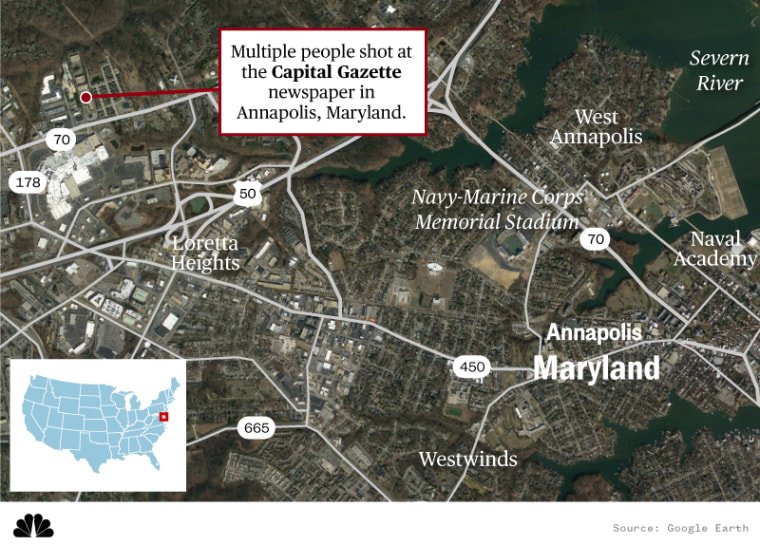 Krampf said threats were sent to the newspaper on social media, but police are trying to confirm who actually sent them. Some were sent as recently as Thursday, he added.
"They were general threats towards the Capital Gazette," he said. "They indicated violence."
A Twitter account in Ramos' name contained more than 100 posts threatening or criticizing the newspaper, and singled out the writer of the column, as well as the paper's former editor and publisher.
Phil Davis, a Gazette crime reporter who was in the office at the time of the shooting, recounted the experience.
"Gunman shot through the glass door to the office and opened fire on multiple employees," Davis wrote in a post on Twitter. "Can't say much more and don't want to declare anyone dead, but it's bad."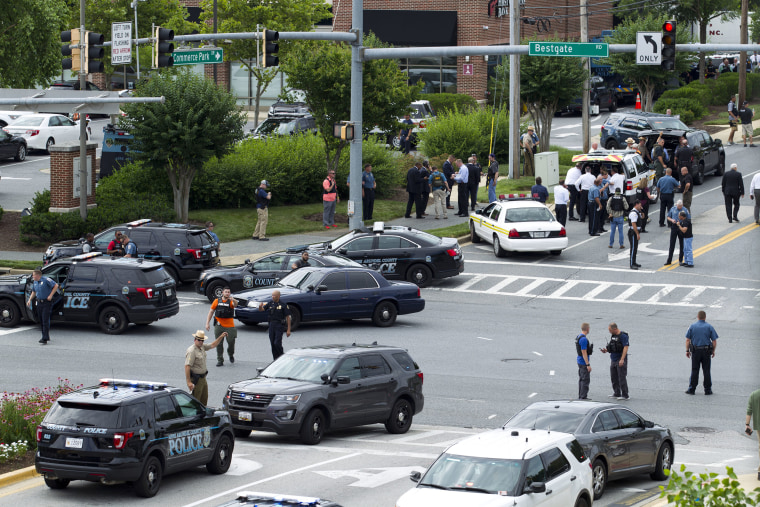 "There is nothing more terrifying than hearing multiple people get shot while you're under your desk and then hear the gunman reload," Davis added in another tweet.
In a later interview with the Baltimore Sun, Davis said it "was like a war zone" inside the newspaper's offices. At one point he and others were hiding under their desks when the gunman stopped firing.
"I don't know why. I don't know why he stopped," Davis said.
After the shooting, Capital Gazette reporter Chase Cook — who said he was not in the newsroom at the time — tweeted updates from the scene before stating: "I can tell you this. We are putting out a damn paper tomorrow."
Later, the Capital Gazette's own Twitter account tweeted an image of Friday's front page.
Victims remembered
Overnight, the Capital Gazette's parent newspaper The Baltimore Sun published obituaries for each of the victims.
Rob Hiaasen was assistant editor of the Capital Gazette and a native of Fort Lauderdale, Florida. The 59-year-old celebrated his 33rd wedding anniversary last week. He was married to journalist-turned-English-teacher Maria Hiaasen, who turned 58 on Thursday, according to The Sun.
"He was a tall man, 6-foot-5, but he was a giant not just in stature but in character," his wife told the newspaper. "He was just the best husband."
In an emailed statement, Maria Hiaasen said: "He did a little birthday dance for me this morning before work (Today is my birthday), and he loved being a dad, an editor who helped shape young talent, and a creative writer and humorist."
Wendi Winters, 65, was a community news reporter and a columnist for the paper's Home of the Week, Teen of the Week and Around Broadneck features, according to the Sun. Her daughter, Winters Geimer, told The Sun that her mother was "a wonderful woman and a fantastic reporter."
She moved to Maryland 20 years ago and described herself as "a proud Navy mom," the paper said. She was also a church youth adviser, a Red Cross volunteer and Girl Scout leader.
Sportswriter John McNamara, 56, had a number of roles over nearly 24 years, according to The Sun.
"Mac," as his colleagues called him, "was a loyal friend with an infectious laugh, and he was a willing mentor for young journalists," said Jeff Barker, a Baltimore Sun reporter. "In other words, he never allowed his professional distance to detract from just being a thoroughly decent person."
Gerald Fischman, 61, wrote the Capital Gazette's editorials and handled other editing duties. "For more than 25 years, Fischman was the conscience and voice of the Annapolis news organization, writing scathing, insightful and always exacting editorials about the community," The Baltimore Sun wrote.
"He had ability that, I thought, deserved a higher calling than The Capital," longtime editor and publisher Tom Marquardt told The Sun.
Rebecca Smith was a 34-year-old sales assistant who lived in eastern Baltimore with her fiancé, The Sun reported. "She was a very thoughtful person," her boss, Capital Gazette advertising director Marty Padden, said. "She was kind and considerate, and willing to help when needed. She seemed to really enjoy to be working in the media business."
"She was a very kind person," Padden said.
'Absolutely devastated'
President Donald Trump expressed his condolences after the shooting.
"My thoughts and prayers are with the victims and their families. Thank you to all of the First Responders who are currently on the scene," the president said on Twitter.
Maryland Gov. Larry Hogan said on Twitter that he was "absolutely devastated to learn of this tragedy in Annapolis."
"It's a tragic situation, but there was some very brave people that came in and kept it from being worse," Hogan said at a news conference, referring to the police response.
Tronc Inc., the company that owns The Baltimore Sun, said in a statement, "We are deeply saddened today by the attack in our Capital-Gazette newsroom."
"Our thoughts and prayers are with the victims and their families," Chairman and CEO Justin Dearborn said. "We are focused now on providing our employees and their families with support during this tragic time. We commend the police and first responders for their quick response."
Capital Gazette reporter E.B. Furgurson III, who was having lunch at a nearby mall when the shooting occurred, said that he lost some friends in Thursday's shooting.
He said they would want to be remembered as "doing their bit for local journalism, day in and day out, night in and night out."
Furgurson added: "They were just doing their job."
CORRECTION (June 28, 5:20 p.m. ET): An earlier version of this article misspelled the surname of a police lieutenant for Anne Arundel County. He is Ryan Frashure, not Frazier.