Two people were killed and a third was injured when a gunman opened fire inside a church near Birmingham, Alabama, on Thursday, police said.
A suspect in the evening shooting at St. Stephen's Episcopal Church in Vestavia Hills is in custody, police said.
"From what we've gathered from the circumstances of this evening, a lone suspect entered a small group church meeting and began shooting," Vestavia Hills police Capt. Shane Ware said.
The suspect's identity was not immediately released.
The third person who was injured was being treated at a hospital, he said.
A motive in the shooting was not disclosed.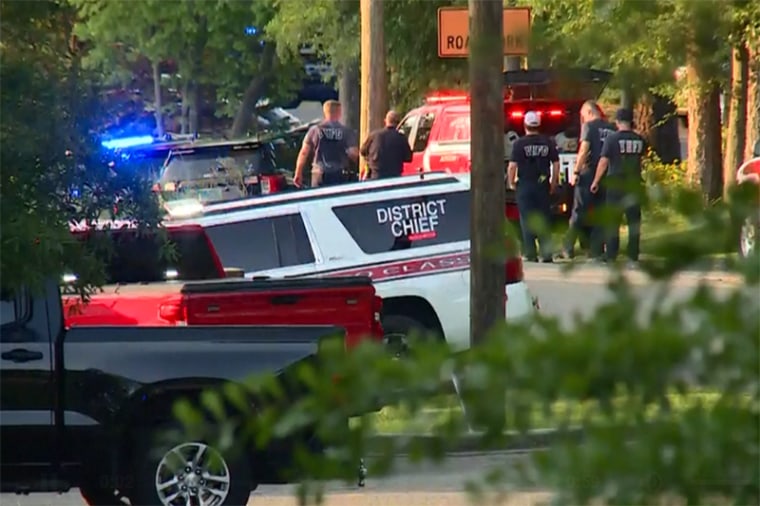 Police were expected to conduct another briefing Friday morning.
Kelley Hudlow, missioner for clergy formation for the diocese, told NBC affiliate WVTM of Birmingham soon after the shooting that church leaders were trying to learn more.
"We are praying for everyone that is involved," she said.
The police department responded at 6:22 p.m. to an active shooter call. Multiple law enforcement agencies and fire departments were at the scene, police said.
"You don't think it's going to happen here, and it's scary," Hudlow said.
The church rector, the Rev. John Burruss, in a video said that he was "deeply moved" by expressions of support and love from all over the country, and he thanked clergy and first responders.
Burruss, who is in Athens, Greece on a church pilgrimage, said he was working to get back to Alabama Thursday. He appeared to hold back tears at times and asked for prayers.
"That is what we do as people of faith: We come together in the midst of life and death," he said.
Vestavia Hills is a city of around 39,000 southeast of Birmingham.
Alabama Gov. Kay Ivey said she was praying for the victims and community.
"We want to offer our prayers for the victim's family, the injured and the entire church community," Ivey said. "I am glad to hear the shooter is in custody. This should never happen — in a church, in a store, in the city or anywhere."