New York City police named a "person of interest" in the shooting Tuesday morning aboard a subway train in Brooklyn.
Ten people were shot and 13 others were injured after a man wearing a gas mask threw two smoke canisters and then opened fire aboard a subway car on the N train as it approached the 36th Street Station in Brooklyn during the morning rush hour, authorities said.
New York Police Chief of Detectives James W. Essig said at a news conference Tuesday night that Frank R. James, 62, rented a U-Haul van, the keys of which were found at the scene of the shooting in Brooklyn's Sunset Park neighborhood.
"We are looking for Frank James," he said. "We know he rented that U-Haul van."
James, who has addresses in Wisconsin and Philadelphia, was not named as a suspect, and detectives want to determine whether he witnessed the attack, Essig said. The van was rented in Philadelphia, he said.
Police said they were looking into social media posts from someone with the same name that mentioned homelessness, New York and Mayor Eric Adams, leading officials to beef up the mayor's security detail.
The shooter set off two smoke canisters and opened fire with a Glock 9 mm handgun, shooting 33 rounds that struck the 10 gunshot victims, authorities said.
Investigators later recovered from the subway station a gun with a magazine attached, two additional magazines, ammunition, a hatchet and a container of what is believed to be gasoline, New York Police Commissioner Keechant Sewell said at the news conference.
Any possible motive was unknown.
The attack triggered a massive law enforcement response, and a manhunt continued into Tuesday evening.
Police had said they were looking for a man believed to be about 5-foot-5 and 180 pounds, wearing a green construction vest during the attack.
"This person is dangerous," New York Gov. Kathy Hochul said at a news conference Tuesday.
The FBI and the Bureau of Alcohol, Tobacco, Firearms and Explosives have joined in the investigation.
The chaos, which was caught on video and in photos, started at 8:24 a.m., Sewell told reporters.
"The suspect was in the train car. The shooting began in the train car," she said. "As the train was pulling into the station, the subject put on a gas mask. He then opened a canister that was in his bag, and then the car began to fill with smoke. After that, he began shooting."
None of the wounded have life-threatening injuries, and the attack isn't being considered an act of terrorism, authorities said.
However, Adams said he considered the attack to have been an act intended to bring terror to subway riders.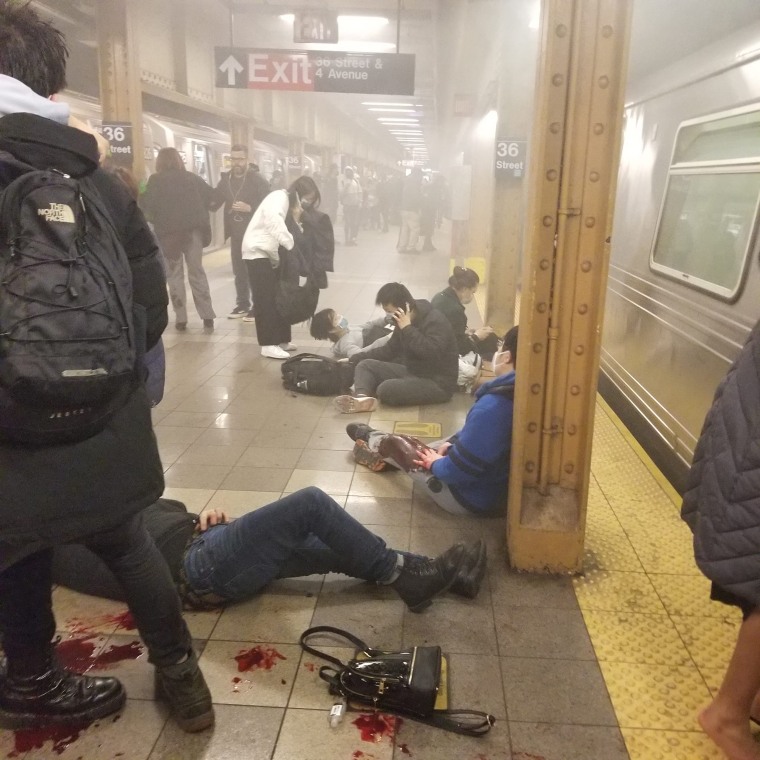 "Any time you have a person that uses a smoke device, you have a person who discharges a weapon in the system, that appeared to place a gas mask on his face, that is a person that is intentionally trying terrorize our system," Adams told MSNBC.
Adams, a former police officer elected to office by voters with an increased fear of crime, said he would significantly boost police presence on the rails.
"What we're going to do to help ... ease some of the apprehension. We're going to double our enforcement," he said. "We're keeping our day tour police officers to complement the 4-to-12 tour police officers."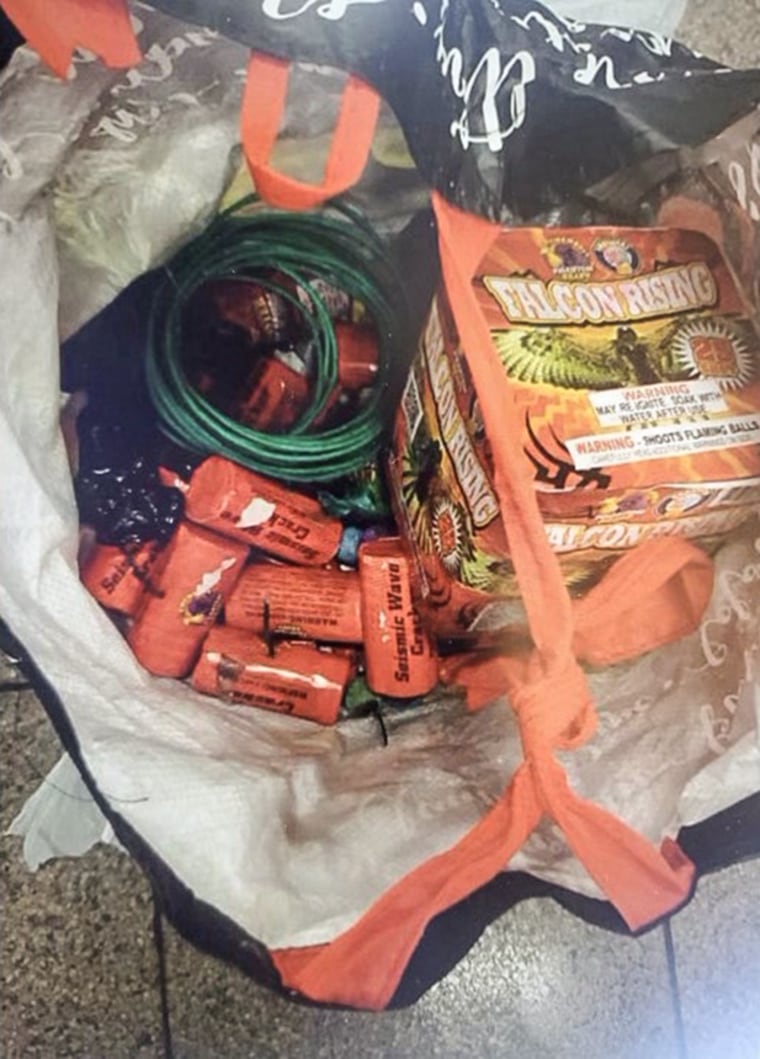 Before the U-Haul van was located on Kings Highway in Brooklyn early Tuesday evening, police said additional evidence, including a bag that contained additional smoke canisters and retail fireworks, was discovered at the subway station and could be connected to the attack, law enforcement sources told NBC New York.
The gun that was used jammed during the attack, possibly limiting injuries, the sources said.
Passengers, including some of the wounded, stumbled out of the train, with a few of them boarding an R train across the platform to get away, witnesses and law enforcement sources told NBC New York.
In addition to the 10 people who were shot, 13 others were hurt in the rush to get away from the N train, the New York City Fire Department said.
The injuries for the latter 13 were related to inhalation of canister smoke, tripping or falling while fleeing or panic attacks, Essig, the chief of detectives, said Tuesday night.
Investigators believe they have images of the gunman taken from nearby businesses — but a security camera in the station is broken, law enforcement sources told NBC New York.
Police explained at the evening news conference that the camera was nonfunctional as a result of user error, as someone had failed to switch frequencies, from UHF to VHF, or vice versa, so its images could be transmitted and stored.
Essig said hundreds of detectives were combing through other security video to determine whether it recorded images of the shooter.
Authorities also said no officers were at the 36th Street subway station when the shooting happened: They're not assigned there at all hours, but they are often there.
Scene was 'like a horror movie'
Commuter Kenneth Foote-Smith said the scene was "like a horror movie." 
He said he heard shots coming from a neighboring car as it filled with smoke. Adding to the panic, riders fleeing the smoke-filled car couldn't get into his car for safety because of a jammed door, he said.
The train stopped just short of the station, presumably for a red light, leading to more panic.
"We can't even see the faces of the people in the train car anymore," Foote-Smith told NBC New York.
"We luckily pull up to the station very shortly after that. And we all run out once the doors open, and it's absolute bedlam. There's people fleeing up the stairs. Luckily an R train pulled up. There's people running into the R train."
The fire department initially reported that several undetonated devices were found at the scene, but the police department said later that no "active explosive devices" were immediately found.
Several commuters posted images of bloodshed and smoke in the subway station immediately after the attack.
No train service; schools on lockdown
The station is a busy hub, and service was disrupted for hours.
Mobile phones across the five boroughs buzzed hours after the incident, telling New Yorkers to stay away from the Sunset Park neighborhood.
Several schools were put on lockdown, and most stores in the neighborhood evacuated.
National leaders offer prayers, assistance
President Joe Biden said his staff is in touch with New York City authorities and pledged federal help in bringing the gunman to justice.
"My wife, Jill, and I are praying for those who are injured and all those touched by that trauma," Biden said in Menlo, Iowa.
"And we're grateful for all the first responders who jumped in action, including civilians, civilians who didn't hesitate to help their fellow passengers and tried to shield them."
Tuesday's bloodshed comes as New York City companies and employees struggle with return-to-office debates and whether workers should be forced back to offices they've barely seen over the last two years because of the Covid-19 pandemic.
Hochul said: "This morning, ordinary New Yorkers woke up in anticipation of a relatively normal day. They left their homes, they went to school, they went to their jobs.
"That sense of tranquility and normalness was disrupted, brutally disrupted, by an individual so cold-hearted and depraved of heart that [he] had no caring about the individuals that they assaulted as they simply went about their daily lives."