A woman was killed and seven other people were injured Wednesday evening in a shooting near downtown Seattle's Pike Place Market after several people got into a fight, officials said.
"People pulled out guns, shots rang out, people ran in various directions," Police Chief Carmen Best said.
Police arrested one suspect, who was wounded in the shootout, and were looking for two more, authorities said Thursday.
Gang unit detectives reviewed security video recorded at the scene, in front of a McDonald's near Third Avenue and Pine Street, and spotted a known felon, police said.
"They recognized one the subjects who was in front of that McDonald's as a person they'd had contact with previously," Best told reporters Thursday. "They know him as a felon, and they knew he could not be in possession of a firearm which he had in his hand in the video."
The wounded suspect was arrested at Harborview Medical Center for illegal weapons possession, according to Best.
Two other suspects were being pursed by police on Thursday afternoon.
They were identified as Marquise Latrelle Tolbert and William Ray Tolliver, who are both 24.
One of those two suspects has been arrested at least 50 times and the other has 25 arrests on his record, according to Best.
Witnesses reported hearing a dozen or more gunshots about 5 p.m. Wednesday.
"We do know from the video there were several people outside, shots rang out, a lot of people running in a lot of directions," Best said. "So we're trying to figure out exactly how many people involved."
The chief said police were in the area at the time of the shooting and found victims in a one-block radius.
A woman thought to be 40 to 50 years old was pronounced dead at the scene, and five other people were transported to hospitals, Seattle Fire Chief Harold Scoggins said.
The wounded are ages 9 to 55, and one is in critical condition, the fire department said.
A 55-year-old woman was said to be in critical condition, and a 9-year-old boy was in serious condition, fire officials said Wednesday. Three other men — ages 35, 34 and 21 — were described as stable.
By Thursday, the 9-year-old was in satisfactory condition and the 55-year-old woman was in serious condition in intensive care, Harborview Medical Center said. A 32-year-old man was also in satisfactory condition.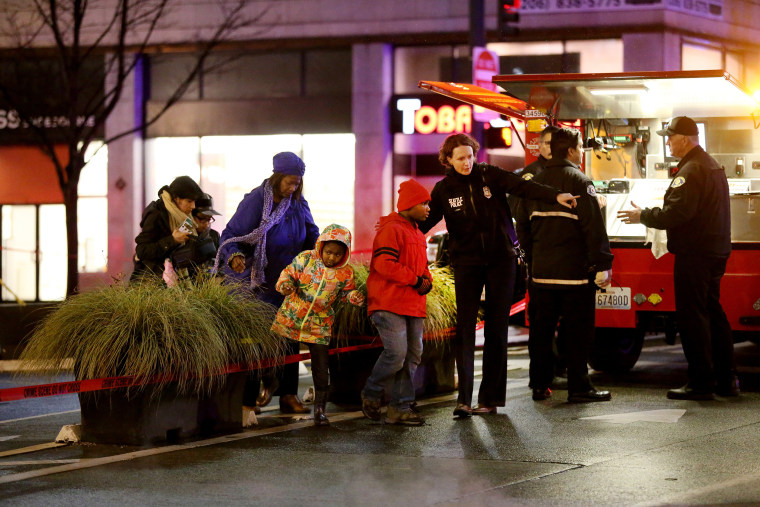 Download the NBC News app for breaking news
A nurse who witnessed the shooting told NBC affiliate KING that she heard the gunfire and rushed to help one of the victims. The station did not identify her.
"I've never experienced anything like this in my life," she said.
Douglas Converse said he had just left a downtown coffee shop and was headed to a light rail station when he "heard a couple of pops, and then a series of pops."
"And then I saw somebody down, and I saw people running and ducking into doorways and hiding behind parked cars," Converse said.
He said the violence seemed to have come "out of nowhere."