ALAMEDA, Calif. — Multiple blazes were burning out of control in Northern California on Monday, killing three people, destroying an untold number of homes and prompting thousands to evacuate in a state already battered by wildfires in recent months.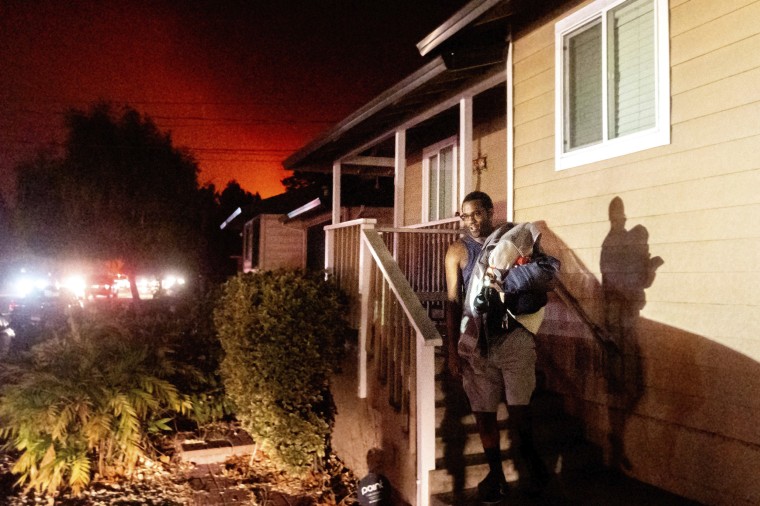 In Shasta County, Sheriff Eric Magrini said that three people died after the Zogg Fire exploded in size, jumping from a few hundred acres Sunday afternoon to 15,000 less than 24 hours later.
Magrini did not provide additional details about the victims, saying that their next of kin still need to be notified. But he pleaded with residents to heed evacuation orders.
"This is fast-moving," he said. "When you hear that order, evacuate immediately."
According to the California Department of Forestry and Fire Protection, or Cal Fire, the blaze, which ignited southwest of the city of Redding, had no containment on Monday afternoon.
Five hundred structures were threatened by the blaze, a CalFire spokesman said earlier. He added that reports of damaged and destroyed buildings have not been confirmed by the department.
North of the San Francisco Bay Area, in Napa and Sonoma counties, the Glass Fire rapidly scorched more than 36,000 acres and is zero percent contained, according to Cal Fire Division Chief Ben Nichols. It started early Sunday in Napa Valley and roared west overnight, merging with two other fires as it burned through vineyards and buildings.
At least 8,500 structures are threatened by it, according to NBC Bay Area. No injuries or deaths have been confirmed, Nichols said, though he added that he'd heard reports of burned residents.
State Sen. Bill Dodd, who represents the area, estimated that hundreds of homes, wineries and other businesses were destroyed after the blaze exploded Sunday night amid powerful winds and high temperatures.
"This was pretty devastating," Dodd said after touring areas hit hard by the fire. "Just literally hundreds and hundreds of homes devastated with nothing standing."
Among the well-known businesses that Dodd said burned were Calistoga Ranch, a luxury resort, and parts of Meadowood, a resort with a Michelin-starred restaurant. Also lost in the fire was the Château Boswell Winery in St. Helena, a family-owned winery founded in 1979.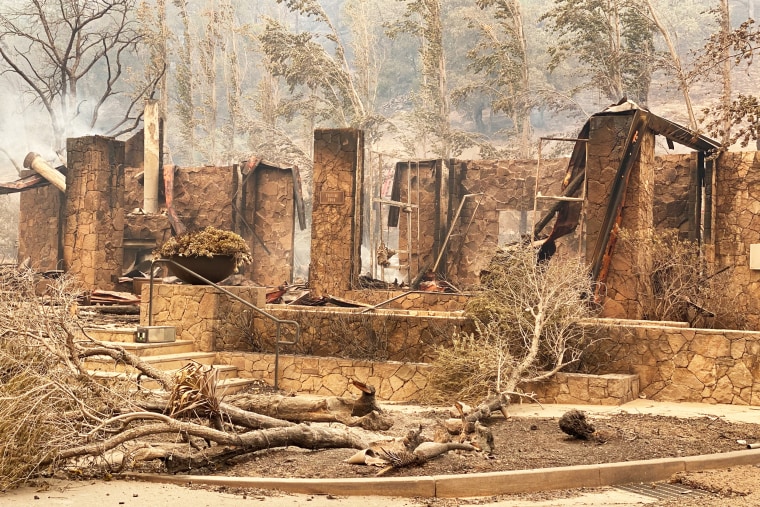 "It was like a nuclear bomb went off," Dodd said of Calistoga Ranch. "You couldn't see anything green anywhere. It was just utter devastation."
The blaze also made a run toward Santa Rosa, a city of nearly 175,000 in Sonoma County that lost hundreds of homes three years ago after flames jumped a highway and scorched the neighborhood of Coffey Park, fire officials said.
California Gov. Gavin Newsom on Monday declared a state of emergency in Napa, Sonoma and Shasta counties due to the Glass and Zogg fires, which his office said in a statement "have burned tens of thousands of acres, destroyed homes and critical infrastructure and caused the evacuation of tens of thousands of residents."
Newsom also sent a letter to President Donald Trump asking for a major disaster declarations to help in state and local wildfire response and recovery efforts in Fresno, Los Angeles, Madera, Mendocino, San Bernardino, San Diego and Siskiyou counties.
Santa Rosa Fire Chief Anthony Gossner said Monday that there were "significant losses" in the neighborhood of Oakmont. Gossner didn't know how many buildings burned, but he said many were ranch homes.
Janneke Byrne, 27, said her parents evacuated from their house in Santa Rosa to her home in another part of the city. It was the third time in as many years that they'd left their place on the city's east side, near Annadel State Park, worried it might not be there when they returned because of a wildfire. "They've never really unpacked," Byrne said Monday.
This time, because of how quickly the fire had moved from Napa County toward Santa Rosa, her parents were resigned to losing their home, Byrne said.
On Monday afternoon, as she and her mother reminisced about the house where they've lived for almost two decades, her father called from another room and told them to come watch the news. A television journalist doing a live shot was reporting from in front of their home, which was still standing.
"We screamed and danced," Byrne tweeted.
Her parents are among 68,000 people who remain under evacuation orders in Sonoma County, according to sheriff's spokesman Spencer Crum.
Dodd, the state senator, estimated that at least another 10,000 were under similar orders in Napa.
Among those shuttled to safety were residents of the Oakmont Village retirement community in Santa Rosa, city spokeswoman Elise Howard said.
About 100 residents who don't drive or have nearby loved ones to pick them up were loaded on to five city buses between midnight and 1 a.m. PT and taken to an evacuation center set up at a park 11 miles away, Howard added.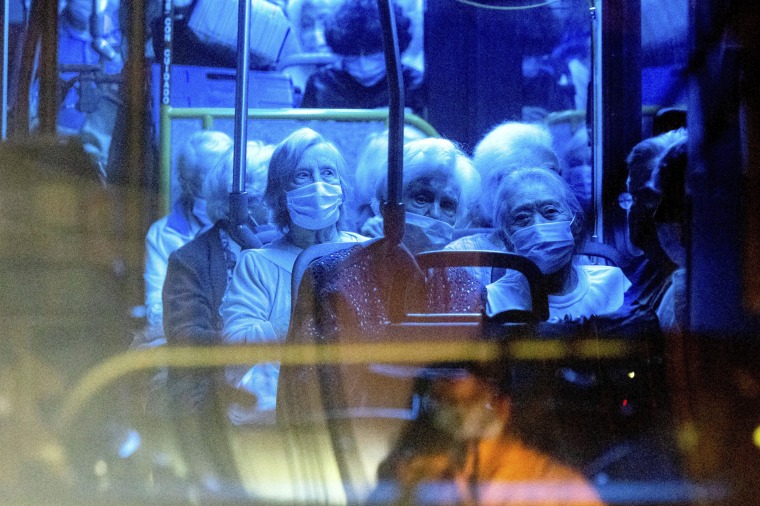 In Butte County, the town of Paradise, which was devastated by California's deadliest fire on record two years ago,was put under an evacuation warning Sunday, meaning residents should prepare to leave any minute.
The town is near the North Complex Fire, a series of blazes that began more than a month ago and have burned more than 300,000 acres north of Sacramento. According to CalFire, the fire is 78 percent contained.
The fires that erupted over the weekend are only the latest blazes in what officials have called a historic wildfire season. Since the beginning of the year, there have been 8,100 wildfires that have burned more than 3.7 million acres in California, according to Cal Fire.
The state has recorded 29 fatalities and more than 7,000 structures have been destroyed.
Tim Stelloh reported from California. Elizabeth Chuck reported from New York.