It was a late-summer afternoon in 1980, in a quiet corner of small-town North Carolina that was the inspiration for television's fictional Mayberry.
Two high-school girls strolling down the street gave a friendly wave to a pickup truck, and the driver pulled over near the bowling alley to give them a ride.
One of the teens got dropped off at home. The other was never seen alive again.
Now, three decades after 14-year-old Ronda Blaylock was found partially clothed and stabbed to death in the woods, a real-life Andy Griffith is vowing to find her killer.
"He should be worried because we are definitely after him and we're coming," Surry County Sheriff Graham Atkinson said this week.
Atkinson and neighboring police have formed a task force to crack the cold case and get justice for Ronda's widowed mother.
"I want them to be put in prison for the rest of their lives because I've been in prison, so to speak, for almost 35 years," Rebecca Blaylock said in a video interview released by police.
"I want them to know how it feels not to have your freedom."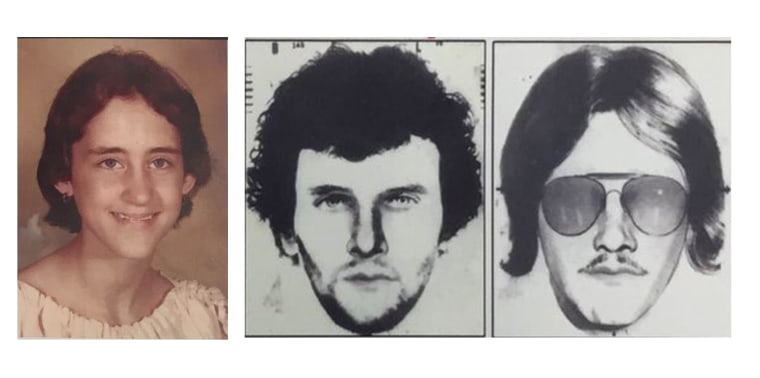 The "Andy Griffith Show," with its portrayal of a close-knit community so sleepy that the deputy carried just one bullet, ended its run a decade before Ronda was brutally slain.
She was walking a friend home after school on Aug. 26, 1980, when they got into the blue pickup driven by a man in his 20s who said his name was Jimmy but that he went by Butch. He was playing rock music on the radio and smoking Winstons.
"In the place that they were, picking someone up on the side of the road was a common thing back then," the sheriff said. "She just picked the wrong truck to get into."
The driver dropped off the friend, but for whatever reason, Ronda decided to stay in the truck. When she didn't return to her Rural Hall home, her parents reported her missing.
Three days later, she was found 18 miles from home when a man driving down a private road spotted a body under some trees near a tobacco barn in Pilot Mountain.
"At the time, they ran everything to a dead end and it just kind of stopped," Atkinson said of the initial investigation.
In 2004, detectives dusted off the case file and started re-interviewing witnesses. "It looked like we got off to a good start, but it got stalled again," he said.
"He should be worried because we are definitely after him."
Late last year, "some new stuff popped up," Atkinson said, declining to provide details that might jeopardize the probe.
Investigators were running down leads when Rebecca Blaylock called them out of the blue to check on the status of the case.
"There's no such thing as coincidences," Atkinson said. "These things happened at one time for a reason."
He said that police have gleaned new information from witnesses who were just kids when Ronda disappeared and may have withheld some details.
"They were scared they would get in trouble if they told mom and dad everything they were involved in," he said.
Detectives have also sent all the physical evidence to the state crime lab for processing with technology that wasn't available in 1980. "We feel good we're going to have some positive results from that," the sheriff said.
Atkinson said all the clues are pointing police "in a particular direction," but he would not reveal if they have identified a single suspect.
"We think he lived and still lives in the immediate area. We feel like he has blended into the community and he's lived with this for a long time, and we're hoping he does the right thing and comes forward," Atkinson said.
"I guess they never dreamed it would end like it did."
In the weeks and months after Ronda was killed, Rebecca Blaylock did what she could to find the murderer, chasing down sightings of blue pickups only to find they didn't match the suspect's vehicle.
She and her husband tried to "go on with their lives the best that we could," but the sense of loss is still sharp so many years later.
"I was never able to see her graduate from high school, possibly college... getting married, having children," she said. "People ask me how many grandchildren do you have and I say I don't have any grandchildren because I don't have any children."
She said Ronda was "sweet and kind," a little shy, a good student at Atkins High School in Winston-Salem.
"She was too trusting, I think," she said of the girls' fateful decision to accept a ride. "I guessed they never dreamed it would end like it did."