CRIPPLE CREEK, Colo. — An inmate testified Friday that Colorado murder suspect Patrick Frazee, who is on trial in the death of his fiancée, asked him for help in arranging the killing of a key witness.
When the two were in the same jail, Frazee asked the inmate to use his connections to a prison gang to kill Frazee's former girlfriend, Krystal Lee, the inmate said in court. Frazee is accused of killing Kelsey Berreth while their young daughter was in a nearby room.
The inmate, who did not want his name used because he fears retaliation, and Frazee were housed next to each other for several weeks in September and October. The twice-convicted felon said Frazee made the request in notes.
Notes between the two list more than 10 other people who needed to "disappear or be unseen," a law enforcement official testified Friday.
Lee, a nurse from Idaho who previously used the last name Kenney, has testified she was told by Frazee to clean up blood at Berreth's condo, and he told her he had killed Berreth, 29, with a baseball bat on Thanksgiving Day 2018 and burned her body at his ranch.
Berreth's body has not been found.
Frazee was arrested and charged with murder and other counts in December. His trial began Nov. 1.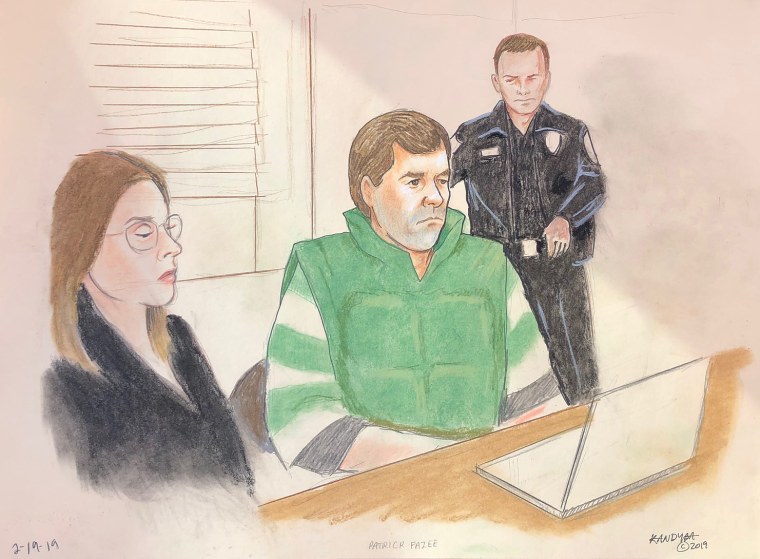 The inmate testified Friday that the conversation about killing Lee began after he approached Frazee for help getting items from his commissary account because he was in a segregated area and could not place an order.
The inmate characterized the notes as instructions or suggestions on how to "carry out the hits on the witnesses."
Gregg Slater, an agent with the Colorado Bureau of Investigation, testified Frazee targeted more than 10 others in the notes, including Lee's former husband, Lee's family members, Slater himself and Joe Moore, a friend who testified last week that Frazee talked about killing Berreth and Frazee told him "no body, no crime."
"They all need to disappear or be unseen until at least Nov. 22 until after the trial," Slater testified on the contents of one note. He read from another note allegedly written by Frazee that said, "I'd really like to see Krystal with a bullet in her head."
Asked about the reference to Slater in one of the notes, Slater said he interpreted it to mean Frazee wanted him and the others "gone."
Under questioning from Frazee's attorney, Adam Steigerwald, the inmate acknowledged he learned about the case from media reports.
"You thought you would have some fun with Patrick," Steigerwald asked the inmate, and "you put the hook out there see if he bites and he does."
The inmate replied yes.
He said he initially came forward in the hopes of getting assistance with his case because he faced 30 years in prison on a burglary charge, but the "case was dropped to a misdemeanor three weeks ago."
He said he was torn about what to do with the information he had about Frazee.
"I decided to come forward, it seemed like the right thing to do," he said.
Frazee, 33, is charged with two counts of murder and three counts of solicitation to commit murder. He has denied killing Berreth and pleaded not guilty.
Jonathyn Priest, an expert in blood stain pattern analysis and crime scene reconstruction, testified Friday that Lee's description of the blood pattern she cleaned up at Berreth's condo, coupled with the blood investigators found at that location, is consistent with someone using "significant force."
When asked by Teller County District Attorney Dan May if the evidence was consistent with Lee's testimony that Frazee used a baseball bat to kill Berreth, Priest replied "absolutely."
"In my experience, people are not easy to kill. They are very resilient," Priest said. "Beatings are nasty in that they don't really have the effect they may have on television."
Priest estimates it took at least 10 to 15 strikes to kill Berreth.
"The presence of cleaning efforts are supportive of why we don't see a lot of blood," Priest said. "From my experience looking at areas of similar cleaning, you can make it look clean but blood has a habit of getting into areas that you can't see. We have that here."
Lee has told the court that Frazee wanted it to appear as if Berreth had left, so he asked Lee to take Berreth's cellphone to Idaho, where she burned it. Lee was charged with tampering with evidence and pleaded guilty in February, agreeing to testify against Frazee in a plea deal.
Frazee's lawyers stressed that Lee only spoke about what happened after reaching a deal, and they questioned her credibility because she initially told authorities she did not know who Berreth was, according to The Associated Press.
In another note allegedly written by Frazee to the inmate, Slater testified Friday that it read: "I'm not the monster they say I am. I don't know what happened or where she went, honestly my wheels are spinning out of control the closer it gets to trial."
The prosecution and defense rested Friday. Closing arguments are scheduled for Monday and then the case will go to the jury for deliberation.
Sumiko Moots reported from Cripple Creek, Colorado, and Phil Helsel from Los Angeles.