Charles Manson, the sinister hippie cult leader who declared himself "the devil" and dispatched his followers to commit a series of Hollywood murders in 1969 that shocked the country, died Sunday night in a California hospital, state officials told NBC News. He was 83.
Manson died at 8:13 p.m. (11:13 p.m. ET) at a hospital in Kern County, said a spokeswoman for the state Department of Corrections and Rehabilitation.
Debra Tate, the sister of one of the Manson family's victims, the actress Sharon Tate, told NBC News that authorities called her about 8:30 p.m. to inform her that Manson was dead.
"One could say I've forgiven them, which is quite different than forgetting what they are capable of," Tate said. "It is for this reason I fight so hard to make sure that each of these individuals stays in prison until the end of their natural days."
Michele Hanisee, president of the Association of Deputy District Attorneys for Los Angeles County, said Sunday night: "Today, Manson's victims are the ones who should be remembered and mourned on the occasion of his death."
For many Americans, Manson became the living embodiment of evil, and he was once dubbed by Rolling Stone magazine "the Most Dangerous Man Alive."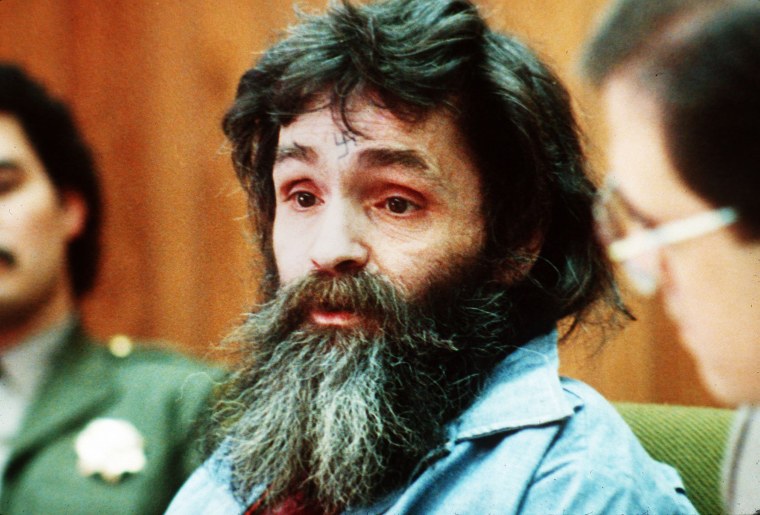 Even behind bars, he exerted an almost magnetic influence over other members of the "Manson Family," and the madness and depravity of his crimes continued to intrigue generations of people who were born long after "Helter Skelter" became part of the vernacular.
Manson was sentenced to death in 1971 for directing the brutal murders of Tate and six other people, but he was spared two years later and was sentenced to life behind bars when California did away with the death penalty.
Later, Manson survived being severely burned by another inmate who poured paint thinner on him and set him ablaze. But in the end, the incorrigible inmate repeatedly ran afoul of prison officials for drugs and other offenses.
"Why did the Manson legend live on? It's because Manson lived on," pop culture expert Robert Thompson, director of the Bleier Center for Television & Popular Culture at Syracuse University, told NBC News before Manson died.
Manson just fascinated Americans, many of whom first laid eyes on him when he was on trial and had carved an X into his forehead, which that he later turned into a swastika, Thompson said.
"With those eyes and that tattoo, Manson just seemed to be the dictionary definition of crazy," he said. "That photo of Manson really captured so much of the dark side of the American id."
Born Charles Miller Maddox on Nov. 12, 1934, in Cincinnati, Manson was the son of an unmarried 16-year-old girl and wound up taking the last name of a man his mother later married. He had a miserable childhood, and by time he was 9 years old, he was already stealing cars and committing other crimes.
After spending his teenage years in various juvenile detention facilities, a newly released and 19-year-old Manson married a waitress and fathered a son he named Charles Manson Jr.
Related: Whatever happened to the other Manson Family cult members?
By 1956, Manson was divorced and doing time in a California prison for stealing cars. Released two years later, he married for a second time and fathered a second son, whom he named Charles Luther Manson. That union also ended in divorce when Manson was dispatched again to prison, this time for pimping and conning women out of money.
During his second stint, Manson befriended Alvin "Creepy" Karpis — a former member of Ma Barker's infamous gang — who taught him how to play steel guitar and planted in him the notion that he could one day be a famous musician.
So when Manson was released in 1967, he headed north to San Francisco and then back Los Angeles, where he tried to launch a musical career. He wrote music and hung out with Dennis Wilson of the Beach Boys, who recorded one of his songs on the band's "20/20" album as "Never Learn Not to Love."
Through Wilson, Manson met the record producer Terry Melcher, son of the actress Doris Day, who he hoped would help him launch his musical career. But that went nowhere.
In the meantime, Manson began gathering followers, and they decamped in November 1968 for the Spahn Ranch, a spot northwest of the San Fernando Valley where westerns had been filmed in the 1940s and '50s. There, they spent a lot of time tripping on LSD and swapping sexual partners.
It was here that Manson got it into his head that the Beatles' song "Helter Skelter" and the Bible's Book of Revelation were predicting a race war. It was also here that he hatched an evil plan to commit a series of murders that he believed would spark a final confrontation between blacks and whites in America.
"Now is the time for Helter Skelter," Manson declared on Aug. 8, 1969.
Manson told four of his followers — Susan Atkins, Charles "Tex" Watson, Patricia Krenwinkel and Linda Kasabian — to grab their knives and head over to what he believed was Melcher's home at 10050 Cielo Drive. His orders were to kill everybody inside.
But Melcher no longer lived there. Instead, they found a pregnant Tate — the wife of the Polish director Roman Polanski — and four other people: Wojtek Frykowski, Jay Sebring, Steven Parent and Abigail Folger. And when it was over, they were all dead.
Police reported that four of the victims had been stabbed a total of 102 times and that the fifth had been shot to death.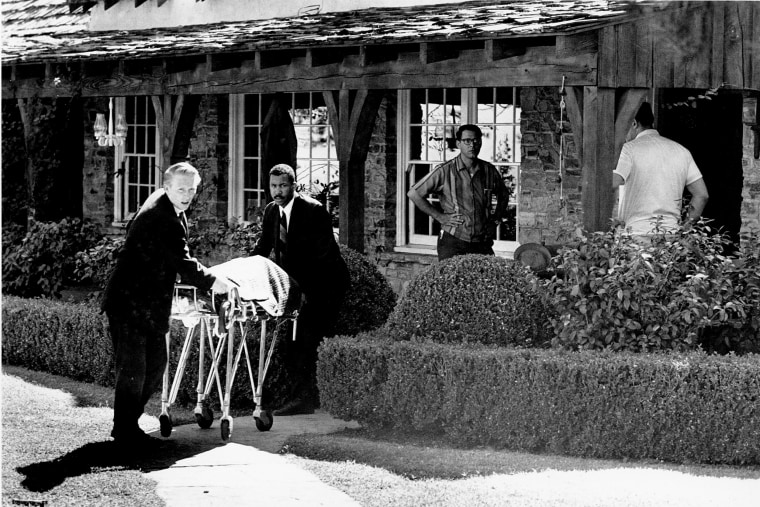 The next day, Manson's followers butchered Leno and Rosemary LaBianca in their home. The words "Death to Pigs" and "Healter Skelter" (misspelled) were found printed on a wall and a refrigerator door.
Arrested months later, Manson showed up in court in June 1970 with an X carved into his forehead. Soon, the women on trial with him — Atkins, Leslie Van Houten and Krenwinkel — branded themselves with Xs in a sick show of solidarity.
Manson turned his trial into a circus, at one point leaping across the defense table in an attempt to attack the judge. His co-defendants, along with family members not on trial, tried to intimidate and prevent witnesses from testifying.
"The music is telling the youth to rise up against the establishment," Manson declared when he took the stand.
Manson and three co-defendants were found guilty. When it was over, Manson spoke directly to America.
"Mr. and Mrs. America — you are wrong," he said. "I am not the King of the Jews, nor am I a hippie cult leader. I am what you have made me, and the mad dog devil killer fiend leper is a reflection of your society. ... Whatever the outcome of this madness that you call a fair trial or Christian justice, you can know this: In my mind's eye, my thoughts light fires in your cities."
During the penalty phase of his trial, Manson showed up in court with a new look — a shaved head — and a sick new boast.
"I am the devil, and the devil always has a bald head," Manson declared.
In the years that followed, Manson — inmate B-33920 — gave several interviews, including one in 1987 at San Quentin State Prison, parts of which MSNBC aired 20 years later. Then, in 2014, it was revealed that Manson and Afton Elaine "Star" Burton, 26, who had been visiting him in prison for at least nine years, were engaged. But the wedding license expired a year later without a marriage ceremony taking place.
By law, Manson was required to have a parole hearing every seven years. But it was such a given that Manson would never be allowed to leave prison that he stopped attending them.