While Sen. John McCain, R-Ariz., lived up to his nickname of "maverick" by voting down his party's health care bill early Friday morning, he wouldn't have drawn nearly as much fanfare or ire without the help of two Republican women senators.
McCain might have delivered the night's dramatics with an unexpected thumbs down on the Senate floor, but it was the votes of Sens. Susan Collins of Maine and Lisa Murkowski of Alaska that brought their party's so-called "skinny" health care bill to its knees in a 51-49 vote.
And the two centrist senators have been steadfast in their opposition to the GOP's attempts to dismantle the Affordable Care Act, earning wrath from President Donald Trump on Twitter, as well as from congressional colleagues.
On Wednesday, Rep. Buddy Carter, R-Ga., told MSNBC that "somebody needs to go over there to that Senate and snatch a knot in their ass." His office later said the comment was not directed at anyone in particular.
Referring to the opposition to the bill on Monday, Texas Congressman Blake Farenthold said on a radio show, "there are some female senators from the Northeast — if it was a guy from South Texas, I might ask him to step outside and settle this Aaron Burr-style."
Collins accidentally responded to Farenthold's threat when she was overheard on a live microphone deriding the congressman's appearance — a reference to a widely-circulated image of him wearing "ducky" pajamas while posing next to a woman in lingerie.
Farenthold and Collins both later apologized for their respective comments.
But the GOP has long been unhappy with the two senators for creating obstacles in the party's long-stated goal of dismantling the Affordable Care Act.
Murkowski and Collins were previously the only two GOP senators to vote against Senate Majority Leader Mitch McConnell's procedural vote on Tuesday afternoon, and were also two of the nine GOP senators who voted down the Better Care Reconciliation Act later that night.
Related: After Health Care Defeat, Trump Pushes Obamacare Implosion
While both have had lengthy Senate careers, they aren't as recognizable as McCain, a two-time presidential candidate and Vietnam war hero.
So who are Murkowski and Collins? And why did they, as Republicans, vote against this Republican health care bill?
Lisa Murkowski, senior senator from Alaska
One of Alaska's two senators has been named Murkowski since 1981. Before Lisa Murkowski entered the Senate in 2002, her father, Frank Murkowski, held the seat for three terms.
He left the Senate in 2002 after winning the state's governorship and appointed his daughter to replace him, which was met with some criticism at the time — though she had served in the Alaska House of Representatives and was appointed majority leader of the statehouse.
Murkowski went on to win re-election with a plurality in 2004, 2010 and 2016. In 2010, she notably won via a write-in campaign — the first time a Senate seat was won via write-in since 1954.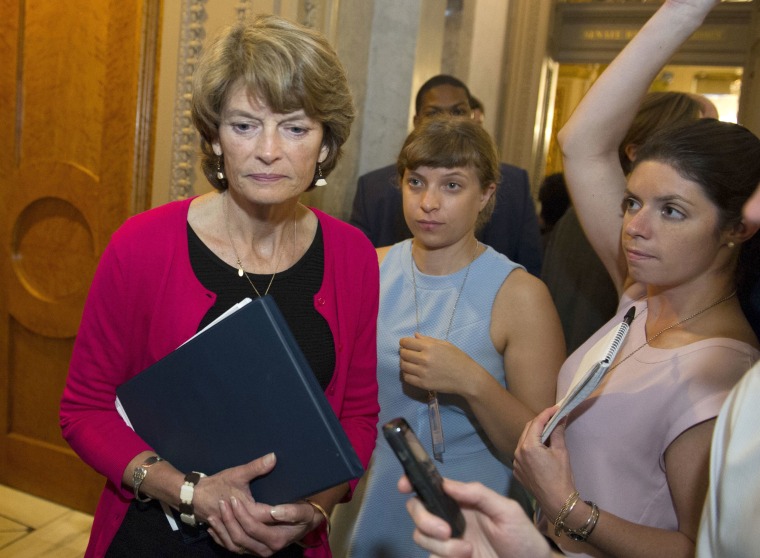 Since she entered the Senate, Murkowski has made some splashes — but few waves — with her more moderate positions. Nevertheless, Murkowski is not the typical conservative Republican in the Senate, as she often defies party for her state.
The American Conservative Union gives her a lifetime conservative rating of 59.63 percent.
Outside of health care votes, she most recently earned some attention as one of two senators who voted against the confirmation of Education Secretary Betsy DeVos.
Wavering from the party line on health care has earned her more than a little abuse from the Trump administration. Trump took to Twitter to announce his displeasure after an early health care vote on Wednesday.
And, according to the Alaska Dispatch News, Interior Secretary Ryan Zinke called both of Alaska's senators to let them know that the administration may attempt to economically punish their state because of Murkowski's vote. That led Democratic lawmakers to become unlikely bedfellows with the Republican senator by demanding that the U.S. Government Accountability Office and the Interior Department's inspector general investigate Zinke's calls.
Despite the controversy, the Alaska senator said on Friday that she voted based on what she thought was best for her constituents, who — she claimed — had helped guide her vote.
Related: Moderate Senators Seek Bipartisan Path Forward on Health Care
"I hear from fishermen who can't afford the coverage that they have, small business owners who can't afford insurance at all, and those who have gained coverage for the first time in their life," she said in a statement on her vote. "These Alaskans have shared their anxiety that their personal situation may be made worse under the legislation considered this week."
The various bills that the GOP has produced, she said, lacked substance.
Murkowski also doesn't have much to worry about, as compared to some of her Senate colleagues. She won re-election in 2016 and won't face another challenger until 2022.
Susan Collins, senior senator from Maine
A born-and-bred resident of Maine, Collins won the Maine Republican primary for governor in 1994 — the first woman to earn a major party nomination for the state's governorship — but she would go on to lose to her now Senate colleague Angus King.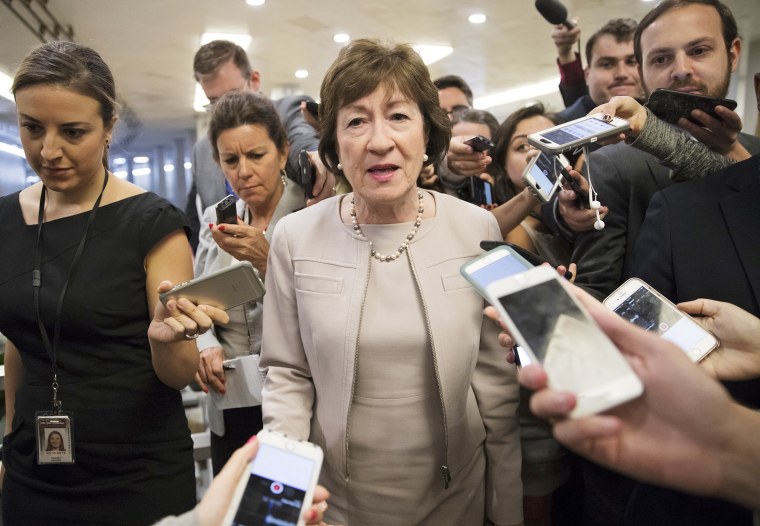 In 1996, she returned to the campaign trail to run for the seat Republican Sen. William Cohen vacated to serve as Secretary of Defense under President Bill Clinton. Collins had worked for Cohen in the Senate for 12 years and, with his endorsement, won the seat by five points. She won again in 2002, 2008 and 2014 with increasing margins.
Largely considered a moderate — the American Conservative Union gave her a 44.85 percent conservative lifetime rating — Collins isn't always a dependable vote for her GOP colleagues.
She also has thumbed her nose at Trump more than once, most recently during the live microphone incident, which also caught her disparaging Trump's handling of the budget — she called it "incredibly irresponsible."
Related: What's Going to Happen to Obamacare?
Health care is only the latest time she's turned against the Republican tide, but she claims it's for good reason.
Collins applauded the ACA for providing health insurance to millions of Americans for the first time, but she quickly noted that many have also faced "skyrocketing premiums and unaffordable deductibles coupled with mandates that give them few, if any, choices."
The problems didn't stop there, but Collins said she was more concerned with finding solutions.
"These problems require a bipartisan solution," Collins said in a statement on Friday. "The Democrats made a big mistake when they passed the ACA without a single Republican vote. I don't want to see Republicans make the same mistake." McCain cited similar reasoning in his opposition.
Collins explained each of her votes against Republican plans, consistently citing the CBO scores that said the legislation would result in tens of millions of Americans losing their health care coverage.
But that wasn't her only reason. She noted that the GOP wanted to pull funding from Planned Parenthood, an act she called "misguided" because the organization provides women with "family planning, cancer screening, and basic preventive health care services" and relieved the load of small clinics and community health centers.
Collins also noted that none of the federal funding that goes to Planned Parenthood pays for abortion except for cases of rape, incest or when the mother's life is at risk. She claimed the bill would only interfere in a woman's ability to choose her health care provider.
Collins said that solutions can still be found, particularly if Republicans and Democrats work together in the Senate. A group of senators, which includes Murkowski and Collins, are already working toward that end.
"Neither party has a monopoly on good ideas," Collins concluded, "and we must work together to put together a bipartisan bill that fixes the flaws in the ACA and works for all Americans."