In just over 24 hours, an online fundraiser encouraging Muslims to donate to repair vandalism at a Jewish cemetery has raised over $100,000.
The LaunchGood.com fundraising page set up by Linda Sarsour of MPower Change and Celebrate Mercy's Tarek El-Messidi — garnered $20,000 in donations in its first three hours alone, shortly after being launched on Tuesday.
"People in a cemetery should be able to rest in peace," Sarsour said on MSNBC Wednesday, telling Andrea Mitchell that she "expected nothing less from my community, who has always been a generous community."
They launched the campaign after 180 gravestones were toppled, some broken, at the Chesed Shel Emeth Cemetery just outside of St. Louis, Missouri over the weekend.
NBC affiliate KSDK reported Tuesday that police in the University City suburb are investigating the incident and examining surveillance videos. No suspects have been identified.
El-Messidi, whose Philadelphia-based organization Celebrate Mercy creates interactive webcasts and videos that teach about the Prophet Muhammad, told NBC News that about two-thirds of those donating appear to be Muslim, while the remainder are largely Jewish.
"One of the silver linings of all this divisiveness and hate rhetoric has been the two communities coming together," said El-Messidi. "Historically, we did not work together. People are putting their politics aside and working to fight bigotry together."
A request for comment sent to the Chesed Shel Emeth Society did not get an immediate response, but the Jewish Federation of St. Louis said in a statement that the restoration effort is "going to need professional help as the monuments weigh thousands of pounds."
The federation also set up an "emergency response" fund to raise money for the cemetery repairs, and said any funds raised beyond the needs of Chesed Shel Emeth Society "will be used to support the growing security needs of the Jewish community."
Sarsour and El-Messidi's fundraiser will remain open for donations until March 21st.
The fundraiser isn't just bringing in dollars. El-Messidi told NBC News that over 100 messages have been received through the webpage — many from American Jews moved by the Muslim community's support.
The incident at Chesed Shel Emeth Cemetery drew the attention of Vice President Mike Pence, who visited the St. Louis site on Wednesday.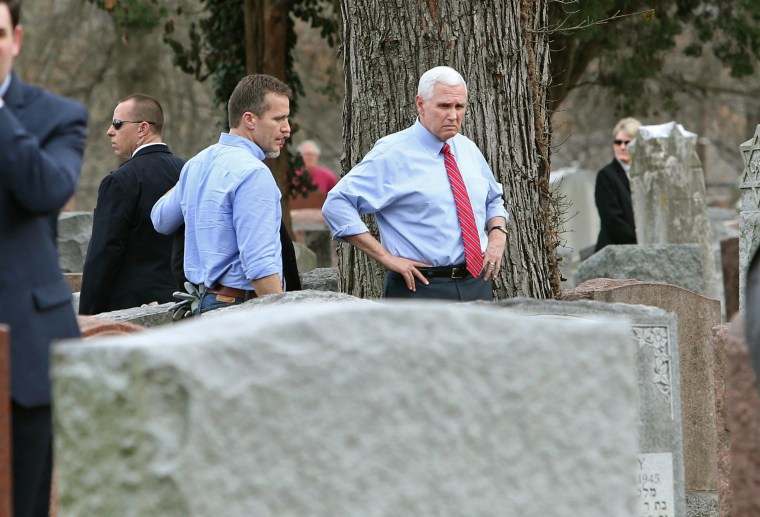 "We condemn this vile act of vandalism and those who perpetrate it in the strongest possible terms," Pence said during an appearance prior to the visit.
When asked what he might say to Pence or President Donald Trump if given the chance, El-Messidi noted that while both spoke out against antisemitism this week, neither has issued remarks condemning the rise of anti-Muslim hate groups or the increase of violent attacks and threats against the American Muslim community.
"They need to take a firm stance," El-Messidi said. "It starts with an apology."
He said that the Trump administration appears to mistakenly conflate radical Islamist terror groups like ISIS with peaceful American Muslims — and that such a comparison leads to more hate.
"We are tired of being grouped along with the crazies, they scare us just as much as any American," El-Messidi said. "We need the administration to talk about the 3 million Muslim Americans who just want to pursue life, liberty, and happiness just like everyone else here in America."