The 14-year-old Texas boy who was praised for his ingenuity after being arrested for bringing a homemade clock to his high school will soon move to Qatar, his family announced Tuesday.
The news comes after Ahmed Mohamed visited the White House on Monday and also entertained offers from Google and other technology heavyweights after his arrest on Sept. 14 inspired an outpouring of support and accusations that authorities targeted him because he is Muslim.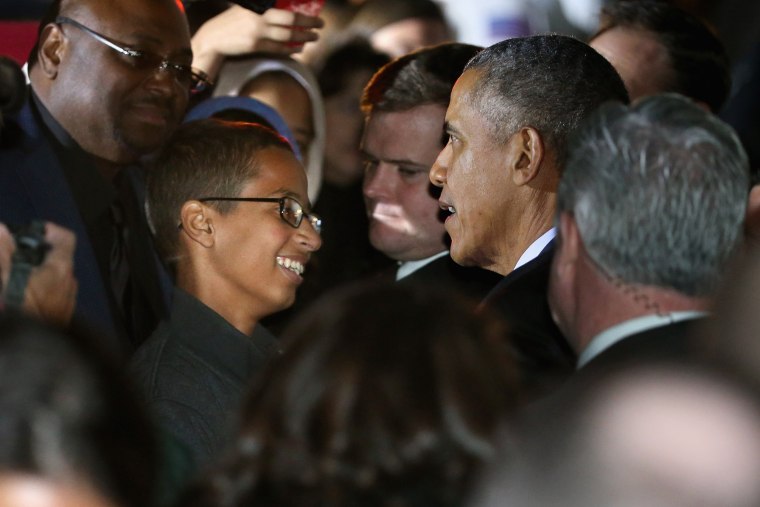 "After careful consideration of all the generous offers received, we would like to announce that we have accepted a kind offer from Qatar Foundation for Education, Science and Community Development (QF) for Ahmed to join the prestigious QF Young Innovators Program," Ahmed's family said in a statement.
The teen will receive a full scholarship for his secondary and undergraduate education, his family said. Ahmed was invited by the foundation to visit the facility in Doha last month.
"I loved the city of Doha because it's so modern," Ahmed said in the release. "The teachers were great. I think I will learn a lot and have fun, too," he said.
The Young Innovators scholarship program "supports young, exceptional Arabs by offering educational opportunities in Qatar," the foundation said. Ahmed is Sudanese-American.
Ahmed was never officially charged in the clock incident, and police in the Dallas suburb of Irving have denied the teen's Muslim background played any role in their response to the call of a suspicious device after a teacher mistook the clock for a possible bomb.
But the arrest inspired the hashtag #IStandWithAhmed and tech companies like Twitter and 3M voiced their support. President Barack Obama also weighed in, tweeting "Cool clock, Ahmed. Want to bring it to the White House?"
The Massachusetts Institute of Technology, where Ahmed has said he'd like to eventually attend, even said it was "delighted" with the boy's interest.