The pregnant widow of Sgt. La David Johnson said Monday that the phone call she received from President Donald Trump before meeting her husband's body at Dover Air Force Base made her more upset as the president struggled to remember her spouse's name.
"I heard him stumbling on trying to remember my husband's name, and that's what hurt me the most because if my husband is out there fighting for our country and he risked his life for our country, why can't you remember his name?" Myeshia Johnson told ABC's "Good Morning America." "And that made me cry even more."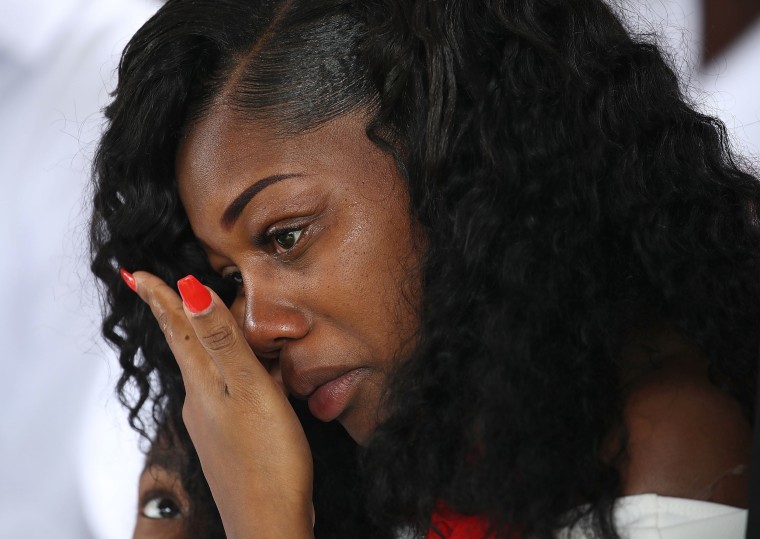 Shortly after Johnson's interview, Trump defended his conversation with the Gold Star widow.
Related: Niger Ambush Came After 'Massive Intelligence Failure,' Source Says
"I had a very respectful conversation with the widow of Sgt. La David Johnson, and spoke his name from beginning, without hesitation!" Trump wrote on Twitter.
Johnson said when the president's call came in to the master sergeant in the car with her, she asked that it be placed on speakerphone so others could hear it.
She said that's when Trump told her, "he knew what he signed up for but it hurts anyways."
"It made me cry because I was very angry about the tone of his voice and how he said it," Johnson said. "He couldn't remember my husband's name. The only way he remembered my husband's name was because he told me he had my husband's report in front of him, and that's when he actually said La David."
Johnson, of Miami Gardens, Florida, corroborated the story of Rep. Frederica Wilson, D-Fla.
Related: Deadly Ambush in Niger Highlights America's Growing Mission in Africa
"Whatever Miss Wilson said was not fabricated. What she said was 100 percent correct," Johnson said.
Wilson told NBC Miami last week that Trump's call was "insensitive," saying, "Everyone knows when you go to war you could possibly not come back alive, but you don't remind a grieving widow of that."
Trump denied disrespecting the family, later firing back at Wilson by calling her "wacky" and tweeting that the congresswoman "totally fabricated" the conversation.
Trump, during a brief appearance at the White House Monday afternoon with Singapore's prime minister, did not respond to questions shouted by reporters regarding Johnson.
Sen. John McCain during an appearance on "The View" Monday said the bickering over Johnson's death should end.
"My friends we should not be fighting about a brave American who lost his life serving his country," McCain said "That should not be the topic of discussion in America today."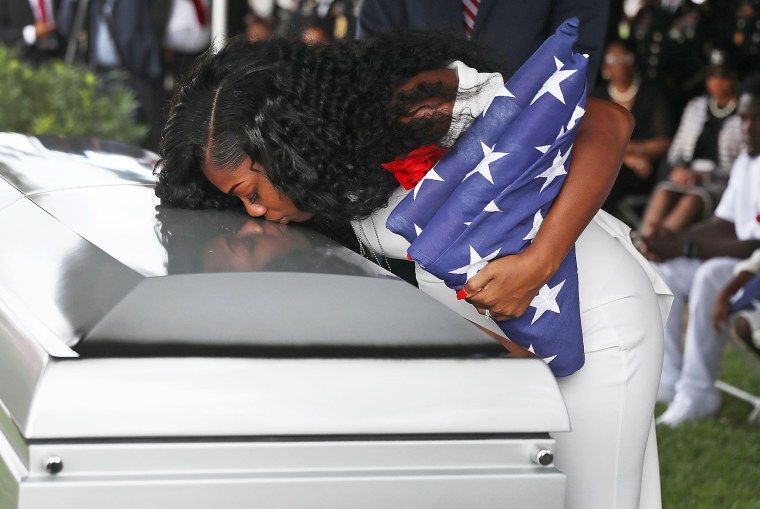 Johnson, 25, was one of four U.S. service members killed in an ambush in Niger on Oct. 4. He was initially reported as missing and was later declared killed in action.
Myeshia Johnson said she has several questions for the U.S. military about her husband's death, including why it took them 48 hours to find his body and why she has not been allowed to see it.
"I need to see my husband," she said. "I haven't seen him since he came home."
She said she was told her husband died in a "massive gunfire" fight, but hasn't been told where or how he died. Johnson said if she keeps pushing for answers, she feels confident she'll get them.
Eventually, after she delivers a baby in January, she'll be able to tell her daughter the entire story of her father's life.
"I'm gonna tell her how awesome her dad was and what a great father he was and how he died as a hero," Johnson said.