A mystery that began when an Alabama man bought a digital photo frame and found it loaded with wedding pictures has been solved.
Kristi and Bill Wilson, event planners from Massachusetts, have come forward to say they are the couple in the picture that went viral on Facebook.
"This is hilarious!" they wrote in a post on the Facebook page for their company, Pinnacle Event Partners.
The couple got hitched in 2012, and Kristi bought a digital photo frame for her mother-in-law and loaded it up with the wedding snaps.
But the frame didn't work properly, so she returned it to the store.
It was resold to an acquaintance who found the photos on the data card and alerted the Wilsons, who thought it was amusing.
The frame was apparently returned and resold at least one more time — this time to Randy Robinson, an engineer from Alabama who purchased it at a discount shop called Dirt Cheap.
When he found the wedding album, he was concerned that someone had lost their precious pictures and set about trying to find the couple and return the snapshots.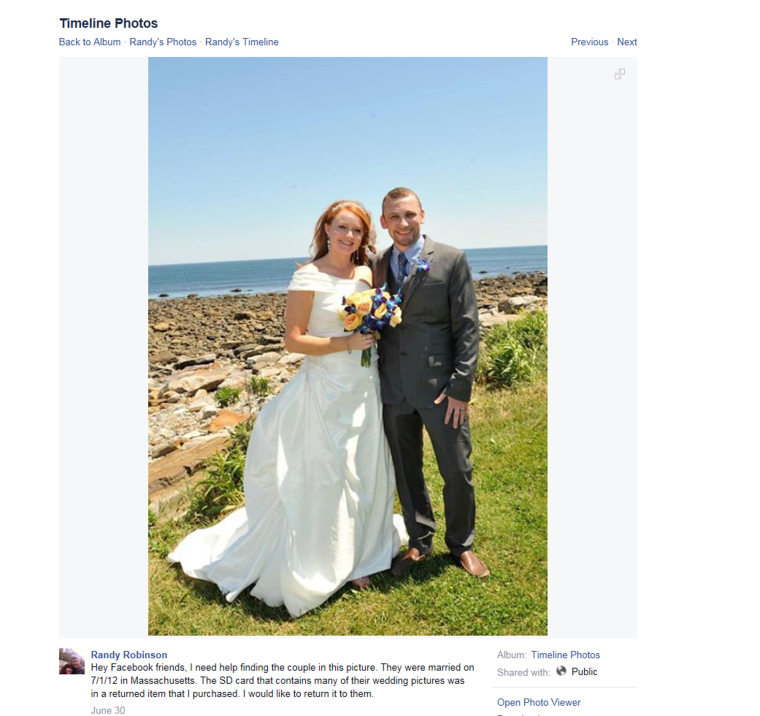 He called the catering company, whose truck was spotted in one frame, and tracked down the limousine firm. But neither could help.
Then he posted a shot of the bride and groom on Facebook — and within a week, the post had nearly 200,000 shares and Robinson was deluged with hundreds of friend requests.
"We were on vacation with no cell service, otherwise it probably wouldn't have gone as far as it did," Kristi Wilson said. "A friend finally called our landline and said, 'You're all over Facebook.'"
"I'm surprised it went so crazy," she said, but added that it was "heartwarming" to see so many people try to reunite strangers with their photos.
Robinson said he was thrilled the mystery had been put to bed.
"Glad it worked out," he said on Tuesday. "Now I just have to figure out how to stop all these friend requests."