North Carolina Gov.-elect Roy Cooper, a Democrat, has threatened to sue the state's Republican-controlled legislature as lawmakers are pressing ahead with plans to strip the incoming governor of certain executive powers less than three weeks before his inauguration.
GOP lawmakers passed a bill on Thursday that would severely cripple the state's executive office by requiring Senate confirmation for cabinet appointments, cutting the number of employees who work directly for the governor by 1,200 and eliminating the governor's power to pick certain university trustees. The bill passed the House Thursday evening by a vote of 70-36 and will move next to the state Senate.
In a surprise move, the measure was introduced Wednesday during a special session ostensibly called by the General Assembly to consider relief for Hurricane Matthew victims. Lawmakers did indeed approve a $201 million aid package earlier in the day, but then moved onto a series of measures aimed at curbing the power of Cooper, who beat Republican incumbent Pat McCrory last month by about 10,000 votes.
Related: N.C. Gov. Pat McCrory Concedes Election to Democrat Roy Cooper
Protesters packed that halls of the General Assembly in Raleigh, chanting "You work for us" and other slogans. At least 20 people were arrested and charged with trespassing, according to a reporter for the Raleigh News & Observer.
The state Senate also debated a separate bill Thursday that would divide the members of county election boards — who are typically appointed by the governor — equally between the two parties, while requiring control of the state Board of Elections to alternate every other year. The legislation would give Republicans control of the chairmanship in even years, when major elections take place, and Democrats control in odd years.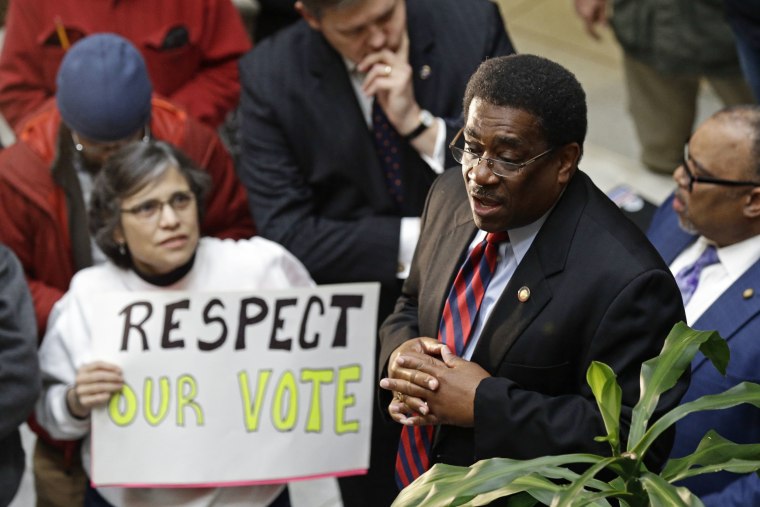 Another proposal introduced Wednesday would make the state Supreme Court election partisan by requiring candidates to be listed on the ballot alongside their political party.
It's unclear how many of the measures will become law, if any do at all. But at a news conference Thursday, Cooper, who is currently the state attorney general, said his office was reviewing them anyway, adding that he would sue if lawmakers approved anything he deemed unconstitutional.
"Most people might think that this is a partisan power grab, but it is really more ominous," Cooper said at the news conference in Raleigh. "This is about thwarting the governor's ability to move us forward on education and health care and clean air and water."
The legislature's action came on the heels of a bitter and drawn-out gubernatorial race that saw McCrory's campaign and supporters raise multiple questions about the legitimacy of the election results — accusations his critics saw as an attempt to undermine the will of the voters.
After filing complaints in about half of the state's 100 counties, which turned up no evidence of widespread voter fraud, McCrory conceded last week — a full month after voters cast their ballots.
State Senate leader Phil Berger defended his party's right to weaken Cooper's power, saying it was consistent with what Democrats have done in the past.
"When we were in the minority, we would complain about these things and they would do it. They are now in the minority," Berger said, according to the Associated Press. He added that "it is perfectly in line with things that have been done for years in this building."
Yet Dr. Thomas Eamon, associate professor of political science at East Carolina University and author of "The Making of a Southern Democracy: North Carolina Politics from Kerr Scott to Pat McCrory," said that an assault "of this magnitude" on the governorship has never been seen before in the Tar Heel State.
"Historically, the North Carolina governorship had been one of the weaker ones in the country," said Eamon, pointing the fact that North Carolina was the last state to grant veto power to the governor.
"The trend has been to increase the power of the governor," added Eamon. "This would be a drastic weakening of the governor's power in an extremely short period of time. … It's unprecedented."
What's not unprecedented, however, is the legislature's use of a special session to ram through controversial legislation with little to no warning or discussion. It was during a one-day special session last March that lawmakers passed a widely-criticized measure restricting bathroom access for transgender individuals. That legislation, HB2, sparked a national backlash against the state with boycotts from businesses, musicians and sports organizations.