A New Jersey school board member is facing calls to step down after he posted an article about U.S. Rep. Rashida Tlaib, D-Mich., with the comment: "My life would be complete if she/they die."
New Jersey's governor and lieutenant governor have called for the resignation of Toms River Board of Education member Dan Leonard who, in addition to his comment about Tlaib, posted a BlazeTV video of Rep. Ilhan Omar, D-Minn., with the comment "Terrorist ...... 100%."
Tlaib and Ilhan were elected in November 2018, becoming the first Muslim women elected to the House.
In another post, Leonard put up an image of a Barbie doll that was bruised on the lip and eye. The meme read: "Sharia Barbie, Comes with Jihab [sic], bruises, & Quran, Stoning accessories available for additional purchase."
His comment about Tlaib accompanied a Fox News article headlined: "Rashida Tlaib calls for hunger strikes to shut down ICE."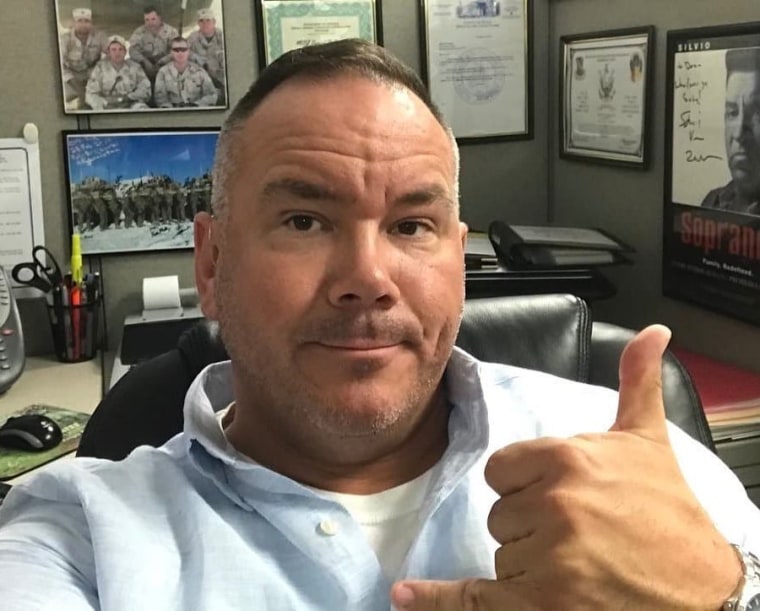 New Jersey Lt. Gov. Sheila Oliver wrote in a statement Wednesday that the state's Department of Education is "looking into this matter," and that she and Gov. Phil Murphy are urging Leonard to resign.
"We are disheartened by the racist comments made by a school board member in Toms River. His hateful language is counter to the best interests of our students and does not represent our values," Oliver said in the statement.
The April posts by Leonard were published this week by the New Jersey chapter of the Council on American-Islamic Relations, which also called for Leonard's resignation.
As of Thursday morning, two of the three posts remained on one of Leonard's at least three Facebook pages — the one about Omar had been replaced with another picture of her that Leonard captioned "Terrorist !!!!!"
Leonard, a 23-year Army veteran and retired official with a county workforce development board, is one of nine elected members of the school board in Toms River, a township in Ocean County on the Jersey Shore. The district has 18 schools with more than 15,000 students.
Leonard, who was elected in 2016 and is up for re-election this year, chairs the board's Safety, Security and Transportation Committee, according to his board member profile.
"The bigoted, hateful and threatening social media posts shared by this elected board of education official serve to disqualify him for any position that has responsibility for the safety, security and well-being of New Jersey's diverse student body," CAIR-NJ Executive Director James Sues said in a statement Tuesday.
"The bigoted views expressed by Mr. Leonard have no place in an educational system that seeks to celebrate diversity and encourage students of all faiths and backgrounds to excel scholastically and to make positive contributions to our society," Sues said.
About 29 percent of of the students in Toms River are minorities, according to N.J. Department of Education data.
The district's superintendent, David M. Healy, said in a statement Thursday "that neither I nor this school district support or condone the content and spirit of these messages and the opinions they reflect."
"We embrace the diversity of our student body and firmly believe that such diversity is a critical mechanism for teaching and learning the enduring virtues of respect, tolerance, and love for one another," the statement said in part.
Leonard is also one of 58 members of the New Jersey School Boards Association board of directors, specifically serving with the Ocean County School Boards Association.
The state school boards association said in a statement Wednesday that the content of Leonard's posts was "offensive and does not represent the values and beliefs of our organization."
The statement added that while the nature of the posts was "reprehensible," the association does not have the authority to remove a school board member from a local office.
Leonard wrote in posts on his Facebook accounts that he has no intention of resigning, saying that his post about Tlaib "was pertaining to the food strike aspect NOT because she is Muslim."
"I've been taken out of context before so I am not surprised that a Terrorist supporting organization like CAIR would jump on board," he wrote, adding that he is not anti-Muslim, but rather "anti-Sharia Law as should every United States Citizen!"
Leonard conceded that "sadly, my personal posts have obviously impacted the district," adding that he would be more "cautious" and "articulate." But, he said, "I will not apologize or resign over the mischaracterization of my 'out of context posts.'"
Sues told NBC News that Leonard expressed the same sentiment at a meeting of the district board Wednesday night, where more than a dozen community members, about half of them Muslim, expressed their concerns over Leonard's posts.
"A young Muslim student in the school system is going to see one of these posts and be horrified and fear for their safety if this is something coming from a member of their board of education," Sues said, adding that Leonard remained "insensitive to the fact that this would affect their emotional well-being."
He said CAIR-NJ is looking into filing an ethics complaint with the state about Leonard because the Toms River Board of Education cannot legally remove him from his elected post.
Leonard's posts are "a painful reminder of the extreme divisiveness that characterizes the current political climate at the national level," Sues said.
Earlier this month, President Donald Trump faced criticism from both parties when he tweeted that Tlaib, Omar and two other Democratic congresswomen of color, Alexandria Ocasio-Cortez of New York and Ayanna Pressley of Massachusetts, should "go back" and try to fix the "crime infested places" they "originally came from." At a subsequent rally, fired-up Trump supporters chanted "Send her back!" referring to Omar.
Leonard chimed in on Monday by posting a meme to his Facebook and Instagram accounts:
"The Official Position Of D.P. Leonard ...... Except with me you can go anywhere- Not just where you came from," he wrote on Facebook. "Anywhere but here works!"
CAIR has reported an "unprecedented" uptick in bigoted behavior toward American Muslims, immigrants and people of color in general since President Trump's election.