The New York attorney general opened an investigation Thursday into the fatal shooting of a black Brooklyn man who police believed was pointing a gun at them — but who was actually holding a piece of metal pipe with a knob at one end.
Saheed Vassell was mortally wounded on Wednesday afternoon when at least three plainclothes and two uniformed officers fired 10 shots at him, police said. He was pronounced dead later at Kings County Hospital.
"The attorney general's special investigations and prosecutions unit has opened an investigation into the death of Saheed Vassell," Amy Spitalnick, a spokeswoman for Attorney General Eric Schneiderman, said in a statement. "We're committed to conducting an independent, comprehensive and fair investigation."
In New York state, the attorney general has the power to act as a special prosecutor in cases in which police officers kill unarmed people.
New York City Mayor Bill de Blasio called Vassell's death "a tragedy by any measure" but stopped short of blaming the police. He said the responding officers were unaware that he had "a profound mental health problem."
"People in the community thought he had a weapon and was aiming at residents," he said Thursday. "There is a lot more we need to know."
The NYPD did not identify any of the officers involved in the shooting of Vassell, 34, a welder born in Jamaica.
But police took the unusual step of releasing surveillance footage of Vassell just before he was shot, including a still obtained by NBC New York that showed him running and pointing the pipe at a bystander on Utica Avenue.
The footage appears to corroborate earlier assertions by Chief of Department Terence Monahan that Vassell "took a two-handed shooting stance and pointed an object at the approaching officers" seconds before he was killed.
And it appears to show Vassell accosting a woman and a child with the pipe and menacing another man with it.
Vassell's family and friends told The Daily News that the slain man was a "quirky neighborhood character" who was widely known to be bipolar and who had been hospitalized multiple times before for mental issues — often after crossing paths with police.
"Every cop in this neighborhood knows him," John Fuller, a local resident, told The New York Times.
Vassell was killed on the 50th anniversary of Dr. Martin Luther King's assassination. That outraged black residents in the Crown Heights neighborhood. And some of that anger was still evident at an afternoon vigil as the speakers railed against the "racist police" and participants chanted the dead man's name.
But along with the African-American leaders, there were representatives from the Orthodox Jewish community, a scene unimaginable back in 1991, when the neighborhood was rocked by riots that pitted the two groups against each other.
"Today is a Jewish holiday, but when a young man who lives in my neighborhood gets shot down for nothing I have to be here," said Rabbi Rubin Lipkind. "He lived right next to us."
Vassell's death came less than three weeks after police in Sacramento, California, fatally shot a 22-year-old black man named Stephon Clark in the mistaken belief that he was holding a gun. It turned out to be a cellphone.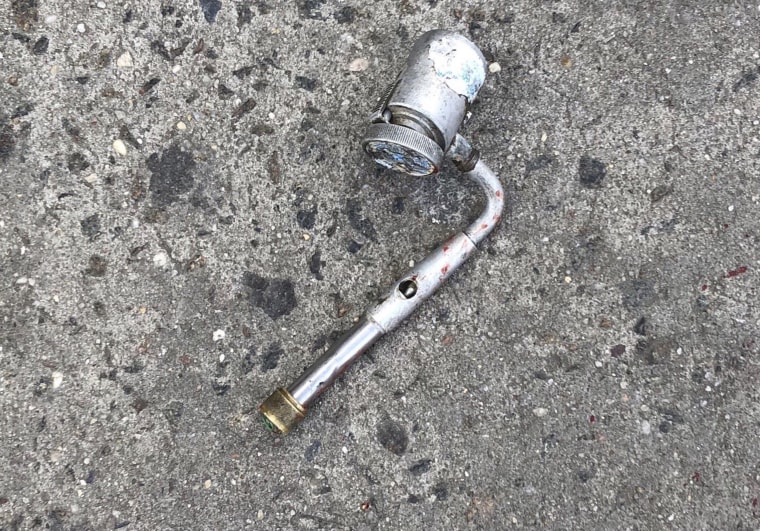 In the California case, body cameras captured the moment when Clark was cut down by a fusillade of 20 shots.
None of the New York City police officers who fired on Vassell were wearing body cameras.
The chain of events that ended with Vassell dying at the corner of Utica Avenue and Montgomery Street began around 4:40 p.m. Wednesday when police responded to three 911 calls that described a black man in a brown jacket waving what the witnesses mistakenly described as a silver gun, Monahan said.
Witnesses said the officers jumped out of an unmarked car and started shooting without warning.
"It's almost like they did a hit," one told The Daily News. "They didn't say, 'Please.' They didn't say, 'Put your hands up!' Nothing."
So far, the NYPD has not said whether the officers who fired the fatal shots warned Vassell first.
His 15-year-old son, Tyshawn, said there was no reason to kill him.
"He cared for everybody," he told The Daily News. "If you saw him, he'd always be in a laughing mood. You would never catch him down."