NASCAR driver Jimmie Johnson's in-laws and their grandson were found dead in an apparent murder-suicide in Oklahoma, police said Tuesday.
The dead were identified as Jack Janway, 69; his wife, Terry Janway, 68; and their grandson, Dalton Janway, 11, Muskogee police said in a statement.
Department spokesperson Lynn Hamlin said Dalton Janway was Johnson's nephew.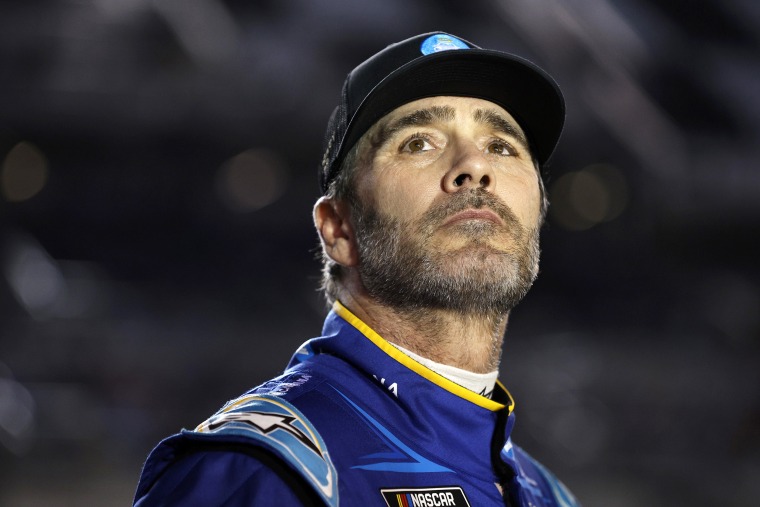 Police said they believe Johnson's mother-in-law, Terry Janway, killed her husband and her grandson before she died by suicide. 
Authorities were dispatched for a report of a disturbance at the residence at about 9:05 p.m. Monday from a female caller, police said in a statement. Officers arrived and saw one person dead in a hallway inside the front door before they heard a gunshot and then found two others dead inside the home, the statement added.
The three are related to Johnson's wife, Chandra, according to NBC affiliate KJRH of Tulsa.
There were no new developments in the case as of Wednesday morning, Hamlin said.
The public school district in Muskogee said in a statement that Dalton Janway was a fifth-grade student at Sadler Arts Academy.
He was "cherished by his teachers and fellow classmates," Muskogee Public Schools said.
Johnson's team withdrew from a race scheduled for Sunday and said his family has asked for privacy.
"LEGACY MOTOR CLUB has elected to withdraw the No. 84 Carvana Chevrolet from this weekend's NASCAR Cup Series event in Chicago," the team tweeted Tuesday.
NASCAR said in a statement Tuesday: "We are saddened by the tragic deaths of members of Chandra Johnson's family. The entire NASCAR family extends its deepest support and condolences during this difficult time to Chandra, Jimmie and the entire Johnson & Janway families."
Jimmie Johnson, of the San Diego area, is a seven-time champion and the sport's only driver to win five consecutive championships, which he did in 2006 through 2010.
If you or someone you know is in crisis, call 988 to reach the Suicide and Crisis Lifeline. You can also call the network, previously known as the National Suicide Prevention Lifeline, at 800-273-8255, text HOME to 741741 or visit SpeakingOfSuicide.com/resources for additional resources.