NASCAR driver Ryan Newman said "the angels aligned" to allow him to survive a horrific crash at the Daytona 500 last month.
Newman told "TODAY" on Wednesday in his first interview since the Feb. 17 wreck that safety features put in place by NASCAR helped him survive.
"I got hit from behind by a car going 190 miles per hour," Newman, 42, said in the exclusive interview. "You look at the car afterward and you think what happened right for me to be sitting here."
The crash occurred during the race's final lap while Newman was in the lead. Another driver, Ryan Blaney, was trailing Newman and his bumper caught the back of Newman's Mustang, which then slammed into a wall and flipped before it was struck by another car.
Newman was hospitalized at Halifax Medical Center in Daytona Beach, Florida, and treated for serious but not life-threatening injuries, including a head injury. In a late-February statement, Newman said he felt "fortunate" to have avoided internal organ damage and broken bones.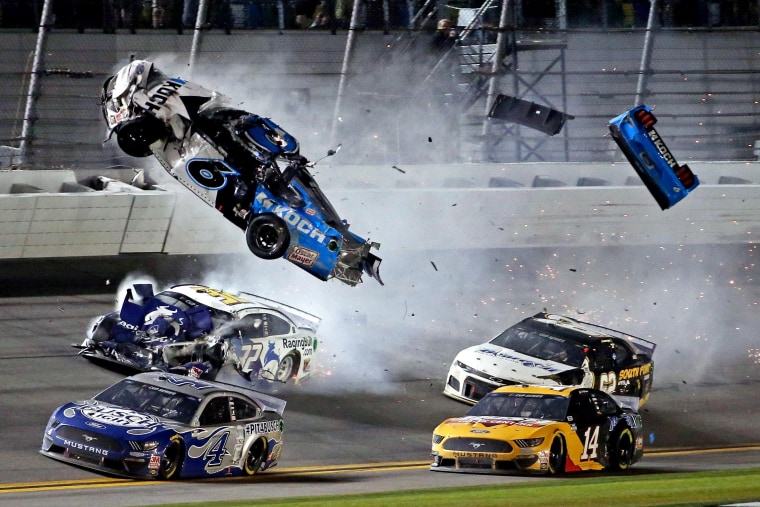 On Wednesday, Newman said he is recovering from a "bruised brain," noting that he was "knocked out" by the crash.
Download the NBC News app for breaking news
Newman, a longtime advocate for safety in the sport, praised NASCAR's efforts to make racing safer over the past two decades. The cage of Newman's car was compromised during the crash but all the welds held together, he said.
"The guys in the shop did an amazing job" Newman said on "TODAY," adding where his car was hit contributed to his survival. "Lots of things that happened that aligned," he said.
"The angels aligned and held a really good grip," he said. "I just feel so lucky."
Representatives for Newman previously said he hopes to continue racing during the 2020 season once he is medically cleared to return. Newman told "TODAY" he doesn't know when he will be able to start racing again, but hopes to return as soon as possible.
"This is my 'I should've won' interview," Newman said, adding that it is "a little bit painful to be out of the race car," but that ultimately he is grateful to be alive.
"Its still humbling to watch and know that I'm sitting here without a headache, which is amazing, just a miracle on so many levels," he said.
On Friday, Newman returned to a NASCAR track, one in Phoenix, for the first time since the crash, though only as a visitor.
Asked by Fox Sports what it felt like to be back at a track, he said, "It's great to be alive. After looking at my car (following the crash), it's a miracle."