Six people, including three children, were killed in Nashville on Monday when a heavily armed former student returned in a planned attack on a private Christian school.
The 28-year-old former student shot through the locked doors of The Covenant School just after 10 a.m., police said. In less than an hour, the shooter was killed after a confrontation with multiple Metropolitan Nashville Police officers.
Investigators are studying writings the shooter left, but Metropolitan Nashville Police Chief John Drake said that "resentment" may have been a partial motive in the attack.
"There's some belief that there was some resentment for having to go to that school," Drake told Lester Holt.
The Covenant School enrolls students from Pre-K through sixth grade. Three 9-year-old students, a custodian, a substitute teacher and the head of school were killed in the attack.
The Covenant School under attack
Officers first received calls of gunfire at the school at 10:13 a.m. and responded to the scene, police spokesman Don Aaron said Monday. Upon arrival, officers heard gunshots on the upper level and moved toward the gunfire, Aaron said.
After the shooter went to the second floor, officers could see who was firing. Two of the five officers, Officers Rex Engelbert and Michael Collazo, returned fire.
By 10:27 a.m., the shooter was dead, according to police.
Body camera footage showed officers approaching the school, informed by a woman outside that students were on lockdown but two children were unaccounted for. Officers hurried into the school, where alarms were blazing, and searched a first-floor office before rushing up the stairwell.
The officers walked down two hallways before coming face-to-face with the shooter, who was standing in what appeared to be an atrium, video showed.
Police identified the shooter as Audrey Hale, a 28-year-old who previously attended the school.
Hale entered the school with two "assault-type" rifles and a handgun, shooting through the glass of locked entrance doors to get inside.
Hale had detailed maps of the school and had carefully planned the attack, according to police.
Drake said that Hale fired at anyone they came into contact with.
The victims
The six people who were killed Monday included three adults members: the head of the school, Katherine Koonce, 60; substitute teacher Cynthia Peak, 61; and custodian Mike Hill, 61.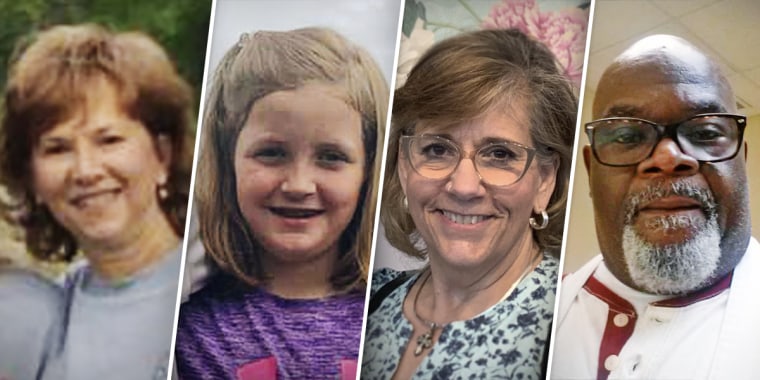 A welcome letter to students and family's written by Koonce, a Vanderbilt University graduate who had a doctorate in education, remains on the school's website.
"As we capture our children's attention and their minds for learning, we also want to capture their hearts in relationships that challenge their thinking and help them learn critical skills," Koonce wrote.
Hill's family said in a statement that he was a father of seven and grandfather to 14 who loved to cook and spend time with his family.
"As we grieve and try to grasp any sense of understanding of why this happened, we continue to ask for support," Hill's family said. "We pray for the Covenant School and are so grateful that Michael was beloved by the faculty and students who filled him with joy for 14 years."
Three 9-year-old students were also killed: Evelyn Dieckhaus, Hallie Scruggs and William Kinney.
Evelyn Dieckhaus loved to perform and often offered the neighborhood Broadway-inspired performances, her next-door neighbor Nick Riegal said.
"She was everything a 9-year-old should be," Riegal said.
The suspect
Police named Hale as the sole suspect, saying that a nearby car helped identify the shooter. Drake said that officials believe Hale may have identified as transgender, but did not provide more information.
Hale legally purchased seven firearms through five local gun stores, police said Tuesday. Hale's parents were aware of only one gun, which they believed had been sold, Drake said.
Drake said Tuesday that Hale had been receiving care for an "emotional disorder" but did not offer additional details regarding a diagnosis or treatment.
Former school headmaster Bill Campbell said he believed that Hale transferred out of The Covenant School after the fourth grade, citing old yearbooks as evidence.
Campbell said that nothing about Hale stood out as a potential red flag and called Hale a "typical" child who was "loved and appreciated like all of our students."
Metro Nashville Public Schools said that Hale attended Isaiah T. Creswell Middle School from 2006 to 2010 and graduated in 2014 from the Nashville School of the Arts. Hale also graduated from the Nossi College of Art & Design in 2022, the school confirmed in a statement.
Averianna Patton, who played basketball with Hale in middle school, said she saw a concerning message from Hale on Instagram about 20 minutes before the shooting.
The message indicated suicidal ideation, talking about not wanting to live anymore and stating that Hale's family was unaware of what was about to happen.
In the last message, Hale said that something bad was about to happen and asked for forgiveness.
Alarmed, Patton consulted her father who urged her to contact officials. Patton said that she initially reached out to a suicide prevention hotline and was told that someone would be sent out.
A police spokesperson said Patton's call came in at 10:21 a.m., after the shooting started.
"I'm trying to still understand ... just to learn that I received a message before, it's just like, 'Wow,'" she said. "Just pray, just pray."