The Nashville school shooter warned that something bad was about to happen in messages to a former middle school basketball teammate before opening fire Monday at The Covenant School.
Averianna Patton said she saw the Instagram messages at 9:57 a.m. Monday, less than 20 minutes before police said they received calls about a shooter at the private Christian school.
In the messages, Audrey Hale, the person police identified as the shooter, talked about not wanting to live anymore and said that their family did not know what they were about to do.
Hale is transgender, Metropolitan Nashville Police Chief John Drake said Monday. In the first message sent to Patton, Hale signed it as "Audrey (Aiden)."
Patton tried to be supportive, according to screenshots of the messages. In their last message, Hale said that something bad was about to happen and asked for forgiveness.
Patton, of Nashville, attended Isaiah T. Creswell Middle School with Hale. She said the messages were alarming and she sent them to her father and asked if she should contact someone.
"He text back, 'YES' in all caps. So after that, that's when I started making calls," she told NBC's "Nightly News."
The first call she made was to the suicide prevention hotline, she said, which instructed her to contact the Davidson County Sheriff's Office. The office told her to call a nonemergency number.
Patton said she was told someone would come out to her home. By the time they showed up hours later, she had already left for a meeting. Patton later learned that Hale was responsible for the shooting.
"I'm trying to still understand. ... Just to learn that I received a message before, it's just like, 'Wow,'" she said. "Just pray, just pray."
The sheriff's office and the police department confirmed they received calls from Patton. A police spokesperson said Patton's call came in at 10:21 a.m., after the shooting started.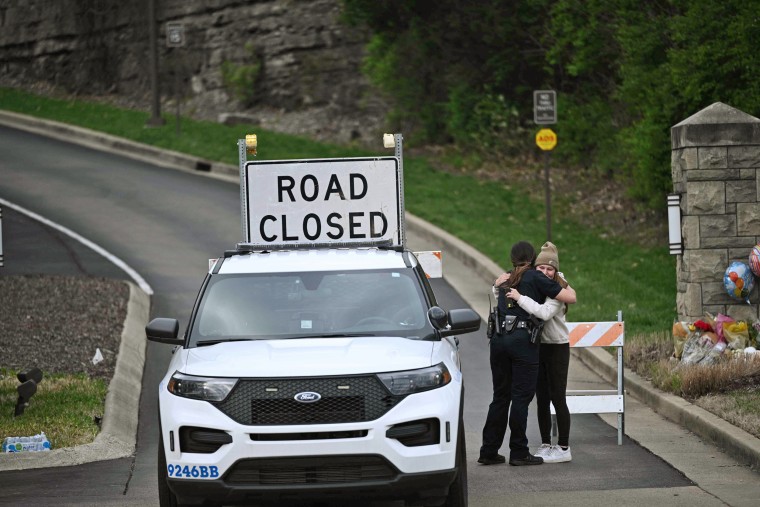 All police resources were at the school, the spokesperson said, which is why officers did not immediately go to Patton's home.
Patton said the last time she saw Hale was a few weeks ago at a painting event to commemorate a mutual friend who had died in a car crash. Nothing about Hale seemed amiss, Patton said.
Patton said she's trying to cope with what happened. "I'm speechless," she said.
Antoine Buchanan, who was Hale's middle school basketball coach, said Hale was one of the few white players on the girls' team at Creswell, a predominantly Black school.
While he did not recall Hale as a "major player" on the team, he also doesn't remember Hale as being troubled.
"Even thinking back to that, she would have not been a troubling person," Buchanan said Tuesday. "If you were going to be trouble for me, I'm not keeping you on the team."
Three children and three adults were killed in the shooting. The children have been identified as Evelyn Dieckhaus, Hallie Scruggs and William Kinney, who were all 9 years old. Substitute teacher Cynthia Peak, 61, school head Katherine Koonce, 60, and custodian Mike Hill, 61, were also killed, police said.
Authorities said Hale — armed with two AR-style weapons, a handgun and "significant ammunition" — shot through a locked school door to gain entrance. Police received their first call about the shooter at 10:13 a.m. local time.
Police spokesperson Don Aaron said that when officers arrived, they heard gunshots coming from the second floor and "immediately went to the gunfire." Body camera video released Tuesday morning by police shows the moment Officers Rex Engelbert and Michael Collazo confronted and killed the shooter.
A motive remains unclear, although the police chief said "resentment" may have played a role in the attack. Hale, 28, had attended the school. Former headmaster Bill Campbell said he remembered Hale as a third grader in 2005 and a fourth grader in 2006, and believes Hale transferred after that school year.
"There's some belief that there was some resentment for having to go to that school," Drake told Lester Holt of NBC News.
Authorities said Hale carefully planned the attack with detailed maps and surveillance and left behind writings that are being studied by local and federal investigators. There were also indications that Hale had planned to target other locations, Drake said.
If you or someone you know is in crisis, call 988 to reach the Suicide and Crisis Lifeline. You can also call the network, previously known as the National Suicide Prevention Lifeline, at 800-273-8255, text HOME to 741741 or visit SpeakingOfSuicide.com/resources for additional resources.