The former Christian school student who gunned down six people, including three children, hid weapons in the family home, unbeknownst to the shooter's parents, who didn't want their troubled child to be armed, Nashville police said Tuesday.
Audrey Hale, 28, legally purchased seven weapons from five local stores and later sold one of those firearms, Metropolitan Nashville Police Chief John Drake told reporters.
Hale had been under a doctor's care for an undisclosed "emotional disorder," he said.
Follow along for live coverage here
"Her parents felt like that she should not own weapons. They were under the impression that when she sold the one weapon, that she did not own any more," Drake told reporters. "As it turned out, she had been hiding several weapons within the house."
Police could have sought to take those weapons had officers learned Hale was a threat to others, according to the chief.
"Had it been reported that she was suicidal or that she was going to kill someone and that had been made known to us, then we would have tried to get those weapons," Drake said. "But as it stands, we had absolutely no idea of actually who this person was, if she even existed."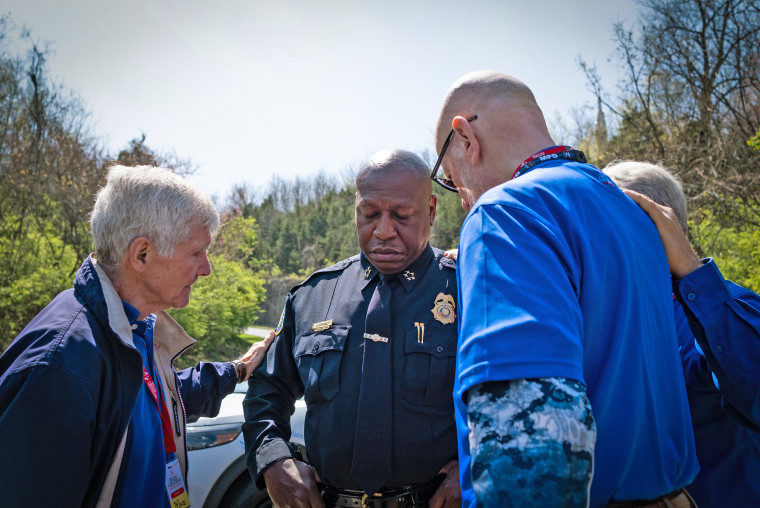 A rep for the Tennessee Bureau of Investigation also confirmed that any "voluntary treatment for mental conditions are not prohibiting" from firearm purchases or ownership.
"Also, in Tennessee, the only ones disqualified from purchasing a firearm are the ones who have been involuntarily committed by a judge," the rep said.
Three of those legally purchased weapons were used in Monday's attack at The Covenant School, where Hale was once a student, authorities said.
While Hale was walking out of the family's home Monday, Hale's parents asked about a conspicuous bag their adult child was carrying.
"We know yesterday, Ms. Hale was leaving out of the residence. She had a red bag," Drake said. "They asked her what was in the red bag, and I think she just dismissed it because it was a motherly thing. And (the mother) didn't look in the bag because at the time she didn't know her daughter had any weapons and didn't think any differently."
There's no immediate proof that Hale was intending to kill specific people on that campus, police said.
"We have no evidence that individuals were specifically targeted. This school, this church building was a target of the shooter," Nashville police spokesperson Don Aaron said.
"But we have no information at present to indicate the shooter was specifically targeting any one of the six individuals who were murdered."
More on the Nashville school shooting
Katherine Koonce, the 60-year-old school head, was fatally shot in a hallway, police said.
"She (Koonce) was in the hallway by herself," Drake said. "There was a confrontation … you can tell the way she was lying in the hallway." 
Moments later, Drake walked back his use of the word "confrontation" to describe how Hale and Koonce met in that school corridor.
"I can't say it was a 'confrontation' but she (Hale) met the head person (Koonce) in the hallway," the chief explained.
Custodian Mike Hill, 61, was killed when the heavily armed Hale blasted through the glass of a locked door to come into the school, Drake said.
"She shot through the door to enter. She sprayed rounds through the glass, striking him. You can see where he came to rest," Drake said. "As far as the others, they were just spread out in different locations." 
The three children killed were Evelyn Dieckhaus, Hallie Scruggs, and William Kinney, all 9. Substitute teacher Cynthia Peak, 61, was also fatally shot.
Police said officers heard gunshots coming from the second floor and "immediately went to the gunfire." Body camera footage that police released Tuesday shows the moment Officers Rex Engelbert and Michael Collazo confronted and killed the shooter.