One of the more than 150 of sexual assault accusers who helped bring down former U.S. Olympic gymnastic team physician Larry Nassar turned her outrage on Friday toward the school that long harbored the disgraced doctor.
Kaylee Lorincz, 18, stood in front of the Michigan State University Board of Trustees meeting filled with protesters and accused interim President John Engler of trying to coerce her into quietly settling her civil lawsuit against the university at a meeting last month where her lawyer wasn't present.
"I am continually shocked by your lack of action and Interim President Engler's callous and disrespectful words," Lorincz said in her statement to the Board.
According to her account, the payoff attempt occurred on March 28, when the teenager and her mother, Lisa Lorincz, went to MSU offices to sign up to speak at this month's Board of Trustees meeting.
Running into Engler in the hallway, Lorincz said she professed her love for the university and her desire to help the school heal the broken trust from the Nassar scandal. Instead, she says, the pair were ushered into a conference room in which Engler was joined by an MSU counsel, Carol Viventi, who was not introduced as a lawyer at the time.
"Mr. Engler then looked directly at me and asked, 'Right now if I wrote you a check for $250,000 would you take it?'" the younger Lorincz said in her statement.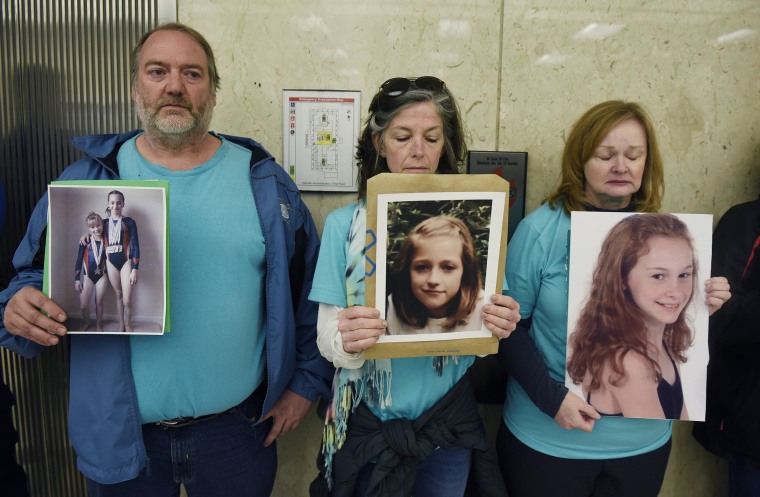 The meeting allegedly went downhill from there, particularly after Kaylee's mother, Lisa, broached the subject of the recent arrest of Nassar's boss at the school, Dean William Strampel, for allegedly groping and propositioning medical students and collecting nude pictures of students on his work computer.
"You can't even adequately convey his body language and his tone in a statement," Lisa Lorincz, Kaylee's mother, told NBC News after the hearing ended.
"He turned away from me during the meeting and blocked me, and just was speaking to Kaylee. He sat back in his chair in a way that said, this was no big deal to him."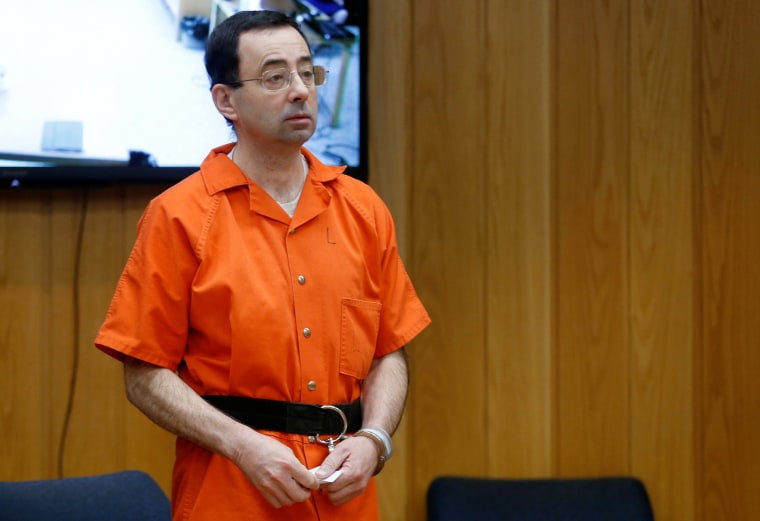 Engler's short tenure has not been one for the textbooks since he took the post in January after the previous president, Lou Anna Simon, resigned hours after Nassar was sentenced to 40 to 175 years in prison for crimes involving Michigan State athletes. A federal investigation was opened in February over the school's record on handling sexual assault cases linked to the Nassar case.
And just this week Engler has come under fire for his handling of a new lawsuit from a Michigan State University student who alleges she was raped by three members of the men's basketball team in 2015 — then discouraged by a campus counseling center from reporting the crime to police.
In response to the suit, the school released a detailed response Tuesday that called many of the allegations "untrue."
At Friday's hearing, though, Engler expressed regret over his school's initial statement in that response, which "provided an unnecessary amount of detail" that may have violated the woman's privacy.
While Engler tried to move on to other points of business, he was interrupted at times by boos and heckling from the protesters wearing teal shirts emblazoned with the phrase, "I stand with the sister survivors #MeTooMSU," according to an Associated Press reporter in attendance.
"You heard a lot of mouths drop, a lot of shock in the room when Kaylee read her statement," said Lisa Lorincz.
A spokesperson MSU did not immediately respond to a request for comment from NBC News on the Lorincz family's allegations.