Local officials in several states have renewed calls to remove Confederate monuments from public spaces, following the outrage at the deadly violence surrounding a white nationalist rally in Charlottesville, Virginia, over the weekend.
In Kentucky, Lexington Mayor Jim Gray announced plans to move two Confederate statues from a public area near a historic courthouse in the city that is being turned into a visitor's center.
"I think in times like this it's extremely important that elected officials communicate clearly with their constituents — it's time to stand up and speak out, not sit back and relax," he told NBC News on Monday.
Gray added that he had already made the decision to relocate the monuments from the prominent area of the city beforehand, but decided to make the announcement following the chaos in Charlottesville.
On Friday and Saturday, rallies supported by white nationalist groups in Charlottesville ended in a woman being killed and at least 19 others wounded after a man plowed his car into a crowd. Organizers said the rallies were held to protest the removal of a statue of Confederate Gen. Robert E. Lee.
Related: Days After Charlottesville Violence, Trump Condemns Hate Groups
In North Carolina, Gov. Roy Cooper said Tuesday in a post on Medium.com that it was time for Confederate-era monuments "to come down."
"We cannot continue to glorify a war against the United States of America fought in the defense of slavery," he wrote. "These monuments should come down."
Cooper called on the state's legislature to repeal a 2015 law that prevented the removal or relocation of monuments and said he asked the Department of Natural and Cultural Resources to determine the logistics and cost of removing such monuments from state property.
"Our Civil War history is important, but it belongs in textbooks and museums  —  not a place of allegiance on our Capitol grounds," he added.
On Tuesday in Maryland, Gov. Larry Hogan called for removing a statue of Confederate-era Supreme Court Justice Roger B. Taney from state house grounds. Taney authored the majority opinion in the 1857 Dred Scott decision that upheld slavery in the U.S. and denied citizenship to African Americans.
"While we cannot hide from our history — nor should we — the time has come to make clear the difference between properly acknowledging our past and glorifying the darkest chapters of our history," he said in a statement.
On Monday, Baltimore Mayor Catherine Pugh had said in a statement: "It is my intention to move forward with the removal of Baltimore City's confederate statues." Pugh added that she had read the recommendations of an earlier task force and had taken steps to appoint a working group to lead the process.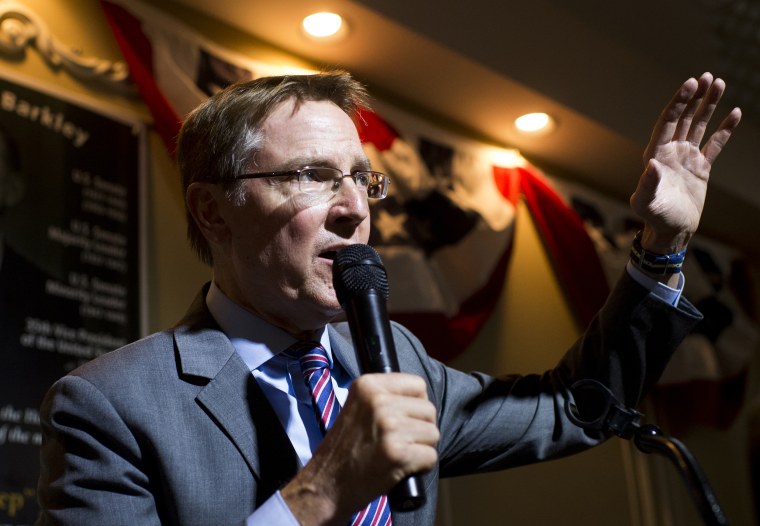 Baltimore City Councilman Brandon M. Scott told NBC News on Monday night that a resolution he proposed calling for the deconstruction of the city's Confederate monuments had been unanimously approved by the City Council.
"What no one who saw what we saw in Charlottesville ... should do is sit back and just say that we should allow these monuments to stay up across our country, so these folks have lightning rod to come to," he said.
Scott's resolution calls for melting down the Confederate monuments.
"They should be melted down and re-purposed to honor true American heroes," he said. Scott said after his resolution was approved, the final decision would still be in the hands of the mayor.
And in Florida, two cities on Monday were moving on initiatives to haul off controversial Confederate symbols.
Anna Lopez Brosche, president of Jacksonville's City Council, said in a statement that she was asking city officials to conduct an inventory of all of the Confederate symbols on public property in order to develop a plan of action to relocate them.
Brosche said she intended to propose legislation to move them to museums and other institutions where they would be preserved and given historical context.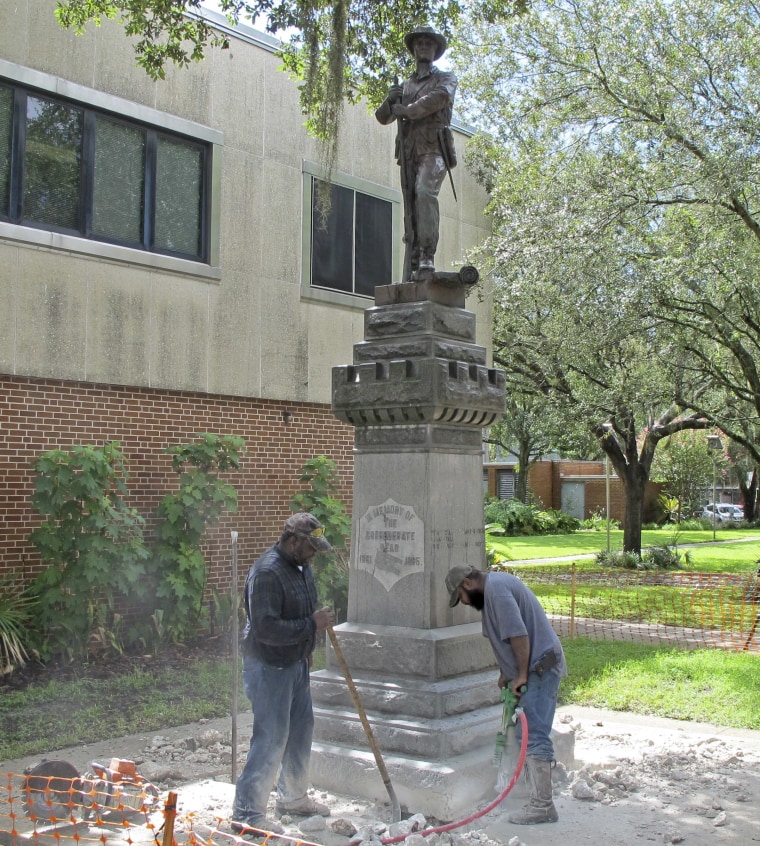 Meanwhile, about 70 miles south, the city of Gainesville had torn down a statue known as "Old Joe" outside of the Alachua County Administration Building to be returned to the local chapter of the United Daughters of the Confederacy, which erected it in 1904.
City officials said the statue's removal had already been planned for months before what happened in Charlottesville.
Symbols of the Confederacy have once again become a source of intense controversy as protesters on both sides have engaged in heated protests over their removal.
On Monday night, protesters toppled a Confederate monument in Durham, North Carolina, using a ladder and rope, according to NBC affiliate WRAL.
The decision to remove the Confederate Soldiers Monument was not condoned by authorities. The Durham County Sheriff's Office said Tuesday that they want to identify those involved and will seek vandalism charges.
"I am grateful the events that unfolded Monday evening did not result in serious injury or the loss of life, but the planned demonstration should serve as a sobering example of the price we all pay when civil disobedience is no longer civil," Sheriff Mike Andrews said in a statement.
Related: Charlottesville Suspect Denied Bond at First Court Appearance
On Saturday, hundreds protested the presence of a Confederate statue in San Antonio, Texas, after a similar rally was held last month. And last week, protesters clashed in Dallas over another monument, according to NBC Dallas-Fort Worth.
In May, New Orleans authorities removed a statue of Confederate President Jefferson Davis during tense demonstrations.
And in the capital of Virginia there is an ongoing debate on whether Confederate monuments there should stay or go. In June, Richmond Mayor Levar Stoney said the monuments could stay but announced the formation of a 10-person committee to help "redefine the false narrative" of the statues and add more context.
A Confederate heritage rally at one of the statues that was planned for September 16 was cancelled by its organizer Tuesday because of safety concerns for those involved, according to NBC affiliate WWBT.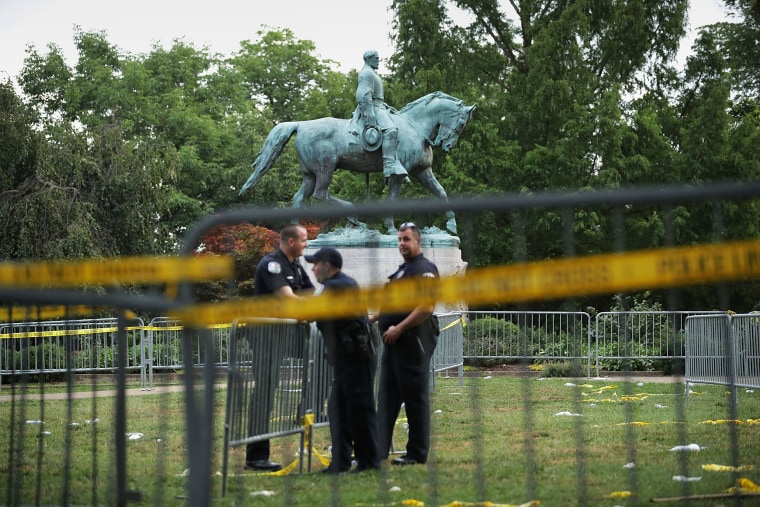 Richmond City Councilwoman Kimberly Gray said in a statement that the cancellation of the event "affords Richmond the opportunity to take a deep breath and 'press pause.' Our city needs a period of quiet reflection."
"The space needed to have a civil conversation about this issue is currently occupied by extremists," she said. "We should resume conversations about Richmond's monuments when it can be assured that citizens' personal safety will not be in jeopardy if they offer opinions or attend a public meeting."
In light of the events in Charlottesville, Stoney has said he still believes the monuments should stay.
Christy Coleman, co-chair of the commission, said any changes made to their focus will come from Stoney.
"However, we are not blind to the conversations taking place not only around the country but in our community," Coleman said in an email to NBC News.
Public outcry and support for removing Confederate monuments and symbols from publicly-owned areas and buildings escalated after white supremacist Dylann Roof killed nine parishioners at a historically black church in Charleston, South Carolina, in 2015.
In Lexington, Gray said on Monday his move must now be approved by the Lexington-Fayette Urban County Council and Kentucky Military Heritage Commission.
The plan was to possibly move them to a park honoring veterans and create an area dedicated to the Civil War and include context along with the statues, alongside additional works including those of Union troops and perhaps an African American unit.
The timing of his announcement, was "also influenced by American values and what we hold dear — liberty, freedom, justice for all — and clearly these values were being challenged in Charlottesville," Gray added. "There was no going back."