The city of Philadelphia saw a second night of protests Tuesday over the fatal police shooting of a Black man the day before.
Some looting was again reported Tuesday, despite pleas from the man's family for an end to any violence or looting.
Other demonstrations Tuesday were described as peaceful, including one that drew as many as 500 people.
Philadelphia police tweeted Tuesday night that a large crowd was looting stores in the Port Richmond area of the city. Earlier in the evening, news helicopter footage showed people appearing to break in and loot a Foot Locker store and another business in that area. The city's office of emergency management tweeted that police were asking residents in some districts to stay inside.
Protests in the city erupted Monday after Philadelphia police shot Walter Wallace Jr., 27, while responding to a call about a man armed with a knife around 2:40 p.m.
Police have said officers ordered Wallace to drop the knife several times, but he continued to advance on them while holding the knife. Both officers at the scene fired, striking Wallace in the shoulder and chest, officials said.
Wallace's father, Walter Wallace Sr., Tuesday night said the family wants justice and for someone to be held accountable, but he and others also called for an end to the violence and looting, saying it was a sign of disrespect.
"I hope people show my family and the city some kind of respect ... it's uncalled for. It really is," Wallace said. "There's a right, and there's a wrong," he said.
Wallace's father told the Philadelphia Inquirer that his son struggled with mental health issues and was on medication. His family said there was a domestic problem, and police were told the younger Wallace had mental health issues.
Shaka Johnson, an attorney for the family, said that law enforcement was called because they wanted an ambulance.
"The call that was initially put in to 911 dispatch was for medical intervention. That's what it was for," Johnson said. "The police are who arrived. And then you see what happened."
Part of the deadly encounter was captured on video. The video posted on social media showed him walking near two police officers with their guns drawn. The police officers appear to shout at Wallace to put down a knife.
It is not known from the video what occurred before the recording began.
Philadelphia Mayor Jim Kenney said in a statement that he watched the video, and "it presents difficult questions that must be answered."
Thirty police officers were injured, mainly by thrown objects like rocks and bricks, overnight Monday into Tuesday, and there were arrests for looting that night, police said.
The office of Gov. Tom Wolf said Tuesday that several hundred National Guard personnel were being deployed in the city "to protect the right to peacefully assemble and protest while keeping people safe." The decision was made at the request of Philadelphia County, his office said.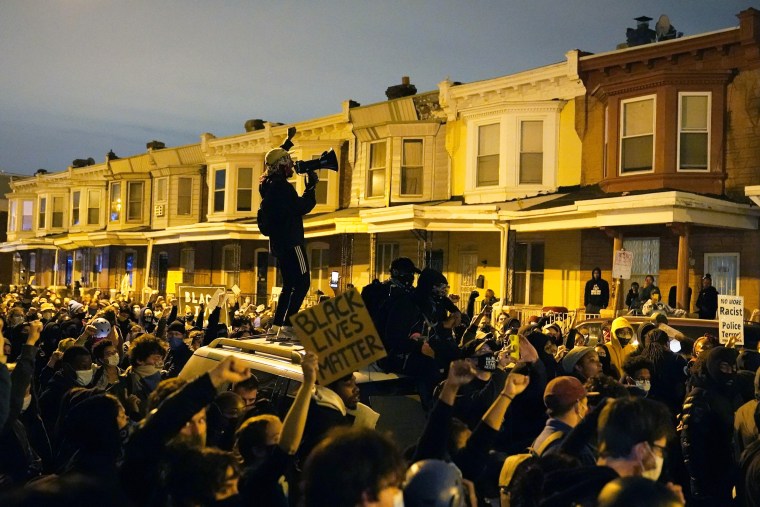 Tuesday night saw more demonstrations. The Inquirer reported that as many as 500 people participated in a mostly peaceful march.
Earlier in the day, activists marched to the police 18th district headquarters, demanding that the two officers who shot at Wallace be fired and that mental health professionals be sent with police to such situations, NBC Philadelphia reported.
Wallace Sr. questioned why officers did not use a Taser. Police commissioner Danielle Outlaw, citing budget constraints, said at a news conference Tuesday afternoon that the officers involved did not have Tasers.
"They didn't have to shoot," Wallace Jr.'s uncle, Rodney Everett, said. "We need new laws. We need them to be trained differently."
The police department said that in addition to the 30 officers injured overnight Monday, five police vehicles and a fire department vehicle were vandalized.
Another 23 officers were injured Tuesday night and 81 people were arrested, 53 of them on burglary charges, officials said Wednesday. Authorities received 297 reports regarding looting incidents in the city.
Kenney implemented a curfew that would begin at 9 p.m. Wednesday night and continue to 6 a.m. Thursday. The mayor has also requested the National Guard, who are expected to be in Philadelphia by Friday.
Officials have said that if the National Guard were deployed its primary role would be to station outside businesses, NBC Philadelphia reported. The Guard was deployed to the city during protests in June.
The CVS pharmacy chain said that 10 of its stores in Philadelphia were damaged Monday and that all of its stores would close at 7 p.m. Tuesday out of an abundance of caution.
The Philadelphia District Attorney's Special Investigations Unit and the Philadelphia Police Department's Officer-Involved Shooting Investigation Unit are looking into Wallace's shooting. Outlaw told reporters on Wednesday that the police department does not currently have a behavioral health team in place to handle mental health intervention.
Johnson, the Wallace family attorney, said Tuesday night that Wallace's brother made the call for the ambulance and that police were told by another family member that Wallace was "in crisis."
Johnson said police training should be a priority. He said a lack of proper training is setting police officers up for failure, leaving them ill-equipped.
"When you come to a scene where somebody is in a mental crisis, the only tool you have to deal with it is a gun. That's a problem," Johnson said. "I would have a problem if my carpenter came to my house with only a hammer. Where is your screwdriver, sir? Where is the proper tool for the job? You have to leave my home."
"But you can patrol our city streets and arrive at a place where a person is in mental crisis, and employ your pistol," he said. "I have a problem with that. And I'll tell you this as well: The police department should have a problem with that."